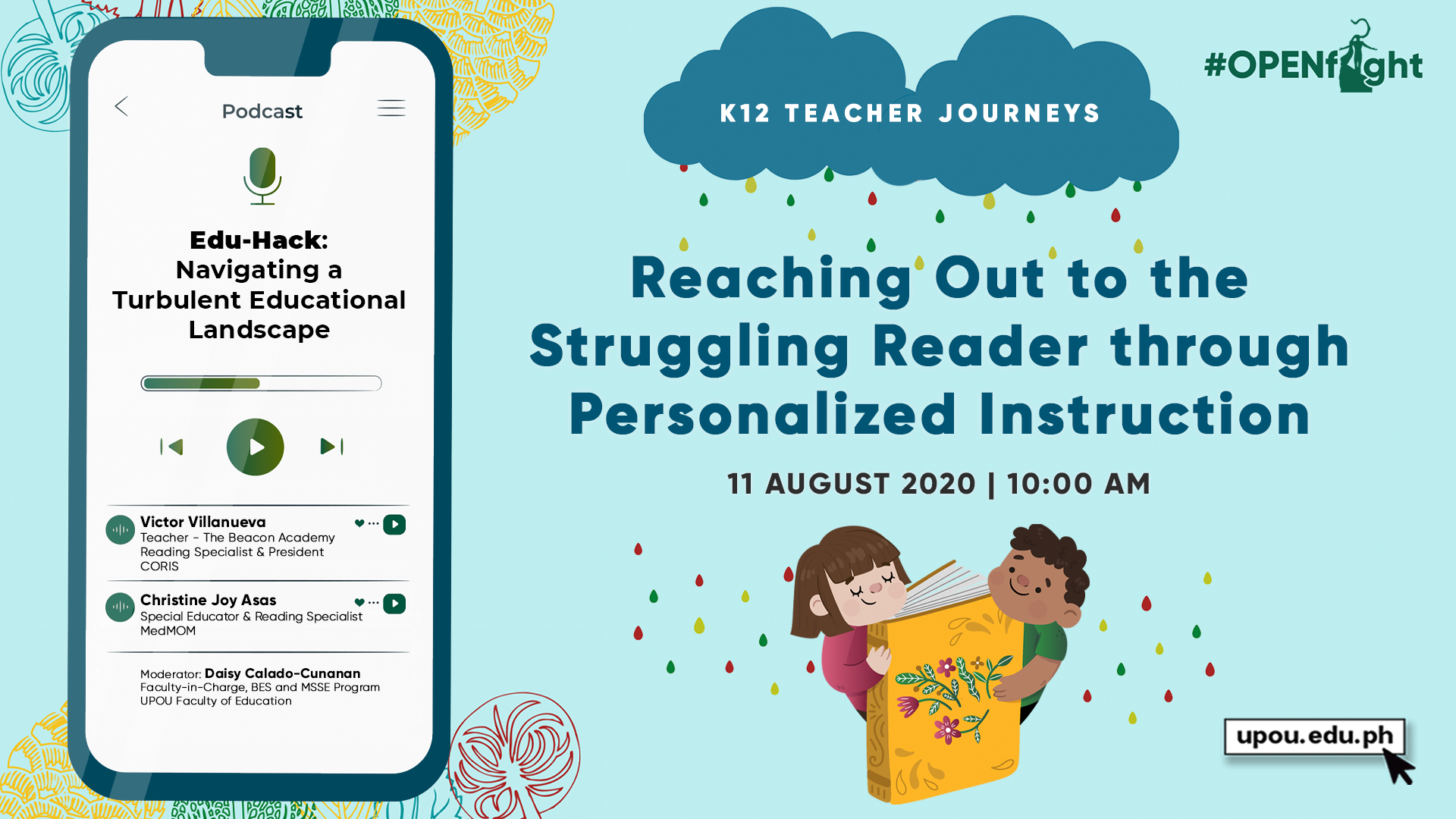 The University of the Philippines Open University (UPOU) held the tenth episode of the Edu-Hack podcast on 11 August 2020 entitled "Reaching Out to the Struggling Reader through Personalized Instruction." Prof. Daisy Calado-Cunanan, Faculty-in-Charge (FIC) of the UPOU Bachelor of Education Studies and Master of Arts in Social Studies Education programs, moderated the 100-minute session.
The episode started with the presentation of  Mr. Victor Villanueva, a Teacher from The Beacon Academy and a Reading Specialist and President of CORID. His discussion centered on the concept that reading is the product of decoding and language comprehension.
Gough and Tunmer's reading framework was discussed which identified three  reading difficulties of a child: specific reading difficulty, non-specific reading difficulty, and global reading difficulty. The framework simplified the components educators need to understand in providing reading instruction. He also generously gave examples and shared his experiences on how he assessed a child's reading ability using various reading components.
Highlighted in his presentation was the reading education continuum, which educators should understand to effectively design teaching approaches on reading for their students. According to Mr. Villanueva, teachers should first try to find out why students are failing, to identify and design personalized interventions to address their reading needs. Interventions for specific student characteristics were amply discussed as well.
The second speaker, Ms. Christine Joy Asas, a Special Educator and a Reading Specialist from MedMOM, presented practical applications and strategies for helping struggling readers, especially readers with special needs.
Ms. Asas elaborately shared how she planned interventions to address the specific needs of one of her students. According to Ms. Asas, planning specific interventions needs identification of learning profiles, learning objectives, learning and assessment tools, and learner support.
The highlight of Ms. Asas' presentation was the Question-Answer Relationship (QAR) Strategy, which helps educators find important information in a text or textbook, ask different question types, and find answers to different question types. A video showing how she practices this strategy in teaching one of her students was included in her presentation. Tips and reflections for teaching and supporting struggling readers in an online learning environment were also shared.
The session was live streamed via the UPOU Networks, UPOU Youtube channel, and UPOU Networks – Multimedia Center Facebook page with over 3,000 live viewers on all platforms.
All previous episodes of "Edu-Hack: Navigating through a Turbulent Educational Landscape" may be viewed over the UPOU Networks (https://networks.upou.edu.ph/).
Future Edu-Hack episodes will be announced via the UPOU Facebook page (https://www.facebook.com/UPOpenUniversity/). Episodes are live streamed on the UPOU Networks, UPOU YouTube channel, and UPOU Networks – Multimedia Center Facebook page. Registration is free for an unlimited number of participants via https://networks.upou.edu.ph/podcast/.
Edu-Hack is UPOU's effort to discuss how Philippine universities are responding and adapting to disruptions in higher education brought about by the COVID-19 pandemic. Edu-Hack is also part of the #OPENFight program, UPOU's banner program for all efforts towards coping and managing resources amidst the COVID-19 pandemic.
(This was originally posted on the UP Open University website on August 11, 2020)