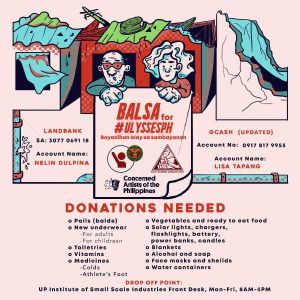 The All UP Academic Employees Union Diliman, in cooperation with the UP Diliman Covid-19 Response Volunteers (UPCRV) and the Concerned Artists of the Philippines (CAP), has organized BALSA or Bayanihan Alay sa Sambayanan for communities affected by Typhoon Ulysses.
May we seek your assistance in disseminating the call for urgent relief of BALSA to our faculty, REPS and administrative staff?
On November 14, Saturday, BALSA held a community kitchen and food pack distribution to residents of the UP Arboretum, helped deliver goods and food packs for residents of Brgy. Tumana, Marikina, and food supplies for the lumad Bakwit School students.
On November 15, Sunday, we brought clothing supplies, 650 hot meals, sopas for 1,000 people, and drinking water to families in Kasiglahan Village, Rodriguez, Rizal. At the Bakwit School, we brought 150 food packs, sweet potatoes, and spices to contribute to the students' daily meals as they strive to continue learning under the conditions of the pandemic and harassment of lumad alternative schools.
At the volunteer center in ISSI, we continue sorting and repacking assorted donations sent in; including clothes, beddings, towels, shoes, bags, diapers, face masks and shields, medicines, alcohol, toiletry kits, canned goods, and water.
To date, monetary contributions exceeded PhP100,000. We will channel these resources and support to more communities this week as more information on the grave situation across Metro Manila, Bicol, Cagayan Valley, and the Southern Tagalog comes in.
We ask for these material donations for affected communities:
– Pails
– Cleaning materials and detergents
– New underwear for adults and children
– Blankets
– Toiletries
– Vitamins and medicines for colds, athlete's foot (alipunga)
– Solar lights, chargers, flashlights, battery, power banks, candles
– Vegetables and ready to eat food
– Alcohol and soap
– Face masks and shields
– Water containers
Drop off point: UP Institute for Small-Scale Industries front desk, UP Diliman campus. From Monday to Friday, 8 AM – 5 PM.
For Monetary donations:
LANDBANK – SA: 3077 0691 18
Account name: Nelin Dulpina
GCASH (updated number)
Account number: 09178179955
Account name: Lisa Tapang
We would love to have more volunteers for sorting and repacking and to join the relief efforts this week. For those interested, please contact Ram Hernandez (0975 134 3056) or Edge Uyanguren (0929 312 2972).
Thank you. Padayon!
(This was originally posted on the UP Diliman website on November 17, 2020)