The Institute of Aquaculture, College of Fisheries and Ocean Sciences (CFOS-IA) shared knowledge on basics of aquaculture to senior high school (SHS) teachers of Leganes National High School, Leganes, Iloilo on May 17, 2022.
CFOS-IA, through the Brackishwater Aquaculture Center (BAC), a research facility of the Institute based in Leganes, conducted an online lecture on the basic principles and practices in aquaculture, the cultivation of aquatic organisms such as fish, molluscs, crustaceans, and aquatic plants.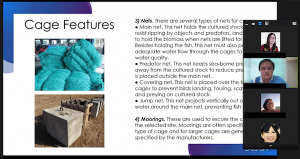 The public service activity known as Aquaculture Summer Institute (AQUASI) sought to enhance the capacity of Leganes National High School high school teachers to handle aquaculture or science related classes for K-12 basic education curriculum, specifically on the basics of aquaculture.
AQUASI is the training program of BAC that is being conducted every year. Last year, 11 senior high school teachers from Nabitasan National High School (NNHS) of the same municipality attended the training program.
In his opening message, Prof. Rex Ferdinand M. Traifalgar, director of CFOS-IA, underscored the vital role of education in the transfer of knowledge for sustainability of aquaculture to help improve the food security in the country.
Eight senior high school teachers in Science, Technology and Engineering strand attended and participated in the virtual activity.
Experts in aquaculture from IA gave lectures on the following topics: Basic Principles of Aquaculture by Dr. Sanny David Lumayno; Aquaculture Systems by Mr. Fredson Huervana, and Basic Fish Diseases Detection by Dr. Carmelo del Castillo.
The training provides opportunity for the participants to visit and conduct hands-on laboratory activities at the BAC scheduled on the second day. However, these were rescheduled due to unexpected changes in the schedule of the participants.
(This article, written by Ms. Lenilyn Gallos, was first published in the UP Visayas Website on May 20, 2022)