UP Diliman (UPD) as everyone's safe space.
It is the intention of UPD to be an inclusive, diverse, nurturing, and safe space that respects the human rights of all its constituents, especially its students.
As such, the Office of the Vice Chancellor for Academic Affairs (OVCAA) issued a directive that recognizes the inclusion of and affirms transgender and gender non-conforming (TGNC) students.
Memorandum No. OVCAA-MTTP 21-029 recommends the UP Center for Women's and Gender Studies (UPCWGS) guidelines on affirming TGNC students' names, pronouns, and titles.
According to the UPCGWS guidelines, TGNC refers to people whose gender identity does not match their sex assigned at birth and those whose gender expression does not match their gender identity, respectively.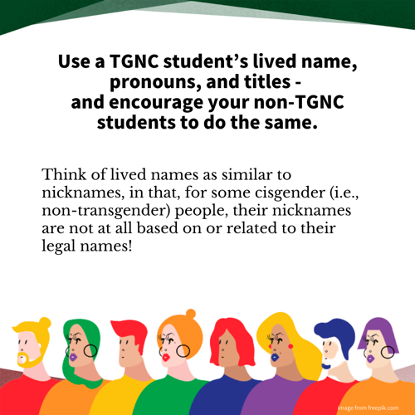 "TGNC people often live by a name (or "lived name") that affirms their gender identity and/or expression (GIE), and this is usually different from their legal name (or "dead name"). They may also use pronouns and titles that reflect their GIE. However, these aren't limited to feminine (e.g., she/her, Miss, Ms., Mrs.) and masculine (e.g., he/him, Mr.) pronouns and titles, because many TGNC people use singular they/them pronouns (an English counterpart to the Filipino gender-neutral siya), neo-pronouns, and gender-neutral titles," the guidelines stated.
Guides. The UPCWGS gave three basic guidelines for teachers, students, and other UPD personnel to create a classroom environment that includes and affirms TGNC students, and to encourage them to exercise their rights to express their gender identity and/or expression, without fear of discrimination.
These are: ask for students' lived name, pronouns, and titles, regardless of their transgender status, use a TGNC student's lived name, pronouns, and titles and encourage your non-TGNC students to do the same, and model other best practices for affirming TGNC students.
Released on March 15, 2021, the OVCAA memo is in compliance with Section 1 of the UP Anti-Sexual Harassment Code (https://up.edu.ph/up-anti-sexual-harassment-code/).
This states that "the University values and upholds the dignity of every individual, and guarantees the full respect for human rights of all members of the UP community." and "the University shall maintain an enabling, gender-fair, safe and healthy learning and working environment for the members of the UP community."In the pipeline is the recommendation for a transgender-affirmative academic information system like the Computerized Registration System that will recognize usernames and email addresses of both faculty and students based on their lived names, and a system-wide university anti-discrimination code.
(This article, written by Bino Gamba, was first published in the UP Diliman Website on July 14, 2022)