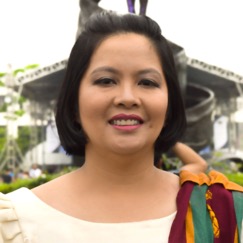 DR. JOANE SERRANO
Director of the Information Office and the Multimedia Center
UP Open University
Dr. Joane Serrano is currently the Director of the Information Office and the Multimedia Center at UP Open University. She has been with the university for 20 years and serves as an Associate Professor under the Faculty of Management and Development Studies (FMDS) and also teaches courses in the Faculty of Information and Communication Studies and Faculty of Education. She was awarded the Academic Excellence Award when she finished her PhD in Development Communication in 2013.
As an accomplished researcher and faculty, she has published research on various topics like information and communication technologies, open and distance e-Learning and on environmental advocacy.
She is also involved in various public service initiatives. She was a member of the technical committee for the three-year human capacity building program, the Ifugao Satoyama Meister Training Program (ISMTP), which is a joint project with Kanazawa University, Ifugao State University, Ifugao Province and local government units and was funded by Japan International Cooperation Agency (JICA). She is also the main proponent of the public service project of FMDS – the Earth Ambassadors – that aims to promote awareness in selected schools and communities in Laguna about the importance of sustainable environmental management. Also, she is currently the project leader of the project Youth Capacity Building and Exchange Program towards Sustainable Development and Conservation of Ifugao Rice Terraces or Youth for Ifugao Rice Terraces (#Y4IRT), a project funded by Mitsui & Co. Ltd. and is a collaboration between UPOU, UPLB, Ifugao State University, Ifugao Provincial and Municipal Government Units. This project aims to empower the young generation of Ifugaos with both the knowledge and leadership capability to sustain the Ifugao Rice Terraces landscape.