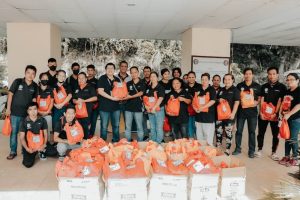 Through the Auxiliary Services Office (ASO), UP Visayas was able to raise funds for a Christmas gift pack for 180 agency-hired personnel of the university (104 agency guards and 76 janitors). The gift packs contain a spaghetti pack, canton noodles, and candies. For years now they have been receiving 3-in-1 coffee through fund drives and the gift pack this year is a departure from the usual tradition.
The gift packs were turned over by Vice Chancellor for Administration John Lorenz Belanio on December 20, 2022 at the lobby of the new administration building, Miagao campus.
UPV Security Officer III Ronie Fabillo received the gift packs on behalf of the agency guards while Engr. Roger Teves received them on behalf of the janitors. Also present were the agency supervisors of the security guards and the janitors.
ASO is thankful for the support of the UPV community that generously gave their support for this initiative.
(This article, written Ms. Mary Lyncen Fernandez, was first published in the UP Visayas Website on December 20, 2022)