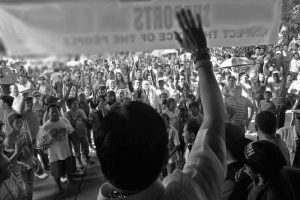 MANILA, Philippines — Several health experts said close coordination between the Commission on Elections and other government agencies will prevent campaign sorties from turning into COVID-19 superspreader events.
Dr. Jaifred Christian Lopez, an independent health consultant and board member of the Philippine Society of Public Health Physicians, said that the formation of campaign committees in different localities can be a venue for coordination.
According to Comelec Resolution No. 10732, the formation of these committees from the national, regional, provincial, municipal and city levels will accept, approve, or disapprove applications for campaigning in a certain place, monitor the conduct of election campaigns, implement Comelec guidelines on campaigning, and designate a category level in their respective areas of jurisdiction.
The members of these committees consist of members from Comelec, the Department of Health, Philippine National Police, Armed Forces of the Philippines and the Department of the Interior and Local Government.
"However, there are some [levels] of difficulty with how you'll be able to implement policy coming from committees going to the ground," Lopez told Philstar.com, adding that this may happen in areas considered as election hotspots.
He said these issues could range from issuing permits for campaign sorties to the implementation of minimum public health protocols like social distancing.
That being said, Lopez suggested that coordination must not solely focus on policies alone but also on how it will impact the elections in these areas.
"As with any other points for law enforcement in this country … you need vigilant people to implement those things," Lopez said, emphasizing that this must come with an accurate picture of what is happening on the ground.
For public health specialist Dr. Edrie Alcanzare, the DOH and the DILG are among the executive agencies that should be active in ensuring that health guidelines are followed during campaigns.
"They should at least have people monitoring the events so there will be no COVID-19-infected person who will go to the event," Alcanzare told Philstar.com.
Kristine Tomanan, an assistant professor at the University of the Philippines – Manila College of Nursing, said the Comelec, DILG and DOH should be clear on how they will implement sanctions in case running candidates breach health protocols.
"They should at least release a joint statement on where the accountability would fall if ever certain candidates commit [health] violations during campaigns," Tomanan told Philstar.com.
Philstar.com tried contacting the Comelec for this story, but it did not respond.
'Police their own ranks'
Alcanzare said that candidates conducting large campaign sorties should police their own ranks to prevent their events from becoming superspreaders as he noticed that some aspirants take off their masks when speaking at their whistle-stops.
"Masks themselves aren't just to protect you from other people passing on the virus. They are more of protecting other people from the virus that may have come from you getting to them," Alcanzare said.
He also noted the importance of having a "well-read" health adviser who specializes in public health or preventive medicine so they can understand how the virus is passed from person to person.
"One of the things that each candidate can do is to espouse a sort of responsibility towards the people who are supporting them and ensuring that nobody comes home with the virus," he said.
He added that it is important to hold their events in outdoor or well-ventilated spaces as the virus is airborne.
For Lopez, it is unfortunate to see that some candidates are seen flouting these regulations on masking during packed rallies.
"Hopefully our politicians and candidates will also exemplify that [minimum public health protocols] because they have this unique level of influence," he said.
The country closed the month of February with less than 1,000 new confirmed cases of COVID-19, bringing the total number of cases since the start of pandemic to more than 3.6 million.
(This article, written by Siegfred Aldous Lacerna, was first published in the Philippine Star Website on March 8, 2022)