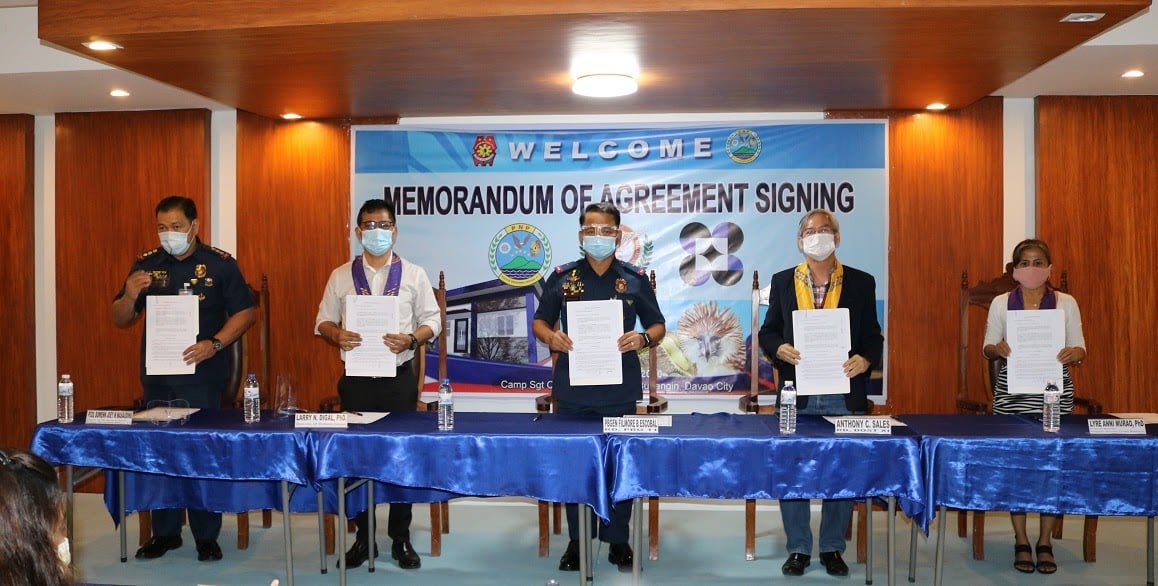 UP Mindanao entered into another memorandum of agreement to establish a COVID-19 testing facility, this time with the Police Regional Office–Region XI (PRO-XI) and the Department of Science and Technology–Region XI (DOST-XI), on 16 September 2020 at Camp Sgt. Quintin M. Merecido, Davao City.
Shown holding the agreement in the photo below are (left-right) Police Colonel Bowenn Joey Masauding, Chancellor Larry Digal, PRO-XI Regional Director Police Brigadier-General Filmore Escobal, DOST-XI Regional Director Dr. Anthony Sales, and Associate Professor Lyre Anni Murao, director of the Philippine Genome Center (PGC) Mindanao.
The PRO-XI facility located in the Camp Merecido Hospital is the third COVID-19 facility that UP Mindanao is helping establish, following the recently completed facility in the Davao Regional Medical Center in Tagum City and the facility under construction in the Provincial Hospital of Davao de Oro Province.
UP Mindanao, through the experts in PGC Mindanao, will provide the facility personnel with training in biosafety and molecular diagnostics and prepare them for proficiency testing by the Department of Health−Research Institute for Tropical Medicine (DOH-RITM).
DOST-XI will extend the financial assistance or support for the training and the operation of the facility, particularly in research and development, since the agreement also states that the lab can be used as an extension laboratory by PGC Mindanao for R&D, similar to the facilities in Tagum and Davao de Oro.
(This was originally posted on the UP Mindanao website on September 16, 2020)