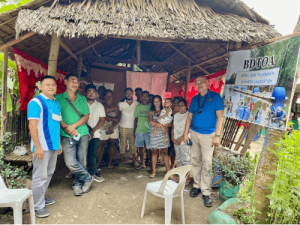 Oyster growers from Negros Occidental sought the expertise of aquaculture specialists from the College of Fisheries and Ocean Sciences, UP Visayas (UPV-CFOS) on oyster and mangrove crab culture.
Experts from the Institute of Aquaculture (IA), UPV-CFOS, namely IA director Prof.  Dr. Rex Ferdinand M. Traifalgar, Asst.  Prof. Dr. Carmelo del Castillo, and Mr. Fredson Huervana had a consultative meeting with members of the Barangay Dos Talabahan Owners Association (BDTOA) from Ilog, Negros Occidental last February 4, 2023. BDTOA is an association of oyster farmers with 37 members.
BDTOA, through the Negros Volunteers for Change (NVC) Foundation, Inc., requested for technical assistance of CFOS-IA on mangrove crab fattening and oyster farming to augment their income.
NVC, a non-stock, non-profit organization duly registered with the Department of Social Welfare and Development (DSWD, is supporting the livelihood of the members of BDTOA. It helps in the rehabilitation of their grow-out station that was affected by typhoons Paeng and Odette.
Traifalgar and his team surveyed the area and looked into the current practices of the oyster growers.
The team found the BDTOA proposed site for mangrove crab fattening suitable and suggested an ideal pond design including on how to go about with its construction.  Examples of design and site development plan were provided to the association for their reference. NVC has requested for a follow-up visit during the pond construction and to train the members of BDTOA on mangrove crab fattening technology.
To maximize their oyster production, it was also recommended to use the hanging method.
The NVC expressed their gratitude to the assistance extended by the CFOS-IA.
"Thank you for your valuable inputs shared with the community on how to be productive talaba and alimango growers."
Meanwhile, last January 13, 2023, CFOS-IA also provided technical assistance to Palaya Agri Ventures OPC in choosing appropriate shrimp sorting machine to upgrade its current process of manually sorting the commodity before its distribution in the market. The consultative meeting was held online and was participated by Traifalgar, Huervana, and Ms. Mary Gold David.
The request was made by the Provincial Science and Technology Office of Zambales of the Department of Science and Technology in line with the implementation of its duly approved project on Small Enterprise Technology Upgrading Program (SETUP) entitled "Adoption of Shrimp Processing Technologies for Palaya Agri Ventures OPC."
(This article was first published in the UP Visayas Website on February 14, 2023)