The UP Padayon in cooperation with UP Visayas, through the Department of the Interior and Local Government, invites the Local School Board officers to participate in the 3rd Colleges and Universities Public Service Conference (CUPSCon3) on October 16-18, 2019 at the UP Visayas – Iloilo City Campus.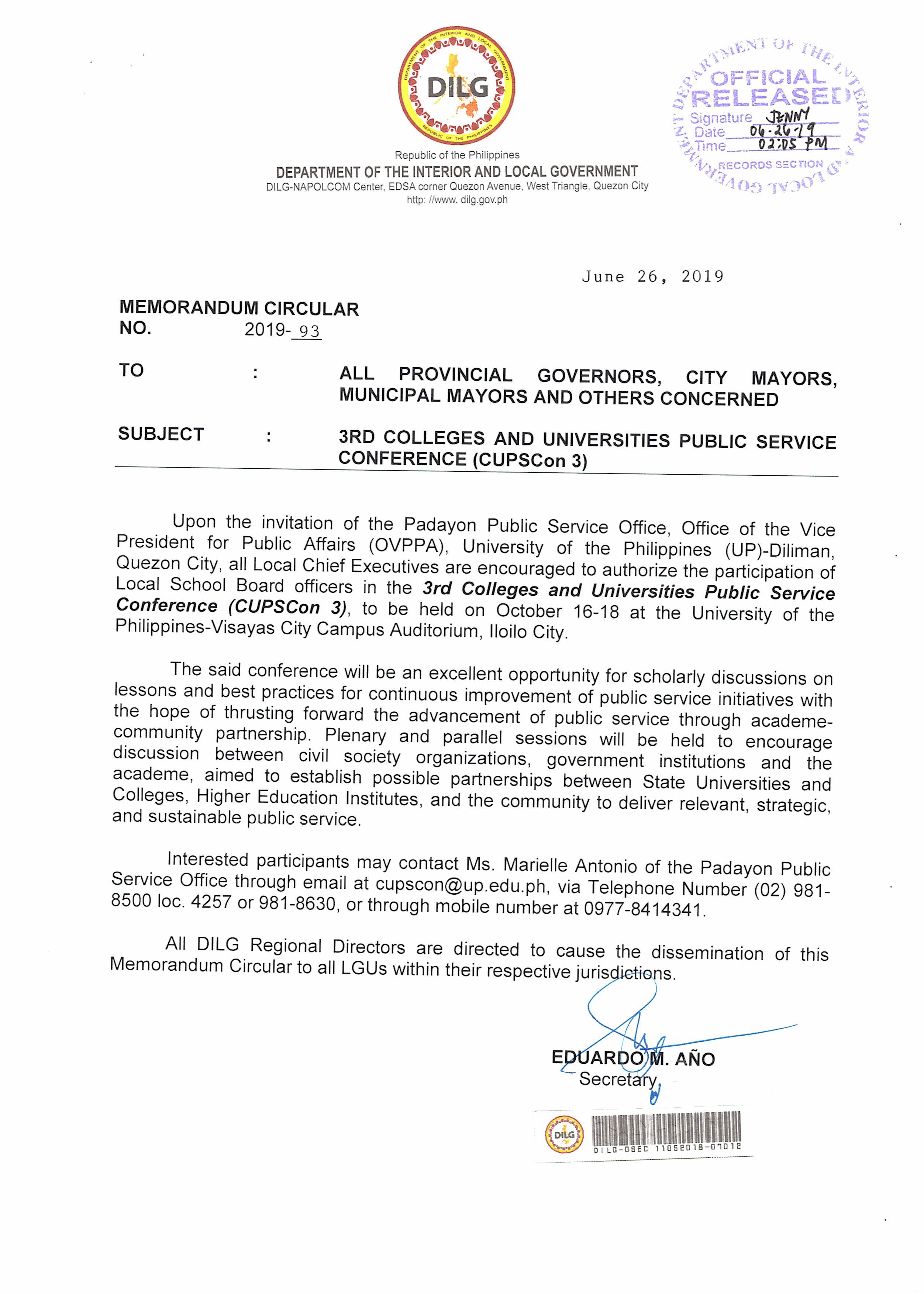 About the conference
CUPSCon 3 is a three-day conference that shall feature plenary and parallel sessions as well as poster presentations on the various public service initiatives. It is an opportunity for academics, practitioners, government institutions, and civil society organizations involved in the study, management, development, and implementation of public service to come together and exchange ideas. It will provide a venue for discussion and exchange of the best practices in the delivery of public service that address challenges on health, environment, gender, culture and education.  It also aims to establish possible partnerships between the academe and the community in advancing relevant, strategic, and sustainable public service.
Key Benefits for Participants
Enhance your knowledge on the development and challenges in various fields of public service
Deepen awareness of perspectives and approaches relevant to the conference themes
Opportunity to clarify your concerns with panel of academic and field experts
Opportunity to meet academic experts and researchers
Recognition of your work on national platform as a participant or paper/poster presenter
All accepted abstract/full papers will be provided with a print version of the book of abstracts
Identify your future collaborative partner among the vibrant and scholarly audience
Submission guidelines
Authors are kindly invited to submit a 300-word abstract to [email protected] containing the following:
Brief background and description of the project
Objective of the project
Activities undertaken
Project Outcome
Deadline of submission: August 2, 2019
Notification of results: August 9, 2019
For further inquiries, please contact Marielle Antonio via email at [email protected], or through phone at 981-8500 loc 4257 or 981-8630.