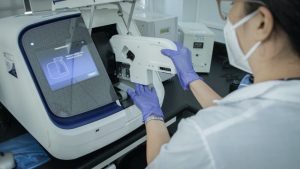 The Philippine Genome Center Visayas has already received its set of Next Generation Sequencers to capacitate the center for whole genome sequencing to detect SARS-CoV-2 variants in the region. PGC Visayas acquired the sequencers through the funding support of the Department of Budget and Management. Installation of the sequencers commenced last Thursday (Jan. 20) at the PGC Visayas Laboratories at the Regional Research Center of UPV in Miagao, Iloilo. Installation is set to be complete over the weekend, and the initial trial run will commence on Monday (Jan. 24). Another series of minor runs will follow this over the next two weeks to optimize all the systems in place. Full operations are targeted to start by the 3rd or 4th week of February, upon which PGC Visayas will be able to sequence around 350-375 samples per week. The sequencers acquired by PGC Visayas, the Illumina ISeq 100, and Illumina NextSeq 1000 (distributed and locally supported by Lifeline Diagnostics) are some of the latest sequencing platforms available in the market, with the installation of the NextSeq 1000 being the first in the Philippines.
As part of the biosurveillance efforts for the region, PGC Visayas has partnered up with the Western Visayas Medical Center – Sub National Laboratory (WVMC-SNL) and the Regional Epidemiology and Surveillance Unit (RESU) of DOH 6 in order to carry out aspects of the sequencing workflow. WVMC-SNL, the leading COVID-19 testing laboratory in the region, will be handling the RNA extraction step prior to sequencing at the PGC Visayas Laboratories, while DOH-RESU 6 will be in charge of coordinating all the samples to be selected for sequencing with the DOH Epidemiology Bureau. DOH-RESU 6 will also assist in transporting the RNA extracts from WVMC-SNL to PGC Visayas.
In preparation for its sequencing activities, PGC Visayas also reached out to the alumni of UPV for assistance in making the sequencing operations of PGC Visayas more sustainable. The UPV alumni organizations, UPAA-Iloilo Chapter and IamUPhi, were able to secure donations for additional lab gowns, an industrial washing machine, a dryer, and other peripheral supplies for PGC Visayas.  The turnover of the said donations will be held at the Regional Research Center of UPV where the PGC Visayas Laboratories are housed on Jan. 22 (Saturday). Further assistance was provided by the laboratory of Dr. Stephen Sabinay of the West Visayas State University – College of Medicine through the temporary loan of additional laboratory peripherals.
With PGC Visayas gearing up for its contribution to the national effort for COVID-19 biosurveillance, it stays true to its mandate of continuously harnessing genomics and omics technologies for the benefit of Filipinos. PGC Visayas was established in 2019 with funding support from the Department of Science and Technology through the Philippine Council for Health Research and Development and the University of the Philippines System.
(This article was first published in the UPV Website on January 21, 2022)