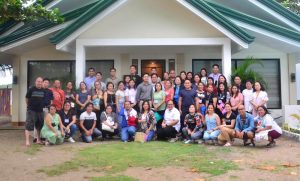 The Public Information and Community Affairs Office (PICAO) of the Iloilo Provincial Government (IPG) tapped the University of the Philippines Visayas Information and Publications Office (UPV IPO) and Dame Digital to discuss various topics on social media to its designated information officers (IOs).
About 50 IOs from the various offices of IPG and the Provincial District Hospitals attended the activity titled "Training-Workshop on Social Media Management for Designated Information Officers of the Iloilo Provincial Government" held on Oct. 27-29 in Carles town, Iloilo.
University Research Associate Carlson Alelis of IPO gave presentations on "Roles of Information Officers in Development" and "Understanding Social Media in Government."
He discussed the functions and responsibilities of IOs and the use of various media platforms to maximize information dissemination of IPG's programs, activities, and initiatives.
Dame Digital Creative Operations Officer Daryl Lasafin gave a talk on the topics "Social Media Content Management" and "Graphics Design and Photo Editing."
He discussed ways to create engaging content on social media and facilitated workshops to set up social media accounts and basic photo editing and graphic designing.
At the end of the sessions, the IOs were able to come up with their short-term content plans.
PICAO Chief Jose Nereo Lujan said the activity aimed to capacitate designated IOs as "force multipliers" of the official affairs of the provincial government, particularly on social media.
PICAO is in charge of IPG's social media posting, mainly on its official Facebook page "Balita Halin sa Kapitolyo."
The office expects to have more shareable content from the social media pages of offices under IPG and the Provincial District Hospitals.
(This article was first published in the UP Visayas Website on November 2, 2022)