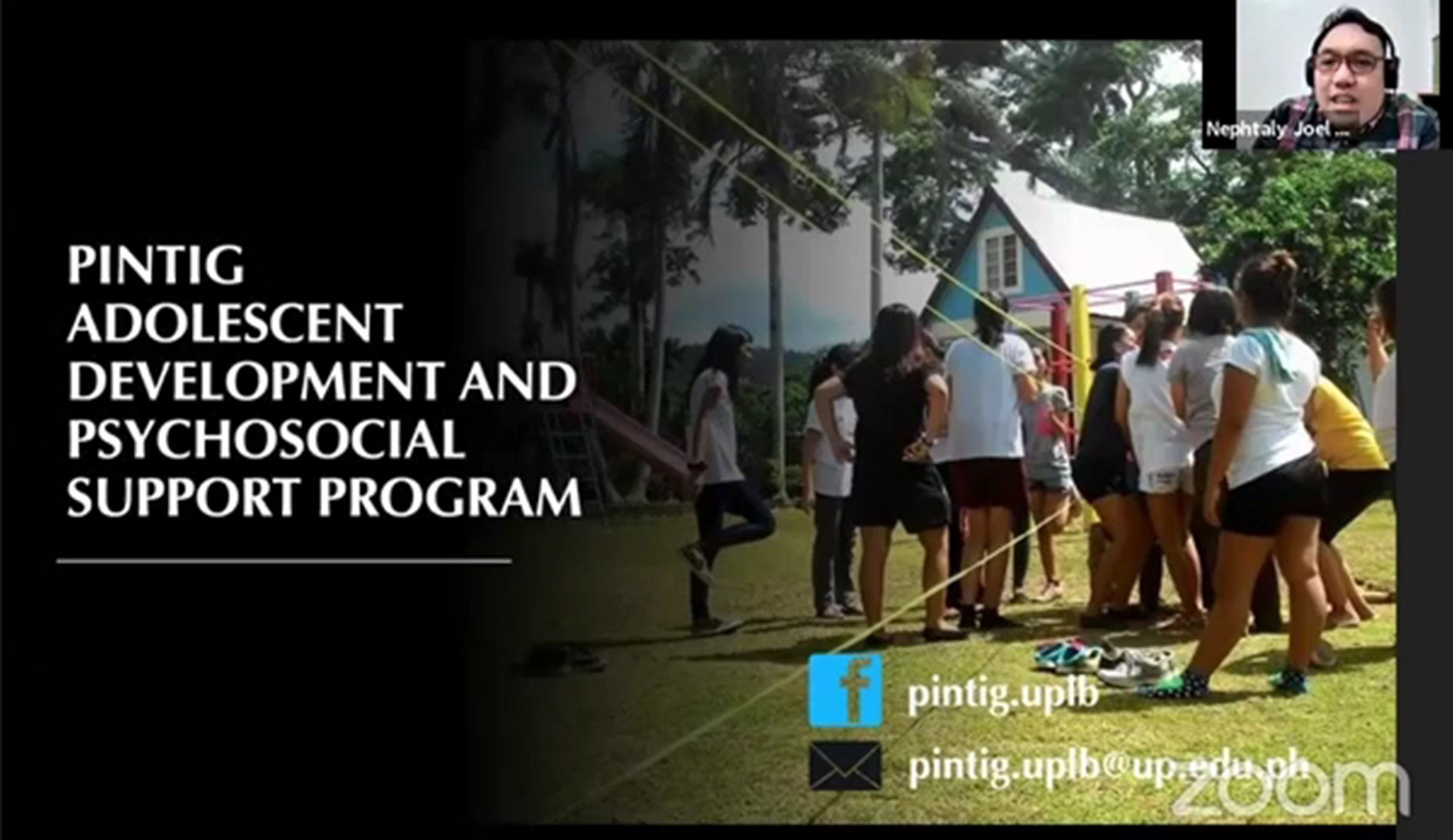 The annual event of the Pintig Adolescent Development and Psychosocial Support Program opens its 8th year by discussing ways to deal with the mental stresses brought by the pandemic. It held its first episode titled "Healing and Well-Being: Caring for the Whole Person in the New Normal" via Zoom and Facebook on Nov. 18.
Dr. Carolina Uno-Rayco, national executive director of the Philippine Mental Health Association, Inc., led the first session titled "Holistic self-care amidst the pandemic."
Dr. Rayco said that taking care of one's mental health is often overlooked and emphasized the importance of self-care to effectively manage stress and depression. Using Maslow's hierarchy of needs as a guideline, she discussed a self-care checklist that people can use to check on themselves.
She laid out questions that probed at a person's feeling of safety, self-image, purpose, and self-actualization and suggested strategies to help improve one's mental state.
To manage anxious thoughts, she suggested grounding oneself in the present by using all five senses and identifying things that one can see, hear, feel, smell and taste. She also taught a simple breathing exercise that can help relieve tension.
She also suggested mastering new skills and refraining from negative self-talks to improve confidence and emphasized that we can choose how to respond to the situations that we face. While we cannot simply forget our worries, she said that it can help to channel negative emotions into doing something meaningful such as helping others.
Rufo Gil Albor, chair of the Department of Human and Family Development Studies (DHFDS) at the College of Human Ecology, led the second discussion on "Understanding loss and grief." He explained that grief is a natural emotional response to loss and may be caused by the loss of someone or something personally valuable either suddenly or expectedly.
During his discussion, Albor dispelled misconceptions about recovering from grief. Instead of ignoring the negative emotions associated with grief, he said it is better to actively deal with it to begin genuine healing.
He encouraged those who are experiencing grief to allow themselves to feel their emotions without having to put on a brave front. He also said that people heal from their grief at their own pace and that there is no set time limit to recovering.
Albor also discussed about "complicated grief" that disrupts a person's routines and prevents them from going about their daily life.
In this case, he discussed the five stages of grief based on Kubler-Ross's model: shock and denial, anger, depression and detachment, dialogue and bargaining, and acceptance. He said that people may flit through these stages in any order as they recover.
To manage the stresses of grief, he said it is important to acknowledge one's pain since it is part of feeling and loving, as well as the many different unexpected emotions that are normal reactions to significant loss.
To cope with pain, he emphasized having healthy coping mechanisms, such as engaging in activities and hobbies that make you happy. He also said that people recovering from grief should not compare their progress to others because each person's healing process is different due to their different contexts.
Seeking out support from people who care about one's well-being, talking to them about one's loss, and taking care of one's physical health by eating healthy, exercising, and getting enough sleep will also help in the healing process.
Now on its 8th year, Pintig continues to promote psychosocial well-being among the youth amidst the pandemic by holding its annual event through social media platforms.
It will hold its next episodes on Nov. 21 and 25. (Jessa Jael S. Arana)
(This was originally posted on the UP Los Baños website on November 20, 2020)