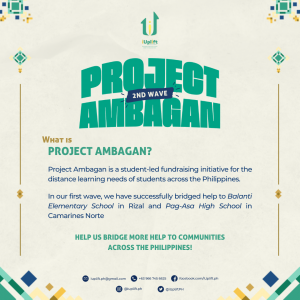 #ProjectAmbagan is now on its second wave and among its beneficiaries are the Tagbanua and Batak communities in Palawan.
#ProjectAmbagan is an initiative of iUplift, a coalition of student organizations. The project was launched in June and raises funds to respond to the distance learning needs of Filipino students across the country.
Donations will buy distance learning tools such as smartphones, printers and photocopying machines to produce learning modules that students will take home, backpacks and school supplies.
Apart from the Tagbanua and Batak communities of Palawan, the second wave of #ProjectAmbagan will benefit Dominador Narido High School in Camarines Norte, students from Sta. Rosa, Nueva Ecija and Rosario National High School in Isabela.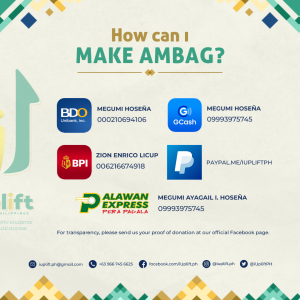 Donations may be sent through the following means: BDO (Megumi Ayagail Hosena account number 000210694106), GCash (Megumi Hosena 09993975745), Palawan Express Megumi Ayagail I. Hoseña 09993975745), BPI (Zion Enrico Licup account number 006216674918) and PayPal (https://www.paypal.me/iupliftph). Donors can keep track of the numbers here.
Partner organizations include UP Aggregates, UP Circle of Landscape Architecture Students, UP Ibalon, UP Palaweños, UP Math Club, UP Physics Association, UP Junior Social Workers' Association of the Philippines and the Geographical Society of the University of the Philippines.
During its initial venture, iUplift did proper coordination with school beneficiaries and local authorities as well as house-to-house visits with individual beneficiaries.
The first wave purchased 40 smartphones, 50 backpacks and supplies, over 100 textbooks, two printers and one photocopy machine to reach 90 student beneficiaries from Balanti Elementary School in Cainta, Rizal and Pag-Asa High School in Labo, Camarines Norte.
(This was originally posted on the UP Diliman website on September 23, 2020)