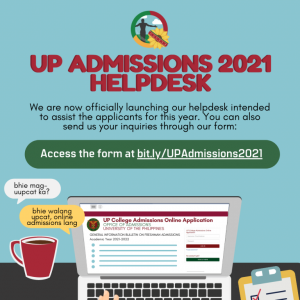 An online helpdesk for applicants to UP admission who have questions or may be having difficulty with the admission process was launched on Jan. 12.
Student organization UP ALYANSA (Alyansa ng mga Mag-aaral para sa PanlipunangKatwiran at Kaunlaran) launched
UP Admissions 2021 Helpdesk, a major ad hoc project "for student empowerment and the promotion of quality and accessible basic student services for all students of the UP System."
An initiative under ALYANSA's GabayIsko, the helpdesk launched with two major projects, the UP Admissions 2021 Survey and the Undergraduate Program Primer.
The UP Admissions 2021 Survey was open to all applicants to find out the problems they encountered during the admission process.
Meanwhile, the Undergraduate Program Primer isa 45-page online database contains up-to-date information on UP Diliman's (UPD) various undergraduate programs.
Essentially an online version of the UPD General Catalogue available on the OUR website, the primer also contains information on the major subjects that will be taken up, curriculum checklists and links to the official channels of the various departments, including their social media pages.
The primer was also turned into a series of infographics released on the GabayIsko Facebook page detailing the undergraduate course offerings at the various constituent units within the UP System.  Posted over the course of several days, the first post (also on Jan. 12) gave an overview of all the undergraduate courses in the entire UP System, with subsequent ones focusing on the various constituent units beginning with UPD.
he UPCAT application website went live on Jan. 8, with the large volume of applicants causing the website to be inaccessible for some users.
The UP Office of Admissions eventually launched its own Facebook Helpdesk on Jan. 9, with staff manning the Facebook Room to answer applicant questions during office hours.
(This article, written by Anna E. Regidor, was first published in the UPD Website on January 15, 2021)