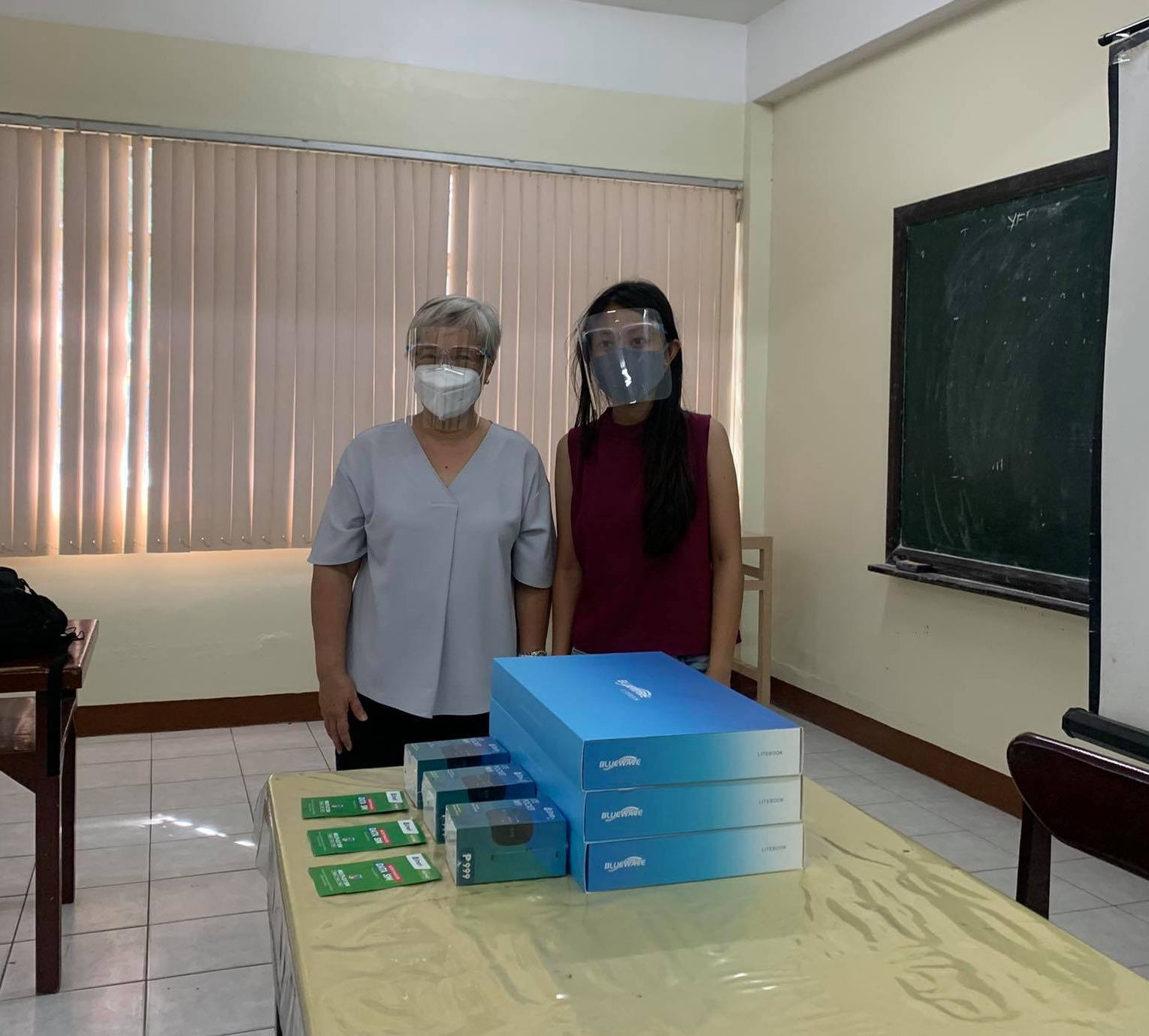 The UPV College of Arts and Sciences (CAS) distributed three additional laptops with WiFi connectivity to three CAS students at the UP High School in Iloilo AVR Room on November 9, 2020. The gadgets were facilitated through the CAS#KaagapayUP, a donation drive intended to aid underprivileged students' remote learning needs. In time for Prof. Ma. Severa Fe Katalbas' end of the term as CAS Dean, the CAS#KaagapayUP Committee, headed by Prof. Edelia Braga, was able to turn-over laptops with six months' worth of free connectivity to Leonalyn E. Abong (BS Applied Mathematics) – Purok 3, Sitio Tubog, La Paz, Hamtic, Antique; Erica L. Gonzales (BA Psychology) – Brgy. Iprog, San Enrique, Iloilo; and Danica Mae S. Tono (BA Psychology) – Janipa-an East, Mina, Iloilo. After receiving their donations, each recipient expressed their utmost gratitude for the generous donations.
This is the second round of distributions from the CAS#KaagapayUP, which came up with an amount of Php133,118.80. Donations were received from the following individuals and groups: Ivony Bretaña, Lizza Beare, M Jo Buaron, Ms. Jacquiline Napilan- Argente, Mr. Rovel Jusdin, and Ms. Myra Saet (UPV Clovers Alumni), Dr. Nolen Perualila-Tan and Mr. Cesar Tagle Tan Jr., the Pag-ulikid project of UPVHS Batch 81, Junbert Dressed Chicken Mktg., Vitarich Corporation, and Purple Hearts – Alay RSK Chapter of Metrobank.
The initial gadget support distributed on October 30, 2020, was given by the "Daisy Rodriguez Scholarship Grant," which turned-over $1250 to the UPV Foundation, Inc. This was to support two BA Community Development students, Pia Ann Marie Apsay and Carlyn Ausmolo. The scholarship grant included a provision for the purchase of gadgets for online classes. An additional $1200 per academic year will also be sent and divided between these two students ($600.00 each) starting AY 2021-2022 until they graduate. To retain this scholarship, Apsay and Ausmolo must maintain an average grade of 2.5 per semester. They must also volunteer for a community project of their choice during the duration of the scholarship. The donation made by Ms. Rodriguez was facilitated by the former Office of Alumni Affairs Director, Prof. Benmar Panaguiton, and Prof. Josephine Firmase, a faculty of Community Development.
The handover on November 9, 2020, was attended by OAR Director Rey Carlo Gonzales, IPO Director Julie Prescott, Office of Student Affairs Director Agustin Huyong, Associate Dean Nilo Araneta, and faculty and staff members from CAS.
More photos here: https://www.facebook.com/U.P.Visayas.Official/
(This was originally posted on the UP Visayas website on November 10, 2020)