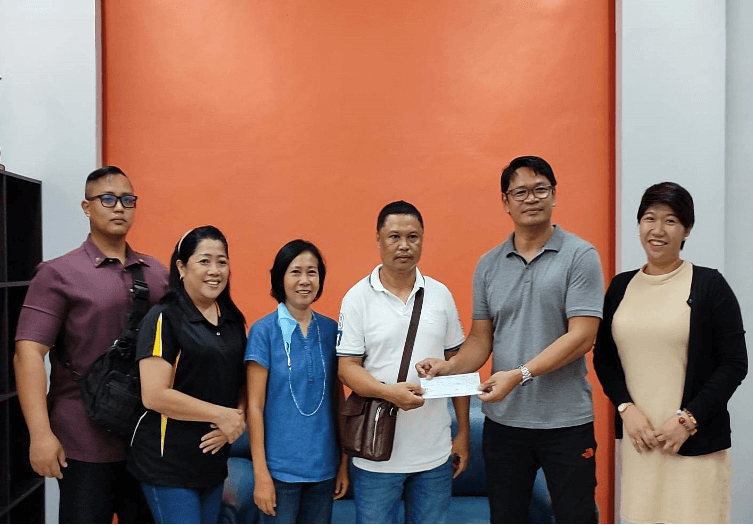 The UP Visayas University Library received a grant from UPMASA in the amount of 1.2 million pesos for the set up of the UPV Archives Section in the new UPV Library building.  The project was made possible on the initiative of Ms. Analiza G. Linaugo, University Librarian, and through the effort of UPMASA with the help of Mrs. Elvie Estampador-Gildea and Dr. Nerita Ulep.
The project will provide the needed equipment and acquire materials for the archives section such as the bookshelves, chairs, tables, sofa set., etc., and refurbish the area (i.e. painting, installation of walls and dividers, aircon, flooring, etc.).  Also, it will acquire a heavy-duty digitization machine and a DLSR camera for the digitization and preservation of the archival materials.
A partial release of check amounting to 299,000.00 pesos was handed over by Atty. Rene John V. Nuñez, President, UPAA Iloilo Chapter to Mr. Rex B. Rodriguez, contractor.  The turnover was witnessed by Dr. Rey Carlo T. Gonzales, Director, Office of Alumni Relations; Ms. Consuelo R. Geduspan, Vice President, UPAA Iloilo Chapter; Ms. Ma. Yvonne E. Genciane, College Librarian, University Archives Section; and Atty. Shiella P. Olid, Legal Officer, UPAA Iloilo Chapter.
(This article, written by Ninfa Bandorio, was first published in the UP Visayas website on 03 April 2023)