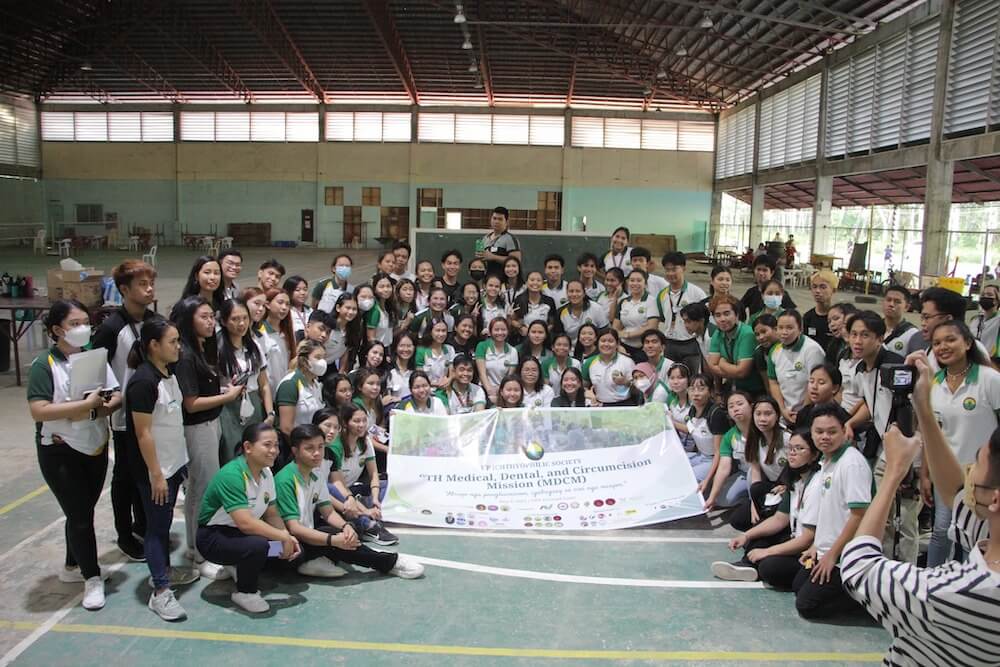 After the COVID-19 pandemic hiatus, the University of the Philippines Ichthyophilic Society (UPIS) resumed its Medical, Dental, and Circumcision Mission (MDCM) on its sixth year with the theme, "Maayo nga panglawason, ibugsay sa sini ng misyon," extending free healthcare services to 368 beneficiaries from six coastal barangays in Miagao last Saturday, May 6, at the UPV Covered Court.
According to the president of UPIS, Mae Dell Silfavan,  the conduct of the 6th MDCM aimed to assist the locals, especially in the coastal communities with medical, dental, and circumcision services.
MDCM was able to cater Barangays Banuyao, Naulid, Gines, Dingle, Maninila, and Calampitao, as well as Walk-in beneficiaries to its whole-day medical mission, with 91 availing the free medical consultation, 77 in dental registration and referrals, and 81 in the circumcision services. Furthemore, a total of 119 citizens benefited from blood sugar testing as well as ECG provided by Iloilo Volunteer Emergency Response Team (IVERT) Inc. The project exceeded its target number of 150–200 beneficiaries.
"UPIS views accessible healthcare services for coastal community locals as essential needs. Thus, we hoped that we have helped in the upliftment of the fisheries sector by assisting in the healthcare needs of the locals," Silfavan added.
Meanwhile, Riza Hugos, MDCM head, expressed that spearheading the project was not an easy task to do given that this is one of the major events of UPIS, but it was through perseverance and hard work that they were able to raise approximately 200,000 pesos for the organization's cause.
"It was a roller coaster ride for us because of various unforeseen events that occurred, but giving up was not an option for any of us. What drove us over the edge was our modern hero, the fishermen and their families, who served as our event's beneficiaries. The journey was not easy, but we kept in mind the assistance we could offer them through several services," she further stated.
To render these medical assistance, UPIS collaborated with IVERT and was also joined with special volunteers which include the Asian Medical Students Association (AMSA)–West Visayas State University, Municipality of Miagao-Rural Health Unit (RHU), Association Of Private Duty Nurse Practitioners, Philippines Inc., Colegio San Agustin-Bacolod (CSA-B) College of Health and Allied Professions, UPV PH Pub, UP SILAK Brotherhood  &  UP SILAB Sisterhood, Alpha Phi Omega – Kappa Gamma Chapter UPV, and private medical practitioners.
Monrie John Javier, one of the volunteers and the secretary general of AMSA, said that his experience during the MDCM was tiring yet rewarding, fulfilling, and enlightening.
"Rewarding because as AMSA's mission is to be of service to others with their medical needs, I feel like the organization has extended and extruded its capabilities with its competent volunteers to be of service to the recipients of the mission. Fulfilling in the sense that we were able to meet new people who share the same ideals of service and that we were able to share our calling and be affirmed by them," he explained.
Javier also noted that the event was an eye-opener to the current situation of the recipients of the mission, wherein they need the most help but little is there to help; thus, through the mission, they were able to help to their best extent.
Hannah Marielle Untal, head of the MDCM logistics committee, then expressed her gratitude to the volunteers who were all with them throughout the conduct of the activity and extended their help and service to Miagaoanon beneficiaries.
The healthcare service concluded by giving out a free sanitary kit to the beneficiaries, consisting of facemasks, toothbrush, toothpaste, tissue, alcohol, soap, and a foldable fan contributed by the Iloilo 1 Electric Cooperative Inc. (ILECO-1).
"Instead of being drained due to sleepless nights during the preparation, communicating with our beneficiaries made me feel energized and full," Untal further stated.
She lastly highlighted that the effort of the members and the camaraderie that they had during the last two weeks of the preparation helped put the committee at ease. Untal hoped that the organization's mission does not end there and that more MDCM will be conducted by the current and future resident members.
Hugos also sent out her gratitude to the people who devoted their time and effort in making the organization's annual MDCM successfully return, since the event was halted for three consecutive years brought by the COVID-19 pandemic.
"I would like to express my gratitude to all the heads and co-heads, resident members, and alumni who helped make the event possible. To the volunteers who devoted time and effort to share their expertise, to the sponsors and partners who helped make our event possible, and to God who guided and blessed us since day one." she said.
MDCM has now more than 1,500 beneficiaries who have received assistance since 2015.  UPIS is currently on its 57th year, continuously implementing other community programs that serve the fisherfolk and promote the fisheries sector, such as Young Wizards of Fisheries Science (YWOFS), Board Examination for Fisheries Technologist (BeFIT) Refresher Course, Pamunit, Kamayan, Reef Rangers, IShuffle, ICaroling and Gift Giving, Freshmen Orientation Program (FOP), Balik Tanaw, ISDAtalk, Patinikan, Pamunit and Saluganay, Pag-ulikid, ISafe, ISining, Outreach Program, and Career Orientation Program.
(This article, written by Shekijah Jabagat, was originally published in the UP Visayas website on 15 May 2023)