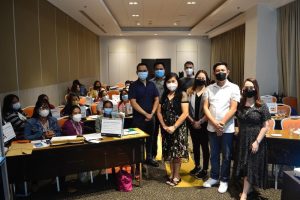 As part of the Healthy Hearts Program, the first batch of Barangay Health Workers (BHWs) and other medical professionals from the Provinces of Iloilo, Guimaras, Antique, and Iloilo City attended the Training of Trainers on the rollout of the noncommunicable diseases (NCDs) flipchart last 28 Oct. 2022.
The flipchart, produced by the Department of Health (DOH) and World Health Organization (WHO), contains information on NCDs such as hypertension, diabetes, cancer, and certain types of pulmonary diseases.
The primary aim of the Training of Trainers is to capacitate BHWs and other medical professionals in the conduct of the NCD training in their respective municipalities and cities with the aid of the NCD flipchart.
The Training of Trainers is a regionwide project. It will be conducted in the other provinces of Western Visayas – Capiz, Aklan, and Negros Occidental in the coming weeks. One of the visions of the project is to maximize the use of the NCD flipchart in the scale-up of the NCD training to other BHWs and medical professionals in Western Visayas.
Faculty members from the University of the Philippines Visayas comprised the Training of Trainers team, which includes Dr. Philip Ian P. Padilla, Prof. Jude Vincent E. Parcon, Dr. Adrienne Marrie S. Bugayong-Janagap, and Prof. Julie E. Prescott.
Participants are extended assistance on how to convey NCD-related information correctly, including understanding the science behind NCDs, simplifying technical terms and scientific jargon, and speaking and presentation skills.
WHO and the DOH Region VI team composed of Dr. May Ann Sta. Lucia – Cluster Head, Dr. Aimee Marie Gayomali – NCD Section Head, Mr. John Michael Añes – BHW Coordinator, and Mr. John Lapascua – NCD Coordinator, presented information on the status of NCDs in the Philippines, the role of the barangay health workers in the Universal Health Care (UHC) law, and the Revised NCD Risk Assessment Tool.
The NCD flipchart is part of the Job Aids of the Healthy Hearts Technical Package funded by Resolve to Save Lives.
(This article, written by Prof. Jude Vincent Parcon, was first published in the UP Visayas Website on November 2, 2022)