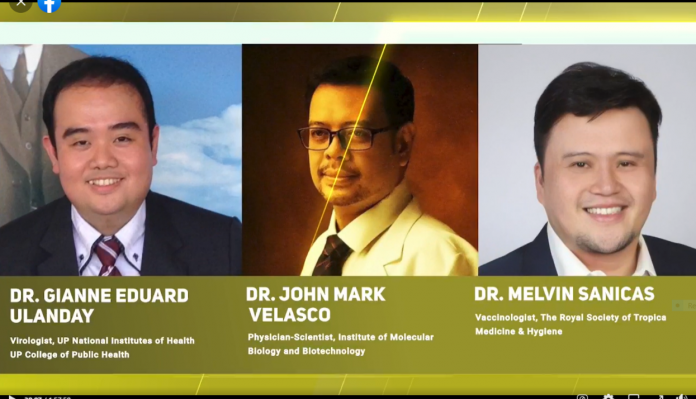 "The longer we wait to get vaccinated, we are giving more time for the virus to mutate."
This was according to Dr. Gianne Eduard Ulanday, a virologist from the University of the Philippines and one of the panelists during the recent Expert's Class Episode 4: Vaccines and Vaccination webinar organized by the National Research Council of the Philippines (NRCP) of the Department of Science and Technology (DOST).
"Vaccine hesitancy is the delay in acceptance or refusal of vaccines despite availability of doses," said Dr. Melvin Sanicas, a vaccinologist and member of The Royal Society of Tropical Medicine & Hygiene.
"Now it's important to highlight this because we always hear about vaccine hesitancy in the context of COVID, but in reality, in many places globally including the Philippines, there are no vaccines available for everyone who wants to get vaccinated."
Ulanday added that the most important thing with the vaccine is the time, not the brand, and that there's no vaccine that is 100% effective, not only with COVID, but as with the other diseases. There's always that one percent chance that it's not effective.
Meanwhile, Dr. John Mark Velasco, physician-scientist from the Institute of Molecular Biology and Biotechnology, said, "Rather than comparing between brands on whether this is the best one or this is a better one, this provides higher protection, longer protection, maybe we should focus on just getting what is available right now, to be protected, because all of these vaccine brands, they have full protection against severe infection, and that's what we're trying to prevent – severe infection."
Currently, there are around 93 vaccines being tested in clinical trials in humans, while 30 candidate COVID-19 vaccines have reached the final stages of testing (Phase 3 of clinical trials). On top of that, at least 77 preclinical vaccines are under trials in animals. All these vaccines are designed to teach the body's immune system to safely recognize and block the virus that causes COVID-19.
The first generation vaccines that are currently being used have all been granted emergency use access by the World Health Organization (WHO) and by the national regulatory bodies. Newer and better second generation vaccines are in the development pipeline, and will be available once they pass the safety and efficacy criteria set by the regulatory authorities.
Expert's Class, which is a part of DOST-NRCP's initiative to provide the public with updated research and science-based information on various science and technology issues, can be viewed on Research Pod's Facebook page. (Geraldine Bulaon-Ducusin, S&T Media Service)
(This article first appeared in PTV News Para Sa Bayan on September 9, 2021.)