In commemoration of Philippine Independence Day, the University of the Philippines (UP) Reserve Officers' Training Corps (ROTC), Corps of Sponsors and Cadet Alumni Organization (CAO), spearheaded by Maria Christina Cecelia "Tina" Hernandez, once again conducted the Kalayaan Island Group (KIG) Care Package Project.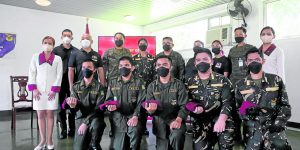 Hernandez invited organizational partner Desi Marie Sapnit, an educator and internship coordinator at the De La Salle-College of Saint Benilde School of Diplomacy and Governance, to participate in the program.
In turn, Sapnit extended the request to her current Association of Southeast Asian Nations (Asean) Studies class. They created letters, graphic artworks and art cards of gratitude to be sent to the deployed KIG Troops in the West Philippine Sea.
The contributions, printed in color, were included in the 29 boxes of care packages prepared by the UP Diliman ROTC cadet officers and volunteer cadets. These were turned over to Armed Forces of the Philippines deputy chief of staff for civil military operations Brig. Gen. Gabriel Viray III in an intimate ceremony held at the UP Department of Military and Tactics in Diliman, Quezon City.
The donations included basic necessities, canned goods, milk, biscuits, toiletries and other goods, especially for the schoolchildren in the islands, such as books and school supplies.
The KIG Care Package Project was first conducted in 2013 when UP CAO extended their support and assistance to the Filipino soldiers deployed at the BRP Sierra Madre Ayungin Shoal and other detachments along the West Philippine Sea. The initiative was followed in 2015 with the students of Pag-Asa Island as beneficiaries.
(This article was first published in the Inquirer.NET Website on June 18, 2022)