POST-EVENT UPDATE:
"Zero Rabies in Davao City: A Dream or a Reality?" a webinar on the rabies landscape of Davao City was held online on 17 November 2020. The "Synoptic Study on Transmission and Optimum Control to Present Rabies," or STOP Rabies program, for short, presented its three studies and arrived at five policy recommendations:
Recommendations for Zero Rabies in Davao City:
(1) mandatory dog registration; (2) mandatory pet vaccination; (3) have a transitory impounding center and return-to-owner system for impounded pet dogs; (4) operationalize a pet breeder registry; and (5) provision of direct-specific Animal Bite Treatment Center establishments.
Davao City councilor Mary Joselle Villafuerte welcomed the recommendations and pledged to incorporate these into the ongoing city health proposal draft.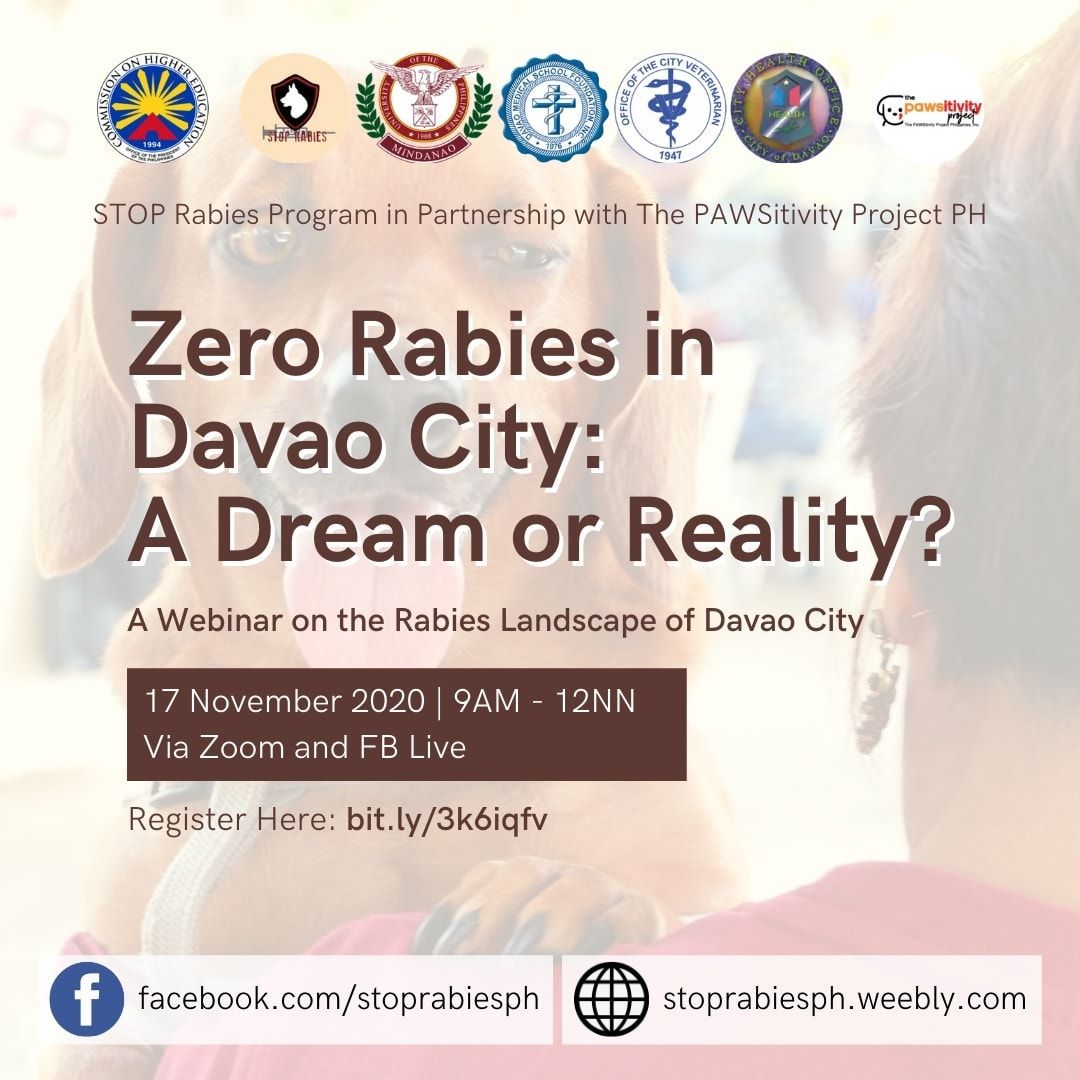 (View the forum video here: https://bit.ly/35XsF22)
The webinar panelists were Prof. Lyre Anne Murao, Prof. May Anne Mata, and Dr. Genevieve Tupas, project leaders of the STOP Rabies program, Prof. Pedro Alviola IV of UP School of Management, Dr. Esther Cherrie Rayos, Dr. Ma. Corazon Sepulveda, Dr. Gloria Marquez, and Dr. Gay Paliar of the Davao City Veterinarian's Office, Dr. Annaliza Malubay of Davao City Health Office, Dr. Maria Nerissa Dominguez and Mr. Thomas Hiatt of WHO-PH, Pauline Baladjay of DOH, Dr. Sarah Jayme of Global Alliance for Rabies Control, Dr. Daphne Jorca of Bureau of Animal Industry, and Floyd Bascones of Davao Dog Lover's Community
---
STOP Rabies program in partnership with The PAWSitivity Project Philippines invites the public to a free webinar, "ZERO RABIES IN DAVAO CITY: A DREAM OR REALITY?" on 17 November 2020, 9:00 AM to 12:00 NOON.
Participants can learn about the rabies landscape of Davao City based on the research results of the program, experience the 1st Virtual Pet Blessing, have fun with the online games and prizes, and meet new people and pet lovers through this webinar. Register here: bit.ly/3k6iqfv
(This was originally posted on the UP Mindanao website on November 16, 2020)