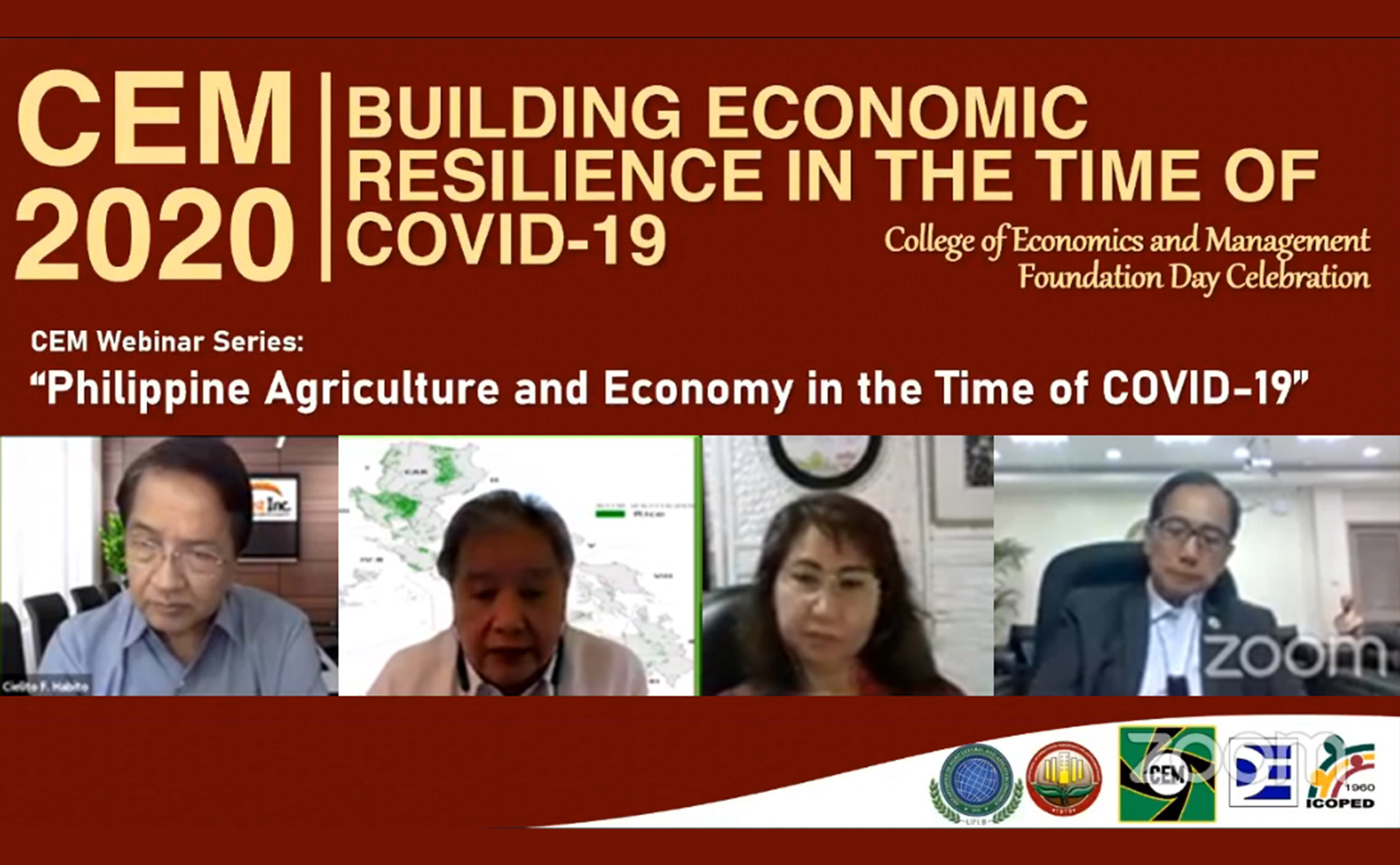 The Philippine agriculture sector has defied the recession and sped up its growth at these times.
Dr. Cielito Habito, professor of economics at the Ateneo de Manila University and former director-general of the National Economic and Development Authority (NEDA), said this during the anniversary webinar series of the College of Economics and Management (CEM) held on Aug. 14 via Zoom.
Dr. Habito stressed that agriculture is a key driver to speed up the recovery of the country's economy, which has suffered from an increase in unemployment and decline in GDP due to the COVID-19 pandemic.
"The second biggest contributor [of jobs] and very close to [the first, wholesale and retail trade] is agriculture, hunting, and forestry, which is 20% of the [country's] jobs," Dr. Habito explained.
"Other sectors have a close linkage to agriculture. The biggest manufacturing in the country is agriculture-based – the food manufacturing sector. Transport and storage, accommodation and food services, the restaurants and hotels, all make use of agricultural products," he continued.
Fellow webinar speaker and economist, Dr. V. Bruce Tolentino, monetary board member of the Bangko Sentral ng Pilipinas, supported Dr. Habito's observation. He particularly noted that the rice industry has managed to remain steady amidst the recession.
However, he also disclosed several critical issues regarding rice in the Philippines, including its price inflation. He identified mismanagement from the National Food Authority as the key cause of the instability of rice stock. He said that policies and measures are being put in place to fix the issue.
Joining Dr. Habito and Dr. Tolentino during the webinar were Agriculture Secretary William Dar and NEDA Undersecretary for Policy and Planning Rosemary Edillon, who presented the government's plan for agriculture and the economy during and after the pandemic.
Edillon, who talked about a task force that would study the state of the economy, said that agriculture would play a prominent role under the new normal, especially with regard to food security and economic opportunities.
Dr. Dar cited a food security framework anchored on the principles of "survive, reboot, grow," which is connected to the "Plant, Plant, Plant" program of the Department of Agriculture that aims to revitalize Philippine agriculture through local food production.
The webinar concluded with an open forum wherein the speakers and participants exchanged ideas on the role of the youth in agriculture; food security and safety, especially regarding imported goods; and future plans of the agricultural sector.
Aside from the webinar "Philippine agriculture and economy in the time of COVID-19" that featured the four speakers, earlier CEM webinar installments tackled agribusiness innovations, cooperatives, and economic and business research on separate editions on Aug. 11-13. (Albert Geoffred B. Peralta)
(This was originally posted on the UP Los Baños website on August 19, 2020)