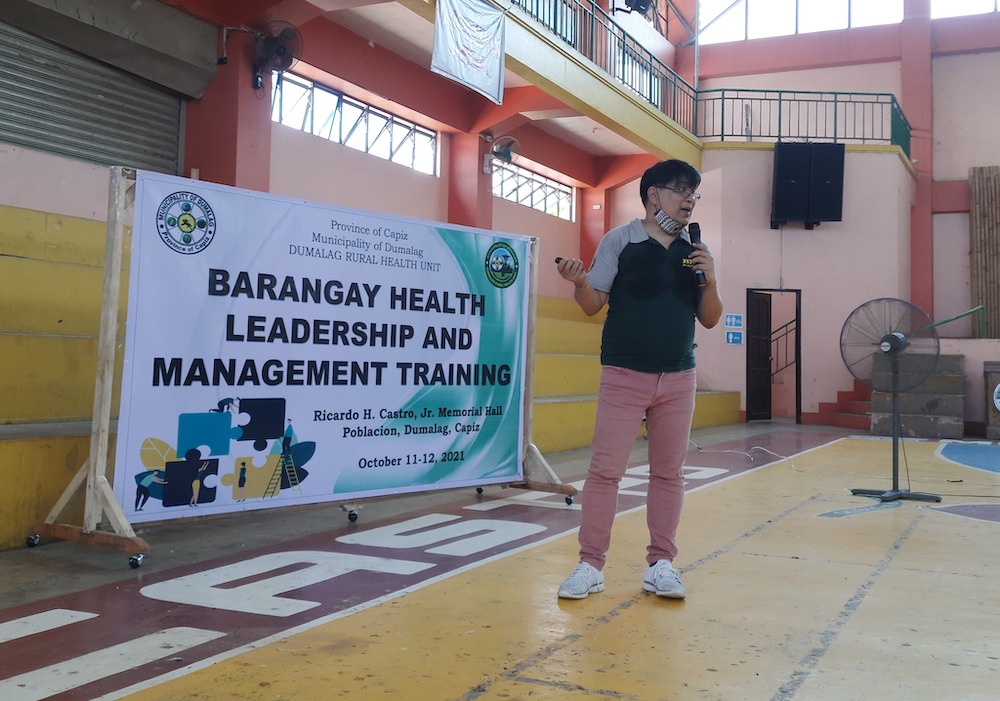 "Ang isa ka genuine nga leader, pursigido sa pagbag-o" said a participant during the Barangay Health Leadership and Management Program (BHLMP) Training Workshop at the Ricardo H. Castro, Jr. Memorial Hall, Dumalag, Capiz.
The training, conducted on October 11-12, 2021, was participated in by 50 health leaders comprising 10 barangays in the municipality of Dumalag.
The BHLMP aims to build the capacity of the barangay health leaders in strengthening their local health system, promoting community participation and empowerment, and contributing to better health outcomes of the municipality.
The training was organized by the Dumalag municipal government  led by Mayor Amado Eriberto V. Castro, Jr., Dr. Ana Mae F. Belasoto, the Municipal Health Officer, and Mr. Juan Faduga, Municipal Planning and Development Coordinator.
"Daku gid ang bulig sang BHLMP kay nangin aware sila sang sitwasyon sa ikaayong lawas sang ila banwa kag makahimo sila sang nagakaigo nga plano para masabat ang mga problema nga gina-atubang ilabi na gid subong sa panahon sang pandemya," explains Adelfa Q. Coroz, Development Management Officer of Department of Health – Center for Health Development Region VI who also co-organized the event together with Dr. Mary Joy D. Castroverde, Capiz Provincial DOH Representative.
Four members of the College of Arts and Sciences served as training-workshop facilitators. They are Dr. Philip Ian P. Padilla of the Division of Biological Sciences; Prof. Josephine T. Firmase and Mr. Keith Vincent Jablo of the Division of Social Sciences; and Mr. Marianito Ramirez, Jr., University Extension Associate the of Community Outreach Program-BIDANI, an extension services unit of the College of Arts and Sciences.
"This is the 7th BHLMP Training-Workshop facilitated by the COP-BIDANI this year since June," says Prof. Josephine T. Firmase, Coordinator of the unit that served as the public service arm of the College of Arts and Sciences. The first of the series of training-workshops was held in President Roxas, Capiz in June; followed by two in Bago City, Negros Occidental in July; one in Cuartero, Capiz in August; one in Murcia, Negros Occidental in September; and another one in Maayon, Capiz on October 7-8.  College of Arts and Sciences faculty and Research, Extension, and Professional Staff (REPS), who have participated in the COP-BIDANI-led BHLMP Training of Trainers last April, 2021, served as facilitators in the training-workshops.
The BHLMP Training-Workshops are being supported by the Office of the Vice-Chancellor for Research and Extension (OVCRE) through the Public Service Grant facilitated by the Office of Continuing Education and Pahinungod.
(This article, written by Prof. Josephine Firmase, was first published in the UPV Website on October 14, 2021)