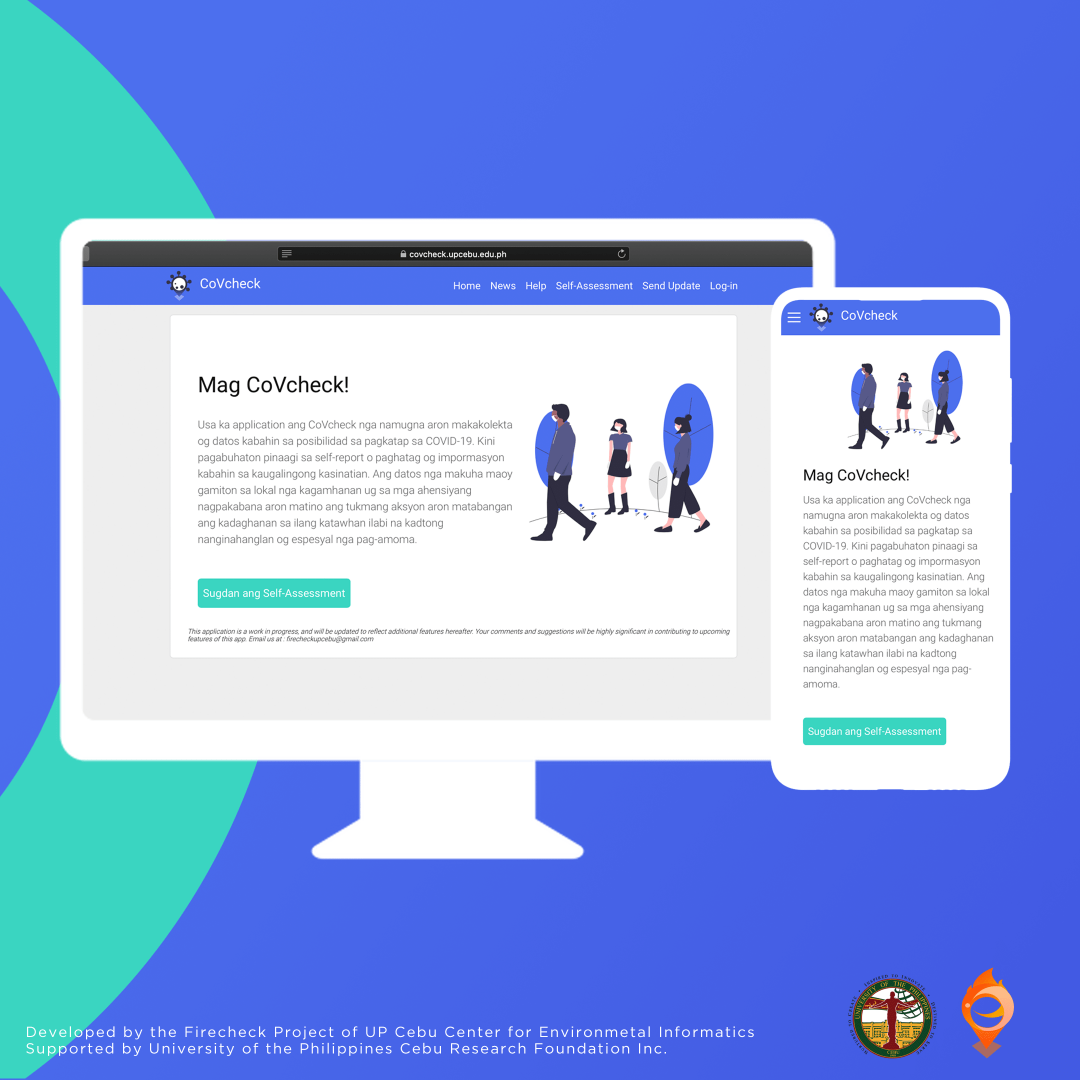 With the increasing number of confirmed cases in Metro Cebu, more localised and active identification, surveillance and monitoring of suspect and confirmed cases could aid in stemming the tide of infections. In order to seed a more effective and efficient case finding and monitoring process among barangays, few LGUs in Metro Cebu have started to adopt digital tools that can hasten emergency response.
CoVcheck, an online community-driven web application was launched recently by a team of researchers from the FireCheck Project of the UP Cebu Center for Environmental Informatics led by Aileen Joan Vicente, Asst. Professor at the Department of Computer Science.
The web app, made possible through the financial support of the UP Cebu Research and Education Foundation Inc, is now live at https://covcheck.upcebu.edu.ph. It is envisioned to help local government units manage the spread of COVID-19 through barangay level real-time data.
The application allows residents to report their experienced symptoms that have been identified as typical presentations of the COVID-19 disease. This will allow the responding local government units, through their City Health Office or Barangay Health Centers, to determine potential COVID-19 carriers and provide immediate interventions and assistance.
Once under monitoring, the resident can submit their health status using the application thereby minimizing the interactions with potential carriers and/or other residents. Incidences of Influenza-like Illnesses or Persons under Monitoring can be mapped to help the local government plan and execute localized, ad hoc measures to control or contain transmission or support the affected communities. It is also seen to decongest hospitals that are reaching full capacity due to the surge in suspected CoVID-19 cases. The collected data are shared across concerned offices within the LGU.
At present, CoVcheck is used by the City of Mandaue and City of Naga in monitoring their suspect cases who are under home quarantine. The cities of Lapu-Lapu and Bogo have also expressed their intention to use the web application in their respective communities.
A collaboration with the Bayanihan Cebu Sacred Heart School Field Center through its COVID-19 Health Check Quarantine Buddy Hotline Program is also being undertaken. Soon, CoVcheck will be able to support quarantine facilities in Cebu as well.
CoVcheck is free of charge and adheres to the highest data protection standards and good scientific practice. During these extraordinary times, UP Cebu along with the CoVcheck team now call for more LGUs to adopt the web app that can support them in their life-saving work and accelerate their response to tackling CoVID-19.
(This was originally posted on the UP Cebu website on April 22, 2020)