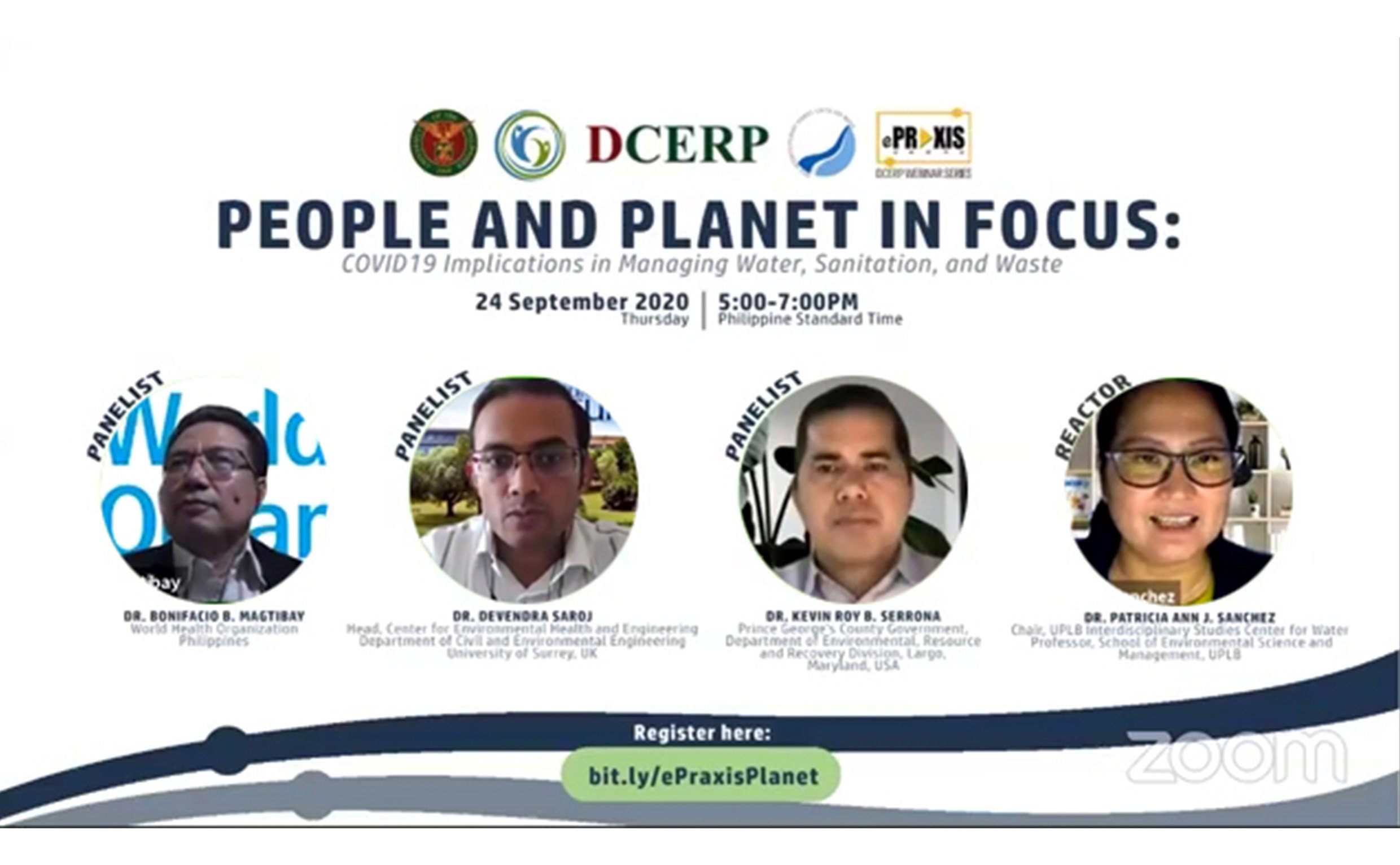 The five-part ePraxis webinar that centered on COVID-19 issues in human settlements planning concluded on Sept. 24 with its focus on water, sanitation, and waste.
ePraxis was organized by the Department of Community and Environmental Resource Planning (DCERP) of the College of Human Ecology (CHE).
The webinar's edition featured three speakers, each based in the Philippines, USA, and the United Kingdom.
Dr. Bonifacio Magtibay of the World Health Organization (WHO) Philippines talked about the importance of water, sanitation, and hygiene (WASH) practices to fight COVID-19.
He discussed the relevant government advisories and issuances, webinars and trainings, hand hygiene campaign, and other programs that WHO and other international development organizations have recently issued and conducted with the Philippine government during this pandemic.
"Basic WASH interventions can be applied as barriers in disease transmission," Dr. Magtibay said, as he encouraged proper handwashing, cleaning, disinfection, and safe management of waste, wastewater, and the human remains of those who died from COVID-19.
Dr. Kevin Roy Serrona of the Prince George's County Government talked about local waste management by the Department of Environment, Resource and Recovery Division of Maryland in the United States during the pandemic.
He related that the waste management sector is considered as an essential service in Maryland, especially at these times when there is an increase and shift in waste volumes. He also pinpointed the need to protect the waste workers who are more vulnerable now.
Dr. Serrona also identified the need for the manufacturing companies to share in waste management, and for the local government to come up with resilient local waste management planning.
Meanwhile, Dr. Devendra Saroj, head of the Center for Environmental Health and Engineering of the University of Surrey, United Kingdom, contextualized the topics of water and sanitation in over-all urban development.
He presented ways to manage water quality in urban areas, particularly in dealing with urban sewage and industrial wastewater through engineering and microbiological technologies that reuse and purify, capture nutrients, and remove or accumulate nitrogen, carbon, and phosphorus in wastewater.
Serving as webinar reactor was Dr. Patricia Ann Sanchez, chair of the UPLB Interdisciplinary Studies Center for Water, the webinar edition's co-organizer.
"There are opportunities to develop frameworks for effective implementation of collection, recovery, and recycling [of water]," said Dr. Sanchez, who also acknowledged that such would require significant investments.
Almira Geles Lumbres, assistant professor at CHE-DCERP and webinar head, announced the conclusion of ePraxis' COVID-19 edition that started in June.
Among the topics that the webinar series pursued were planetary health, tourism, local governance, and data science for social service delivery during the pandemic. (Mark Jayson E. Gloria)
(This was originally posted on the UP Los Baños website on September 30, 2020)