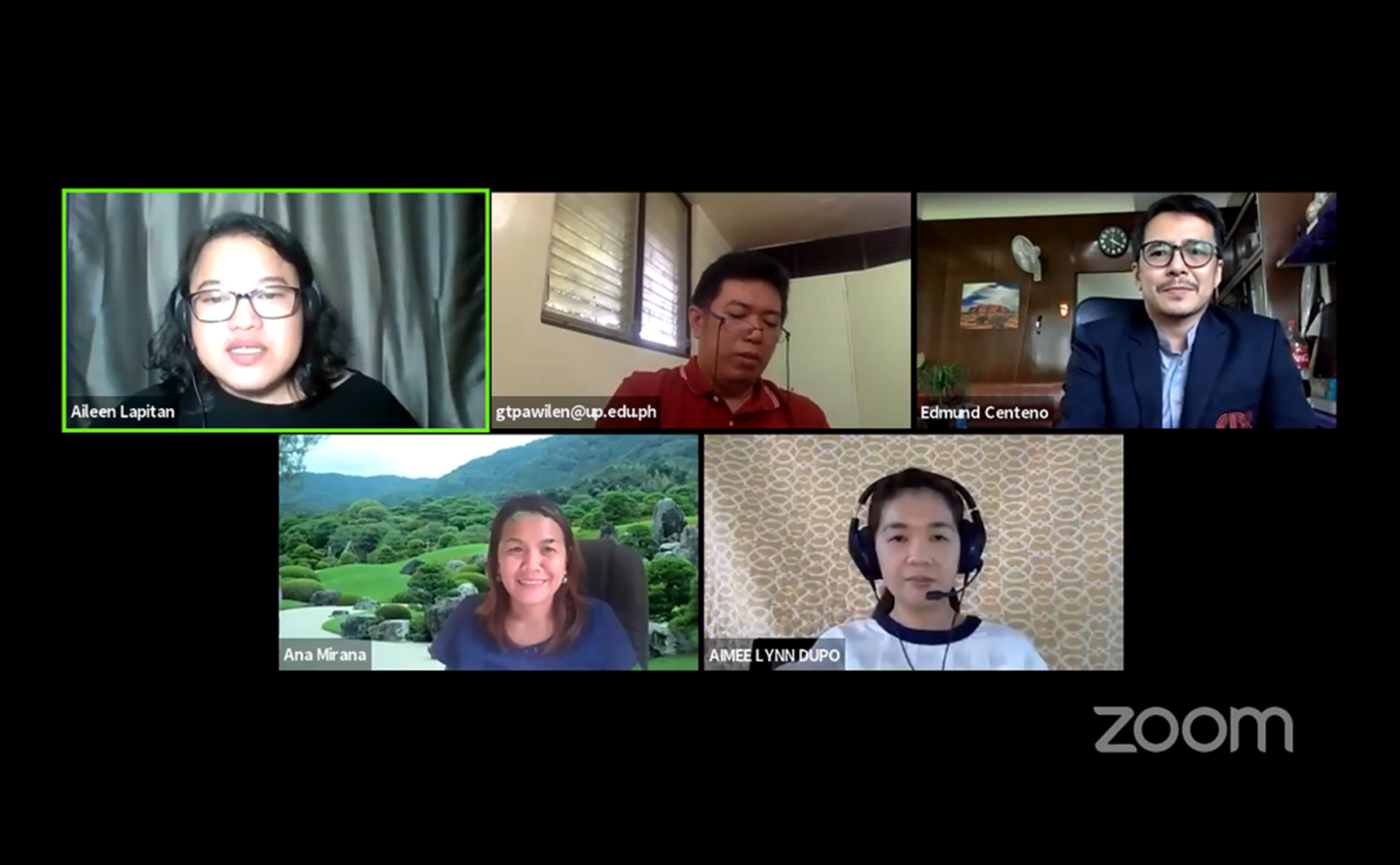 As schools and colleges everywhere reel from the impacts of COVID-19, exploring efficient methods to continue delivery of education has become an urgent task.
At the webinar entitled "Reimagining higher and graduate education: business as usual or new normal?" education experts and administrators talked about flexible and remote learning, which have since been considered as solutions to deliver education in the time of pandemic.
Flexible learning, according to Dr. Greg Pawilen, one of the speakers and an associate professor at the College of Human Ecology, is a learner-centered approach where students can choose the pace, place, and mode of delivery of their lessons.
Remote learning, he added, is a part of flexible learning and is only one of many delivery modes that instructors can choose from, depending on the needs and context of the students and the courses that they teach.
Dr. Pawilen, a curricularist, explained that discussing modalities of instruction begins by looking at the curriculum. He suggested that educators must first reflect on curriculum before reflecting on modality during the adjustment period.
Two college secretaries from UPLB joined the webinar and gave their thoughts about flexible learning and learning process.
Dr. Edmund Centeno of the College of Development and Communication emphasized that the readiness of learners, teachers, and learning content should be considered in using flexible learning. These, he said, need to be readapted without compromising the learning outcomes.
The educational communication and technology expert also said that while no learning modality can replace the traditional face-to-face classroom set-up, teachers can still effectively engage their students in their lessons through careful selection of class activities.
Dr. Aimee Lynn Dupo of the Graduate School (GS) likened the learning environment to the structure of "spider webs". Here, she said that the learner is always in mind and at the center of the learning process, and is supported by learning outcomes, teaching-learning activities, and authentic assessment.
This spider web-like structure, the biology professor said, could be personalized by teaching facilitators based on their style and resources.
Later in the webinar, participating administrators of higher education institutions presented how they are coping with the pandemic using various strategies and technologies.
Dr. Christine Ferrer, director of external linkages and international affairs of Tarlac Agricultural University (TAU), cited four important factors that TAU considers in selecting flexible learning modes.
These are having a learning continuity plan; putting up support services for the students; initiating partnerships with the industry, government, and other academic institutions; and upholding home-based internationalization through virtual mobility and resource sharing.
Dr. Ferrer emphasized how important it is for parents and students to be oriented about the difference between flexible and online learning and how learning objectives can be achieved through other means.
Dr. Joy Sorrosa, president of Davao del Norte State College (DNSC), reported how the college is exploring e-learning after seeing its success in the Department of Agriculture's extension programs and public engagement.
DNSC, Dr. Sorrosa said, has begun realigning its resources and projects for the new normal, such as investing in ICT, acquiring new materials and modules, and retraining its faculty. It is also looking into blended learning to implement laboratory courses.
Meanwhile, Dr. Ana Miraña, vice president for academic affairs of Central Bicol State University of Agriculture (CBSUA), shared the university's on-going initiative in blended learning and flexible delivery of instruction, an effort that began last year.
According to Dr. Miraña, they are proposing for instruction to be delivered 70% online and 30% on a face-to-face mode. They are also considering to delay the offering of some subjects that require full laboratory and face-to-face interaction.
Dr. Miraña added that as CBSUA adjusted to the new normal, the Camarines Sur-based university has put up infrastructure support, such as creating the CBSUA Virtual Learning Portal and holding webinars for teachers.
Chancellor Fernando C. Sanchez, Jr. graced the webinar and expressed UPLB's support for the adaptation of flexible learning across educational institutions.
He said that by empowering students to select how, when, and where they learn in this time of pandemic, they can combine work and study and accomplish their learning tasks within the safety of their home. Teachers, he added, can customize content and delivery according to the needs and context of their students.
"The new normal necessitates not just new ways of doing, but also new ways of thinking," Chancellor Sanchez remarked.
GS hosted the Zoom webinar on June 17, with Dr. Aileen V. Lapitan, GS assistant secretary and assistant professor at the College of Public Affairs and Development (CPAF), serving as moderator. This is a follow up to its first webinar in April together with the Commission on Higher Education. (Jessa Jael S. Arana)
(This was originally posted on the UP Los Baños website on June 22, 2020)