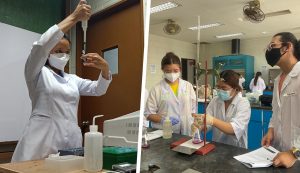 The Institute of Chemistry (IC) and the Learning Resource Center (LRC) successfully conducted the two-week Chemistry Laboratory Skills Bridge Program (CLSBP) 2022entitled "Tara't Mag-Lab na Lods!" from July 6 to 20 at the laboratories of IC.
The bridging program was held face-to-face following strict adherence to COVID-19 minimum health protocols and guidelines. Twenty-six students grouped into four batches completed the CLSBP 2022.
The CLSBP aimed to equip fresh graduates and graduating students under the BS Chemistry and BS Agricultural Chemistry degree programs with essential laboratory skills, competencies, and techniques that students failed to attain after March 2020 with the shift to remote teaching-learning mode.
Prior to undergoing the 12-day intensive and hands-on laboratory skills acquisition program, the students attended an orientation program where Dr. Marivic S. Lacsamana, director of IC, thanked them for taking advantage of the opportunity to hone their chemistry laboratory skills.
Dr. Lacsamana reminded the students to strive hard in the pursuit of excellence, especially after they graduate and begin their journey in their respective professions
She also expressed her appreciation for the IC faculty members who served as faculty-in-charge (FIC) in the CLSBP 2022 for their dedication and service in preparing the students.
The FICS were Cherry Mae T. Ravidas and Dr. Sheryl Lozel B. Arreola, for analytical and environmental chemistry; Dr. Ma. Desiree B. Aldemita and Adonis A. Yanos for biochemistry and agricultural chemistry; Elgin V. San Gabriel and Danile Noel F. Clavecilla for organic chemistry and natural products; and John Noel R. Maape and Eljezwyne Clomer G. Barcellano for physical, inorganic, and industrial chemistry.
LRC Director John Mervin L. Embate discussed with the students the LRC's programs and services. He also delivered the closing remarks, where he encouraged the students to learn as much as they could from the CLSBP.
The students were assessed daily for given competencies and skills. They also took the pre-test and post-test to gauge what they learned from the CLSBP 2022, and each was given a certificate of completion.
IC and LRC plan to offer the CLSBP to interested IC graduates and graduating students in the next
(This article, written by JM Jonas, AP Tuaño and R Yanos, was first published in the UP Los Baños Website on July 29, 2022)