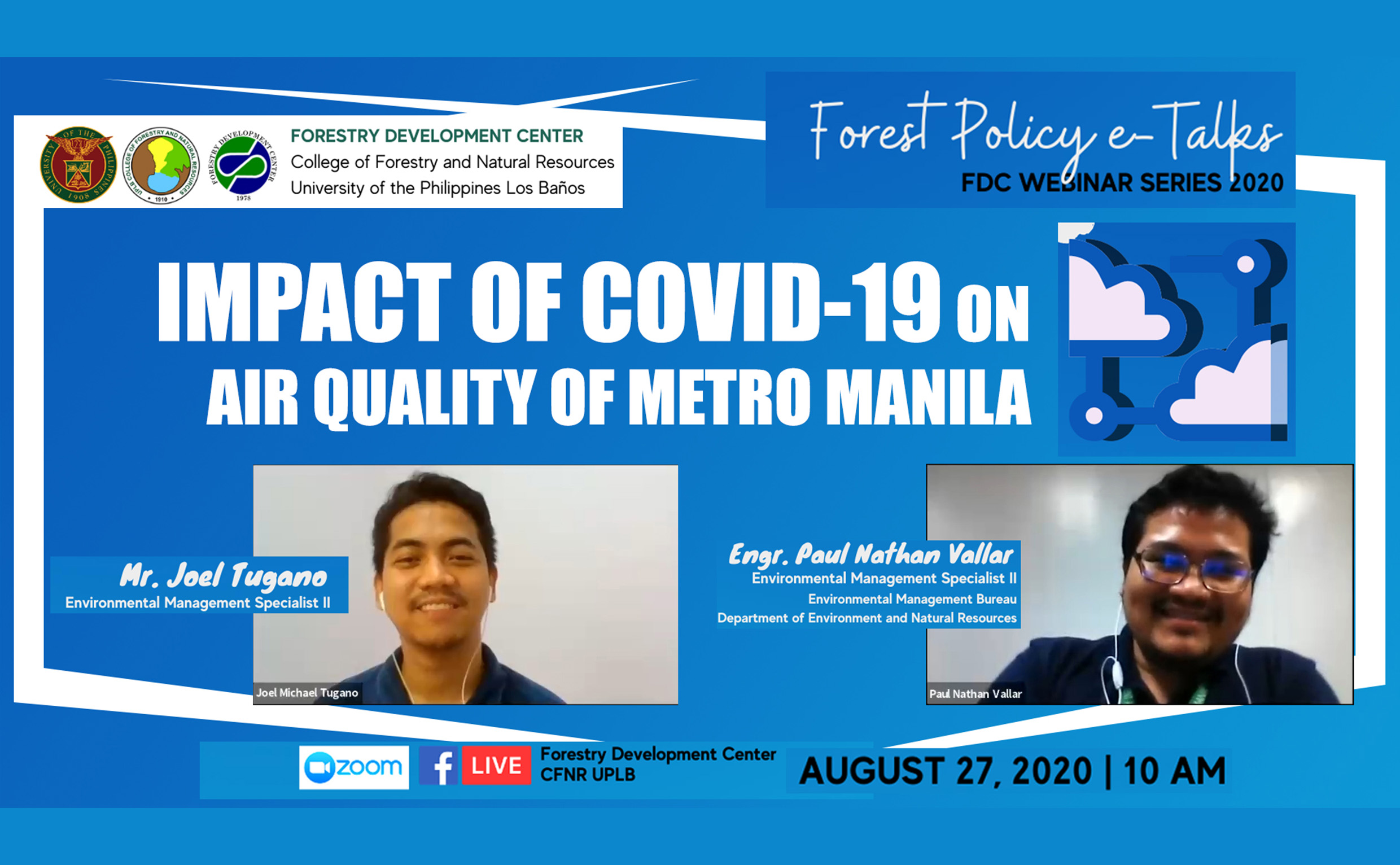 Air pollution significantly decreased in Metro Manila during the implementation of the enhanced community quarantine (ECQ).
This was the conclusion made at the Forest Policy e-Talks webinar of the Forestry Development Center-College of Forestry and Natural Resources (FDC-CFNR) on Aug. 27 that was held via Zoom.
Joel Michael Tugano and Engr. Paul Nathan Vallar, both from the Environmental Management Bureau of the Department of Environment and Natural Resources (EMB-DENR), presented at the webinar the study that supports this claim.
EMB gathered data and monitored the air quality levels in Metro Manila before and during the implementation of ECQ from March 17 to April 30.
According to them, based on the Air Quality Index (AQI), the air quality in Metro Manila scored from "Good" to "Fair" during ECQ. The cleaner air was largely due to the reduction of human activities, suspension of public transportation, and decreased number of vehicles on major roads.
Their study indicated that Metro Manila experienced an 86% reduction in vehicle volume during the ECQ. The lesser number of cars on the road led to an emission estimate of as low as 32,000 particulates, as compared to the usual 241,000 particulates that the National Capital Region recorded in 2018.
Particulates or particulate matter, they explained, are a mixture of solid particles and liquid droplets in the air. Particles can be large enough to be seen by the naked eye; others are so small they can only be seen through an electron microscope.
Tugano said that EMB monitors particulate matter that are classified as PM2.5 and PM10, which are both fine inhalable particles.
The EMB identifies PM10 as particles that are less than 10 microns in diameter, such as dust, pollen and mold. PM2.5 on the other hand, such as metals and combustion particles resulting from burning fuels, are fine enough to penetrate the lungs.
To maintain the air quality even after the pandemic, Tugano and Valar said that it is important to implement long-term changes in policy, since the levels of pollution will only revert back once their sources also begin producing the same amount of pollutants as before.
They recommended that the data gathered from this observation be used to formulate new policies in the future, such as promotion of bike lanes, improving public transport, promoting carpooling, and work from home programs.
They also suggested minimizing mall hours, implementing curfew with the help of local government, and better urban planning in cities and regions to decrease crowd concentration and lessen transport demand in Metro Manila.
Dr. Priscila Dolom, director of FDC, said that the findings only highlighted that human activities are indeed a major source of pollution.
In his welcome remarks, Dr. Willie Abasolo, dean of CFNR, said that the topic is relevant since the Philippines ranked 57th out of 98 in the world's most polluted countries before the COVID-19 pandemic.
The webinar, entitled "Impact of COVID-19 on air quality of Metro Manila," has received more than 1,300 views a week after it was streamed.
This is the third in the Forest Policy e-Talks webinar series of FDC, CFNR's dedicated unit in forest policy research. (Jessa Jael S. Arana)
(This was originally posted on the UP Los Baños website on September 7, 2020)