MANILA, Philippines — As the illegal narcotics trade in the country continues to thrive, the University of the Philippines (UP) has stepped forward as a new and unlikely partner of President Duterte in his war on drugs.
On Monday, UP Manila inaugurated its state-of-the-art Drugs of Abuse Research Laboratory (DARL), which boasts technology that can identify and analyze so-called designer drugs, or those not previously known to the government.
"We want to be part of the solution," said chancellor Carmencita Padilla. "We all have a role in making sure we solve the drug problem in this country."
DARL will produce test kits that will enable law enforcement agencies to identify about 100 types of drugs, cut their waiting time for test results from weeks to days, and allow them to more easily file criminal cases against suppliers of new drugs.
UP Manila has partnered with the University of California San Francisco in setting up the laboratory, which received a P100-million endowment from the Commission on Higher Education (CHEd). The amount will be spent over two years for capacity-building and procurement of equipment.
Help in prosecution
"This is an example of the expertise of the academe at the service of government," said CHEd Chair Prospero de Vera III. He added that the President himself was keenly interested in the test kits to be developed by the laboratory, which is housed at the College of Pharmacy.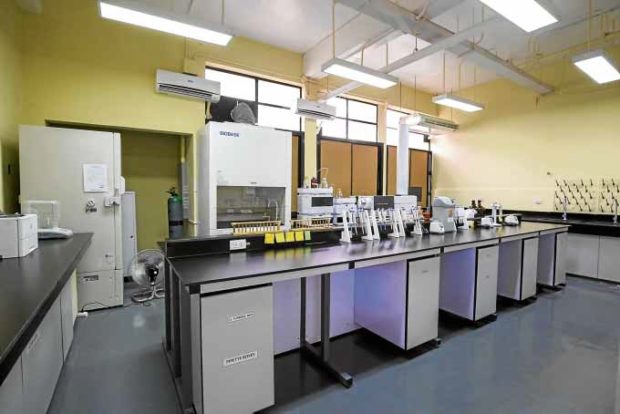 Current test kits are only capable of identifying less than 10 types of drugs, resulting in a severe handicap in the ability of law enforcers to prosecute a growing number of suppliers caught with designer drugs, according to De Vera.
"If they're able to arrest a suspect and confiscate illegal drugs, it is difficult to prove in court because there is no evidence to show that these are really drugs," he said. "[Suppliers] are able to bring in drugs that you cannot test, and therefore you cannot put them in jail."
Some of these drugs, like liquid ecstasy, are fairly common. A new designer drug known only as "Green Amore" in capsule form was found during the arrest of Joshua Habalo, who allegedly sold it at the CloseUp Forever Summer concert in 2016 at the Mall of Asia concert grounds where five people died. The drug is a potent mix of ecstasy and methamphetamine.
Constant creation of new drugs
Although it will take two years before test kits for more than 100 different drugs can be rolled out, DARL researchers are hoping to produce interim kits that can still identify significantly more drugs than what are currently detected.
"As we speak, those involved in the illegal drug trade are continuously creating new designer drugs using different compounds and combinations," De Vera said. "So this is a campaign that will continue in the future because you have to catch up with the technology they are using."
Carissa Dioquino and Monet Loquias, coheads of DARL, said their research would also allow them to finally construct a "drug use profile" that could single out which recreational drugs were most commonly used by Filipinos.
This could help law enforcement officials to more accurately target the drugs whose supply must be reduced, Dioquino said. The country has not had the sophisticated equipment needed for such an analysis until now.
Trove of vital data
"With this equipment, we hope that we'll be able to identify these substances and have a more accurate profile of the drugs being used in the Philippines," Loquias said.
DARL will also be able to distinguish each drug's "signature composition"—a potential treasure trove of vital data. If they were to study Green Amore, researchers could pin down exactly what it contained and the proportion of each of its ingredients, and using that, trace it back to its source.
"So [law enforcers] will know, for example, that it came from Davao because they're picking up this similar signature from there," Dioquino said.
Loquias said the laboratory's technology could reduce efforts to prepare drug samples for testing and preliminary results could be available within a day. The labs that are currently being used could take up to two weeks to process results, Dioquino said.
The Philippine Drug Enforcement Agency, National Bureau of Investigation, Philippine National Police and Department of Health are among the government agencies that could benefit from DARL, according to De Vera.
(This was originally posted at Philippine Daily Inquirer on June 5, 2019)