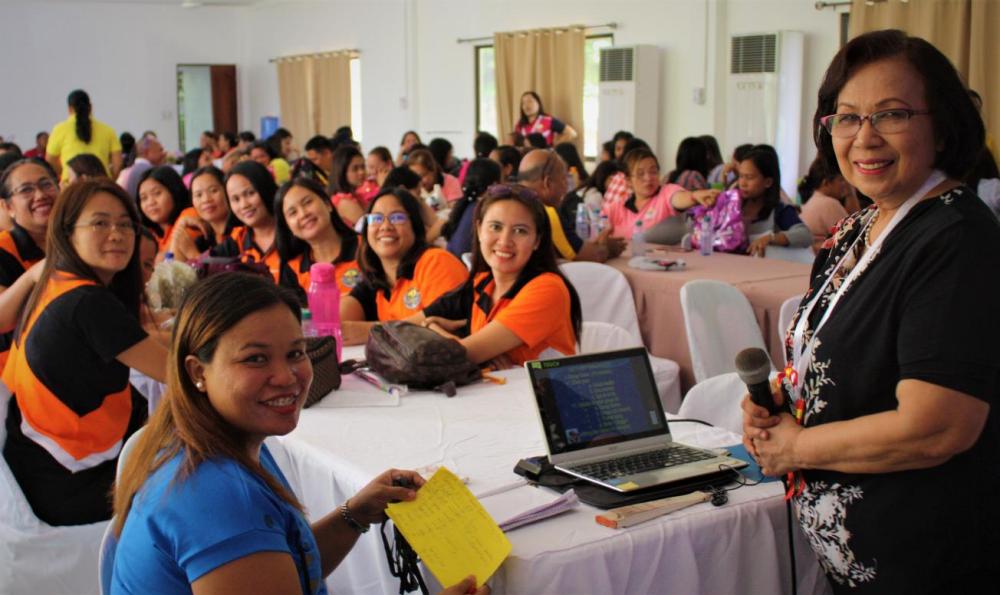 The new academic year has just began and most schools are now in full-battle gear as teachers welcome new and continuing students in the classrooms, polish their lesson plans and develop materials and learning aids that will help in facilitating student learning. More than ever, we have witnessed how the Department of Education (DepEd) worked together with other government agencies like the Philippine National Police (PNP), Department of Transportation (DOTr), and the Local Government Units (LGUs). We have seen the respective school administrators and school leaders prepare their teachers and students and, in fact for the many, the entire school environment to ensure a smooth and successful school opening. Not unknown to us, teachers spend most of their time during the summer vacation reporting to school to fix their classrooms, cover anew the used textbooks with plastic, repaint the classroom walls, and rewrite their lesson plans for the new school year. Teachers even go over-board when they spend their own allowances and shell-out from their own pockets to make both ends meet for classroom expenses, while do some inter-agency tasks and assignments that will pile-up and will make the escape to this educational panopticon an impossibility.
There are, however, some specific tasks and assignments seen to be very vital in this multi-culturally diverse educational situations. Aside from ensuring that learner needs are highlighted in the preparation of the lessons and that there is close coordination and consistent implementation of institutional goals reflective of our national educational aims, the need to ensure that lessons are contextualized according to the students' local culture and community should never be under-considered. The implementation of K to 12 program through the enactment of RA 10533 encourages that the learning experience of the students should utilize contextualized learning situations and make use of localized materials. This gave rise to training programs, seminars and workshops provided by DepEd as lead agency, together with higher education institutions (HEIs) offering teacher education programs. These training programs allowed teachers to see how contextualized lessons are beneficial for the students and pupils in making classroom learning a meaning-making activity.
The Professional Education of the University of the Philippines Visayas College of Arts and Sciences is one of these institutions who initiated a partnership with several schools in the region to transform classrooms into a more contextualized, culturally-relevant learning spaces. In line with the Division's mission to value academic distinction, nationalism and service, Prof Ed conceptualized POWER UP as their public service program. POWER UP is a reflective-reflexive public service program for coastal communities in the region that aims to improve education systems through teacher-trainings with emphasis on culture of coastal communities. This also aims to empower these coastal communities in utilizing cultural heritage towards inclusive development through education.
The POWER UP public service activities started in 2017 with Cawayan National High School in Carles, Iloilo and in Old Sagay Elementary School, Sagay City, Negros Occidental. The training programs focused on improving teaching competencies through reflective teaching practices and the proper integration of local culture into the lessons. Another training was held in a fishing community in Suyac Island, Sagay City, Negros Occidental where ProfEd faculty members gave parenting sessions so that parents can actually help their kids in their schooling. Last year, POWER UP went to Jose B. Puey Sr. Elementary School in Sagay City, Negros Occidental to facilitate the 7th Division Leadership Training of their student leaders and an Enhancement Training Program for teachers and a Journalism Writeshop for the students of Bungsuan National High School in Dumarao, Capiz. These programs under the banner of POWER UP spread all over the region as faculty members of the ProfEd including teachers of University of the Philippines High School in Iloilo (UPHSI) received invitations to speak and facilitate trainings in this area.
Last May 27-31 this year, during the simultaneous In-Servie Training for Teachers of the Schools Division of Iloilo, POWER UP returned to Cawayan National High School in Carles and did a follow-up training in Contextualizing Learning, Instruction and Research together with the newly-served secondary school, the Estancia National High School in Estancia, Iloilo. The 3-day UPV-supervised training focused on enhancing teaching competencies in dealing with personal and professional challenges. In this module, teachers identified their strengths and weaknesses, determined their power as a teacher and discussed how to manage well their assets like time and resources. Also, the training guided the teachers to address the need to integrate the maritime culture present in their community to their lessons. The facilitators assisted the teachers in documenting these local maritime cultural and social contents, which they agreed to name as their "panagat" culture through games,, discussions and collaborative activities. Emphasis was given also to how this "panagat" can be embedded in the instructional sequence of different learning areas following the Philippine Professional Standards for Teachers (PPST) as framework. Lastly, the training emphasized the need to put together these classroom breakthroughs into writing as POWER UP pushed for the need to conduct action researches. With the help of the Division's research professors, teachers presented for clinquing research ideas and proposal that can be pursued for this year.
The participation of the alumni, former ProfEd faculty members and students organized by the Division's Public Service Committee for this year made POWER UP advanced its mission to not just involve teachers and staff but also other key players in the Division. With the full support of UPV administration, ProfEd has worked on deeping the awareness and appreciation of teachers and students in coastal communities of their local culture and social contexts.
As a division, ProfEd has also looked into improving the quality of education of the these communities when some identified sitios and barangay schools were chosen for their children to receive school bags and school supplies. On May 30 and June 3, 2019, kids from Sitio Ice-Creaman in Estancia, Iloilo and Cawayan Elementary School pupils received notebooks, writing materials and school bags disributed by the students, alumni and teachers of ProfEd during their gift-giving activity as part of the Coastal Happiness Drive, a rummage sale in December 2018 where old clothes, books, some goods and merchandize of ProfEd teachers were sold and where the proceeds were used to buy these school supplies.
POWER UP's commitment to serve does not end with training teachers to become the best inside the classroom and for students to maximize their potentials in their academic and co-curricular endeavors. The public service program aims to facilitate the development of community trainers in the future for the establishment of sustainable programs and projects.
Now, as many teachers are confronted with different issues in their teaching, from inadequate facilities and lack of classrooms to limited learning resources, from meager salary and allowances to over-flowing paperworks and assignments, teachers continue the struggle to making the lives of their students and pupils better everyday. As the Division of Professional Education commits itself to public service and academic distinction through POWER UP, the ProfEd Public Service Committee will also pursue to uphold these mandates by bringing UPV's commitment to serve through education.
(This was originally posted at the University of the Philippines Visayas website on June 11, 2019.)