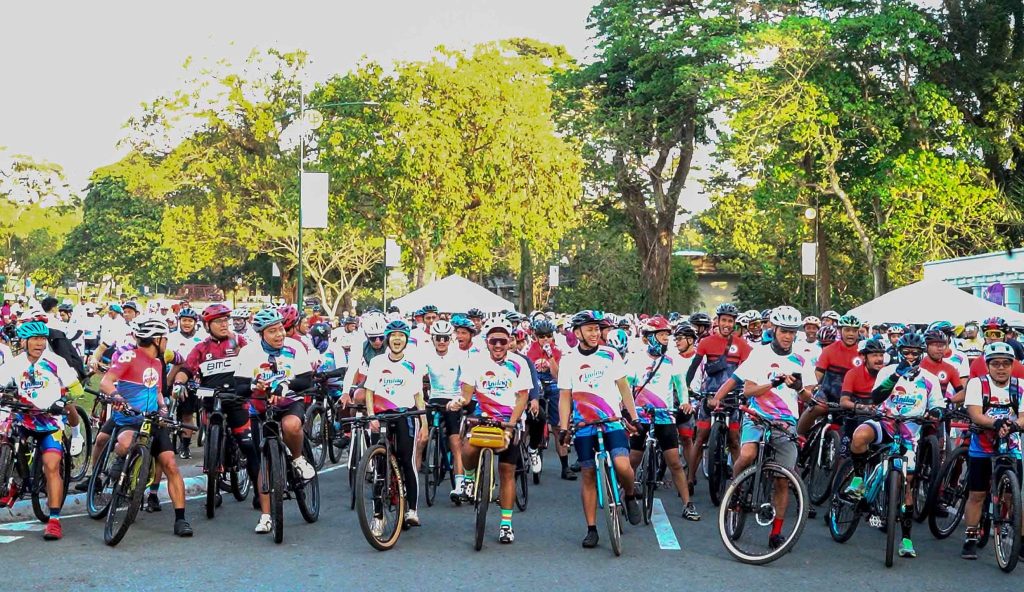 Los Baños, Laguna – More than 300 enthusiastic cyclists joined Ride to LEAD: Padyak Laguna Para sa Lawa, a 54-kilometer cycling event, during the Anilag Festival on March 12.
The event marked the launch of Project LEAD in Laguna, a groundbreaking policy advocacy initiative that aims to promote sustainable ecotourism in the Laguna de Bay area.
Project LEAD is implemented by the UPLB-SESAM in collaboration with the Provincial Governments of Laguna and Rizal and the Laguna Lake Development Authority (LLDA) with support from the Department of Science and Technology-Philippine Council for Agriculture, Aquatic, and Natural Resources Research and Development (DOST-PCAARD).
The event displayed collaboration and provided an opportunity for the local community to take an active role in raising public awareness and appreciation for Laguna Lake and its management.
Ride to LEAD also showcased the beautiful tourist attractions in Laguna. The pit stops were located in six of Laguna's top tourist attractions, including UPLB, Nagcarlan Underground Cemetery, and Anilag Festival grounds in Sta Cruz. It also became a chance for the locals to participate and show their support for sustainability.
The cyclists who participated in Ride to LEAD: Padyak Laguna Para sa Lawa brimmed with excitement and enthusiasm as they pedaled through the picturesque route. They said they were glad to be part of an event promoting sustainability and supporting the local community, with one of the participants saying "Para sa katawan at kalikasan."
It was evident that they were not just there to ride their bikes, but to make a difference and contribute to the cause of Project LEAD. The opportunity to participate in an event that champions ecotourism while showcasing the beauty of Laguna was a chance they said they didn't want to miss.
Vice Chancellor Robert Cereno, representing UPLB Chancellor Jose V. Camacho, and Rodel Paderayon, provincial attorney of Laguna, representing Governor Ramil Hernandez, signed the Pledge of Partnership that fortifies the support of the Province of Laguna to Project LEAD. The pledge includes the commitment to enter into a Memorandum of Agreement (MOA) with UPLB and LLDA, which will outline the terms and conditions of the collaboration. This MOA will serve as a framework for the joint efforts to promote ecotourism in Laguna de Bay.
Project LEAD has more events lined up, including workshops, seminars, and more aimed at educating and engaging the local community, and promoting ecotourism as a sustainable solution for responsible and environment-friendly use of Laguna Lake's resources.
To know more about upcoming events of Project LEAD, follow their Facebook page at @UPLBProjectLEAD.
(This article was first published on the UP Los Baños website on 21 March 2023)