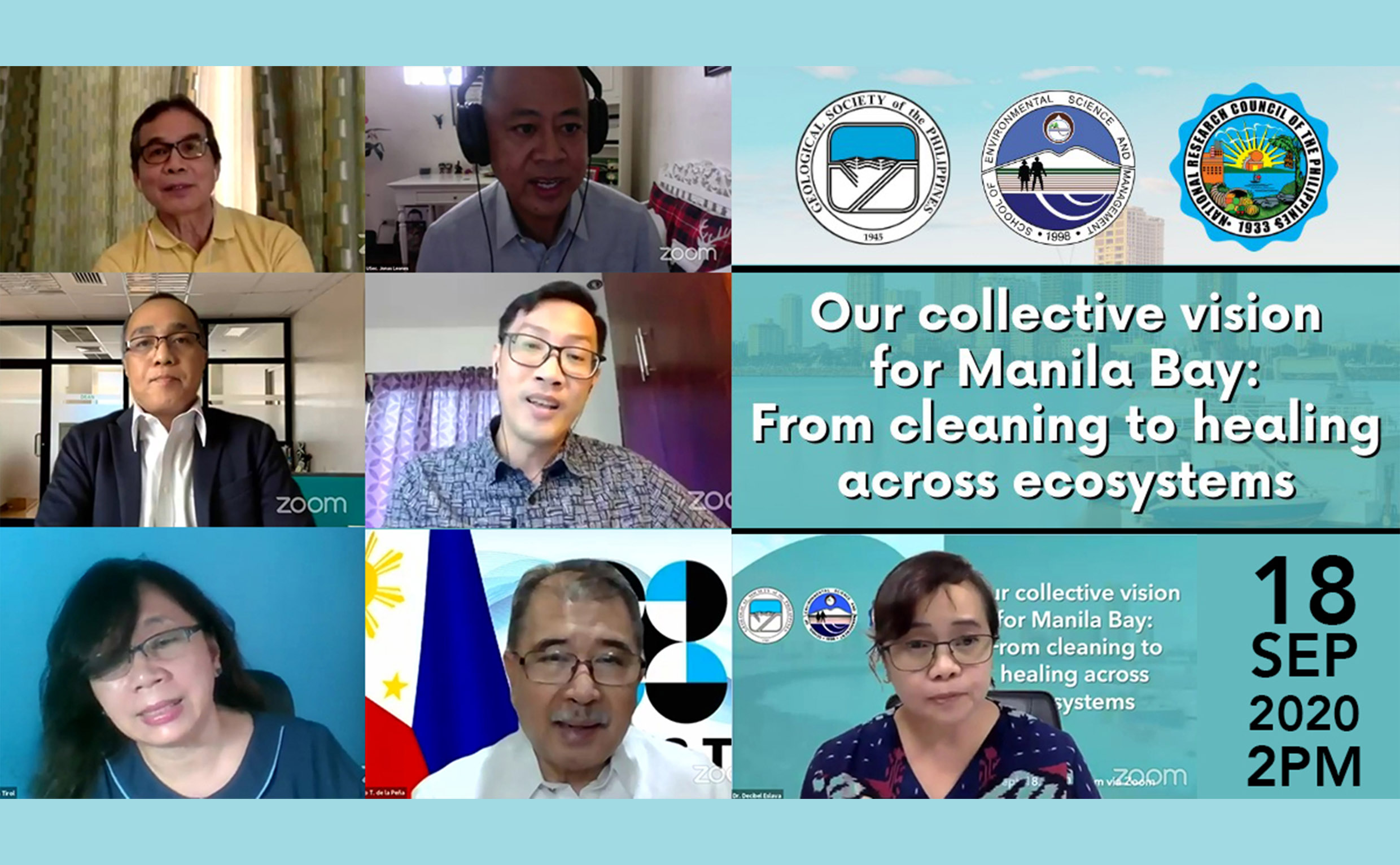 The School of Environmental Science and Management (SESAM) co-organized a virtual symposium on Sept. 18 to provide experts a platform to discuss the Manila Bay dolomite project.
Of the speakers, two were UPLB professors – Dr. Rex Victor Cruz of the College of Forestry and Natural Resources and a former chancellor of UPLB, and Dr. Ma. Stella Tirol, dean of the College of Development Communication – who joined government officials and geologists at the virtual learning event.
Dr. Cruz opened the webinar by giving an overview of the Manila Bay Sustainable Development Master Plan (MBSDMP), which has been in development since 2018 and is being funded by the National Economic and Development Authority with support from the Dutch government. Dr. Cruz is a local expert at MBSDMP Team.
This plan, explained Dr. Cruz, aims to reduce the pollution load, improve solid waste management, reduce exposure to flooding, restore natural habitats, boost fish biomass, promote responsible and sustainable tourism, and set up and ensure an enabling environment through institutions.
Despite the setbacks caused by COVID-19 pandemic, Dr. Cruz said that the plan remains on track and will be finalized within the year. He reiterated the need to implement it instead of being left to gather dust.
According to Atty. Jonas Leones, undersecretary for priority programs of the Department of Environment and Natural Resources (DENR), the "dolomite white sand dumping" is a part of a beach nourishment initiative in Manila Bay for the three-phased Manila Bay Rehabilitation Program.
The beach project, he said, was done in compliance with a 2008 Supreme Court mandamus "which directs 13 government agencies to clean up, rehabilitate, and preserve Manila Bay, and restore and maintain its water to SB level."
Dr. Tirol identified communication issues and shortcomings that caused controversy for the dolomite dumping.
The project, she said, is inappropriately timed since the country is in the midst of a pandemic; and with a highly anxious public, there clearly is a failure to make the project relevant to the "big picture" of the Filipinos' daily lives.
Dr. Tirol also pointed out the disharmonized mouthpieces of DENR and the Department of Health as another problem.
She stressed the credibility issues on the heels of the DOH-PhilHealth scandal, and the lack of transparency that fostered further public doubt and mistrust, as factors affecting public perception of the project.
Dr. Tirol said that the project needs a dedicated communication team with a solid communication plan, and a single authorized and credible spokesperson.
She added the importance of establishing stronger positive relationship with media; building up champions or advocates and giving focus on positive stories; and being empathic and listening to the public.
Atty. Leones explained that aside from the beach nourishment project, the overall Manila Bay rehabilitation endeavor also includes various water quality monitoring programs, geo-engineering interventions, sewage treatment plants, and estero dredging projects.
The DENR official also answered questions about the dolomite white sand used in beach nourishment. He said that major resorts around the country had used the same material and that environmental impact studies were not needed.
Joining the webinar were Dr. Karlo Queaño, a geologist from Ateneo de Manila University, and Dr. Jonathan Dungca, a geotechnical engineer from De La Salle University, who gave their warnings about the geological conditions of Manila Bay area.
Dr. Queaño cited the importance of integrating adaptation and mitigation strategies for Manila Bay with regard to rising sea levels and flooding.
He also talked about the geological considerations in Manila Bay's coastal management. His discussion centered around observations on the sediment circulation patterns in Manila Bay and what it would mean for the ongoing beach nourishment program.
Dr. Dungca, for his part, cautioned the audience on the dangers of soil liquefaction. This, he said, is a 'geotechnical hazard' caused by earthquakes, soil failures, and human activity, in which the soil loses its strength and solidity and suddenly transforms into a viscous, liquid-like state.
He warned that liquefaction, which might easily occur in Manila Bay as a result of a magnitude 5 earthquake, could lead to dangerous consequences, such as lateral spreading and tilting of structures.
Among the forum attendees were Dr. Fortunato dela Peña, secretary of the Department of Science and Technology, who commended the Geological Society of the Philippines, the National Research Council of the Philippines, and SESAM for organizing the online symposium, which was held on Facebook, Zoom, and Xperto. (Albert Geoffred B. Peralta)
(This was originally posted on the UP Los Baños website on September 22, 2020)