IN its bid to co-create safe, empowered and sustainable communities, AboitizPower subsidiary Therma Luzon Inc. (TLI) has signed an agreement with the University of the Philippines Los Baños (UPLB) to implement a community baseline program in its host communities in Pagbilao, Quezon province.
The research program will be conducted by UPLB-Barangay Integrated Development Approach for Nutrition Improvement (Bidani) and UPLB Foundations Inc. (UPLBFI) in Barangay Ilayang Polo and Barangay Ibabang Polo.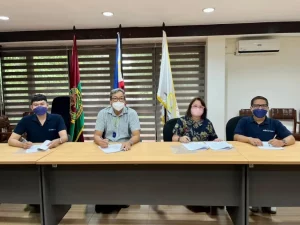 "This baseline assessment will allow us to implement more sustainable community programs, based on the actual needs of our host communities," says JK Huyatid, Therma South Inc. Reputation and Stakeholder Management supervisor.
"We want to grow together with our host communities and help them to eventually sustain their own growth. This partnership with UPLBFI is a proactive, community-driven approach in social development. We will be capacitating the barangay (village) local government unit in collecting, encoding and analyzing community data with the goal of establishing a barangay management information system that can be input to both their government programs and TLI's CSR (corporate social responsibility) programs," adds Huyatid.
Dr. Marites Yee, UPLB-Bidani project leader, says the team will use systematic and community-based approach research to determine the needs of the community members and improve their nutrition status.
For his part, Dr. Enrico Supangco, UPLBFI executive director, says experts from the university will be joining the project team.
Therma Luzon Inc. (TLI) is AboitizPower's 700-megawatt, coal-fired power plant in Pagbilao, Quezon Province. TeaM Energy Corp. operates the facility under a Build-Operate-Transfer scheme.
(This article, written by Ms. Lenilyn Gallos, was first published in the The Manila Times Website on May 11, 2022)