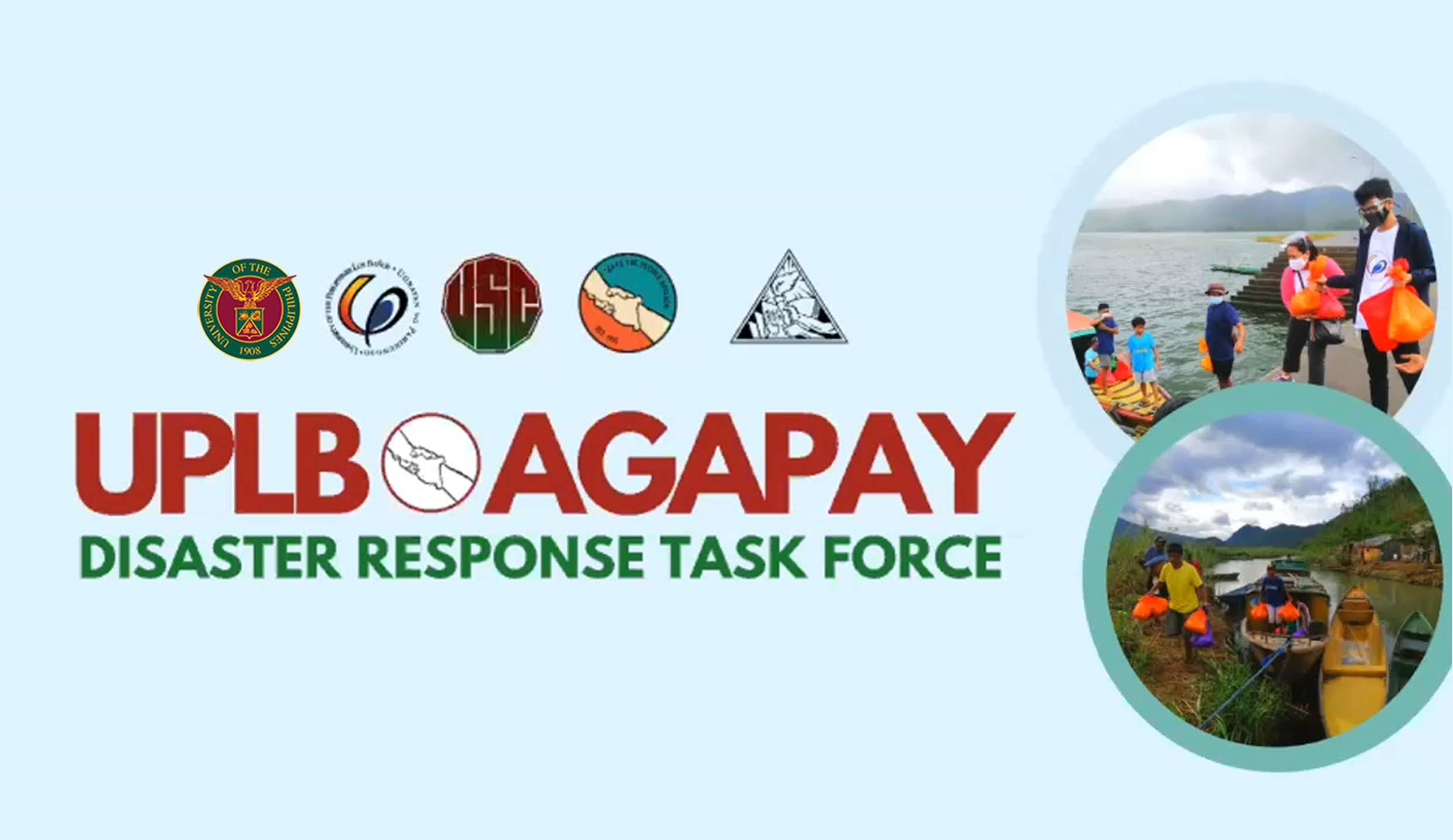 UPLB Agapay, the disaster response task force of UPLB, was officially launched at an online benefit concert with the theme, "Sama-sama, tulong-tulong, patungo sa makabagong panahon."
Umalohokan, UPLB Writer's Club, UPLB Silakbo, UPLB Street Jazz Dance Company, and the  UPLB Choral Ensemble performed in the concert that was held to raise funds for community pantry initiative and to purchase COVID-19 kits, hygiene kit essentials, and prepare relief packs for affected UPLB communities, students, and staff.
In his welcome message, Chancellor Jose V. Camacho, Jr. expressed his gratitude to the volunteers and organizers of UPLB Agapay for their initiative, sacrifices, and hard work.
"UPLB Agapay is public service at its finest, offering what it can give to the most vulnerable without expecting anything in return," Dr. Camacho said.
He mentioned that UPLB Agapay is very close to his heart and he hopes that the official launching of the task force will enable it to expand and gain more partners and supporters to make it more sustainable and stronger.
He reiterated his full support for UPLB Agapay and said that he considers it as an integral component of the University's collective efforts.
As part of the event's preliminaries, Mark Gio J. Olivar, head of UPLB-USC's Community Rights and Welfare, introduced UPLB Agapay and its objectives. According to Olivar, UPLB Agapay is a platform for a coordination mechanism for pre, during, and post calamities and socio-economic distress.
"We aim to conduct damage and need assessments, coordinate with local government units, and to raise funds and procure resources," Olivar said.
"UPLB Agapay program aims to unite all the efforts of the UPLB community to extend its help to communities and strives to empower the Filipino people through public service in times of crisis and disaster," Olivar further said.
Mariah B. Dela Providencia of the Serve the People Brigade-UPLB, gave a brief overview of the activities and projects of UPLB Agapay.
Dela Providencia shared to the audience that in December 2020, UPLB Agapay's first donation drive was launched to help communities affected by typhoons Quinta and Rolly and super typhoon Ulysses.
They were able to distribute 1,600 bowls of hot meals, 3,889 relief packs, and 250 recovery seed packs. Its beneficiaries were from Laguna, Rizal, Quezon, Bicol, and Marikina.
Recently, UPLB Agapay launched "Kaagapay sa Kalusugan ng Kapwa," a donation aimed at supporting the needs of UPLB communities, students, workers, and families affected by the COVID-19 pandemic.
For the testimonies, the coordinator of UPLB Ugnayan ng Pahinungod, May Kathleen T. Montenegro, shared a video clip of some beneficiaries who rendered their heartfelt messages for UPLB Agapay. It was followed by an insightful talk, "Ways Forward," by Cris Lanzaderas, president of All UP Academic Employees Union – Los Baños. Lanzaderas discussed what UPLB Agapay should expect and prepare for in the coming years in public service.
The benefit concert officially started as the host introduced the first performance rendered by Umalohokan, Inc. The members sung the Himig ng Pagsibol, an acoustic song with a wake up call. It was followed by a spoken poetry titled "Bakanteng Silya sa UP gate," performed by a member of the UPLB Writer's Club.
Next in line was UP Silakbo, whose singers prepared and rendered  two cover songs, One Day by Matisyahu and Tuloy Pa Rin by Neocolours. UPLB Street Jazz Dance Company showcased their groovy dance group that shows quarantine life. UPLB Choral Ensemble for their part dedicated their solemn rendition of I Believe to all frontliners from medical fields and basic services.
In his closing message, Jose Limbay Lahi O. Espaldon, director of UPLB Ugnayan ng Pahinungod, expressed his gratitude to the team and volunteers who organized the formal launching of UPLB Agapay. He acknowledged the ways forward mentioned by Lanzaderas and he said that UPLB Agapay will make it through with the collective help and support from respective UP organizations.
Monetary donations to UPLB Agapay may be sent to Mariah Joy B. Dela through Landbank of the Philippines (SA 1896 3523 73) and to Arveil Briones via GCash (0953 3081 839). All transaction receipts shall be sent to the official Facebook Page of UPLB Agapay or via email at [email protected]
(This article was first published in the UPLB Website on June 4, 2021)