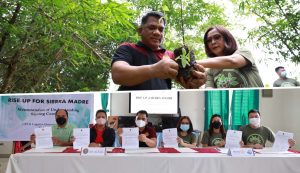 UPLB formalized its partnership with Rotary International District 3820 by signing a Memorandum of Understanding (MOU) for the former to plant trees on a 20-ha area at the UPLB Laguna-Quezon Land Grant (LQLG) in Siniloan, Laguna.
The MOU, signed by both parties at a brief ceremony on April 30, covers the Rise Up 4 Sierra Madre District Legacy and Kick-Off, a long-term reforestation project by Rotary Club.
UPLB offered the land in UPLB LQLG for Rotary International District 3820 to plant trees.
Signing the MOU on behalf of UPLB were Chancellor Jose Camacho Jr., Vice Chancellor for Planning and Development Fernando Paras Jr., and Land Grant Management Office manager Pastor Malabrigo Jr.
District Governor Angelita Sunio, District Legacy Chair Jeremie Lo, and Rise Up 4 Sierra Madre lead coordinator Yasmin Andal were the signatories for Rotary Club.
The signing ceremony was witnessed by members of 12 participating Rotary Clubs within RC District 3820, including RC Los Baños, RC Los Baños-Makiling, RC Calamba, RC Bay, RC West Bay, RC Metro San Pedro, RC Pagsanjan, RC Sta. Cruz, RC Siniloan, RC Pakil, RC Atimonan-Sunrise, and RC Naga.
Chancellor Camacho said that the MOU coincided well with the planned and ongoing developments for the LQLG.
According to him, UPLB and Rotary Club were well-matched in terms of similar values and public service goals and expressed his desire for further institutional collaborations in the future.
DG Sunio spoke of the importance of environmentally relevant and sustainable projects, especially in light of the ongoing climate crisis.
A core value of Rotary, according to DG Sunio, was giving back to the community; and supporting the environment was like giving back a lasting gift not only to the community but to future generations.
After the signing ceremony, UPLB and Rotary Club officials engaged in a brief tour and tree-planting activity at LQLG's developed areas.
(This article, written by Albert Geoffred B. Peralta, was first published in the UP Los Banos Website on May 13, 2022)