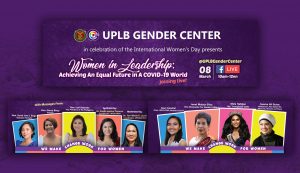 The UPLB Gender Center (UPLBGC) put the spotlight on women leaders when it kicked off the International Women's Day celebration on March 8 with a webinar entitled "Women in Leadership: Achieving an Equal Future in a COVID-19 World."
The webinar featured women leaders representing various fields, the most prominent among them, Philippine Vice President Leni Robredo.
In her message, VP Leni, as she is fondly called, said that it is not always easy to be a woman leader as there is still prejudice, the glass ceiling, and because women's roles are subjected to cultural dictates.
She said that despite this, it is women who demonstrated strong leadership in this time of crisis.
She expressed her belief that women are made for times like this and are meant to survive even during the most difficult times.
VP Leni encouraged the women to "go where they are needed and find spaces where their skills and knowledge can have the most impact."
She also enjoined the audience to continue the fight to challenge the way things are and encouraged the public to create more spaces for other women to thrive and succeed.
Joining VP Leni were highly regarded women leaders, namely: Samira Ali Gutoc, a journalist, environmentalist, women's advocate, and legislator; Philippine Senator Nancy Binay; Congresswoman Sarah Jane I. Elago of the Kabataan Partylist; and Mela Habijan, writer, content creator, and a Ms. Transglobal 2020 title holder; and Gean Celestial, chair of the UPLB College of Forestry and Natural Resources (CFNR) Student Council.
Gutoc gave a talk on holistic woman leadership in dealing with crisis, sharing the efforts made by Ako Bakwit, a non-government organization, whose purpose is to promote and protect the rights and welfare of internally displaced persons.
Gutoc expressed her belief that leadership can happen on the ground in solidarity. She shared stories of women leaders in gathering donations and personal protective equipment for frontliners that were distributed across the country at the onset of the COVID-19 crisis.
Binay was all praises for other Filipino women leaders such as Mayors Trina Frimalo-Fabic of Odiongan, Romblon and Krisel Lagman-Luistro of Tabaco, Albay, who responded well to the COVID-19 crisis. She said that they were at par with women leaders of Taiwan, New Zealand, and Germany who were recognized worldwide for great leadership in times of crisis.
Binay stressed the importance of women in establishing a compassionate and progressive country, pointing out that even with seven women in the Senate today, the highest yet in history, the country still has a long way to go.
Elago, representing the youth sector in Congress, said that they do not want to inherit a future of abuse, discrimination, corruption, exploitation, and polarization of society as experienced today.
Elago said that they have an obligation to amplify the voice of the marginalized and called for measures to address issues that women face.
For her part, Habijan said that womanhood is not measured by her body, but by her heart. She shared her personal struggles as a transgender woman, saying that she celebrates it even as she admitted to feeling limited by it. She stressed the importance of living one's truth and amplified calls to empower women and uphold their rights.
Celestial, a college student council leader, expressed the concerns of fellow students and rallied against misogyny and a patriarchal administration.
Dr. Benevieve Villanueva, assistant to the vice chancellor for community affairs, said that women should not compare themselves to men in terms of what they can and cannot do.
She highlighted the efforts of women leaders at the University Health Service especially in dealing with the COVID-19 pandemic. She enjoined everyone to be inspired by the success and courage of women in promoting their sense of self-worth. She said that women can be part of the solution and change that we want to see in the world.
In his message, Chancellor Jose V. Camacho, Jr., expressed support for and solidarity with women in celebrating Women's Day. He said that it is important to also regard this day as a time to reflect on progress made in gender equality, as it plays a fundamental role not only in eliminating poverty and attaining prosperity, but above all in breaking the cycle of deprivation that limits access to opportunities that can help them achieve success and happiness.
March 8 as International Women's Day is a special working holiday as provided by Republic Act 6949 that was signed by President Benigno Simeon Aquino on April 10, 1990. In attendance in the online event were UPLBGC director, Atty. Eric Paul Peralta; Vice Chancellor for Student Affairs (VCSA) Janette Malata-Silva, Dr. Emilia Lastica-Ternura, coordinator of the Office of Anti-Sexual Harassment (OASH); and Dr. Teri-Marie P. Laude, coordinator of the Reproductive Health Office of the UPLBGC, who moderated the webinar. It is available for online viewing at the UPLB Gender Center's Official Facebook Page. (KEAraguas with information from https://pcw.gov.ph/national-womens-month/) 
(This article, written by KEAraguas, was first published in the UPLB Website on March 16, 2021)