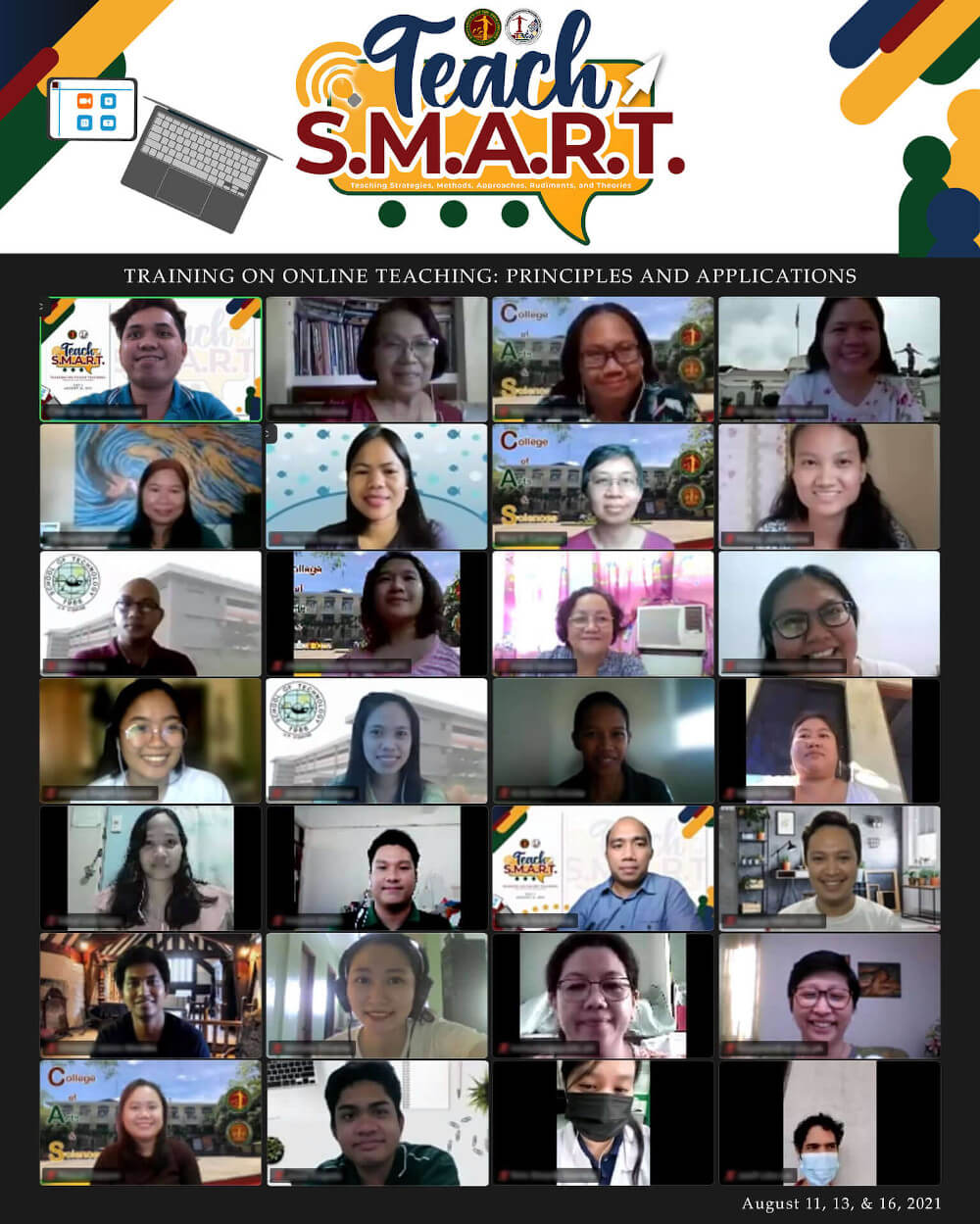 To enrich the remote learning environment in UP Visayas, the Teaching and Learning Resource Center facilitated training for three non-consecutive days on online teaching principles and applications under its Teach S.M.A.R.T. (Strategies, Methods, Approaches, Rudiments, and Theories) program.
The Teach S.M.A.R.T. training aimed to address potential challenges that online teachers face and upskill faculty members and lecturers of UP Visayas to deliver a more organized and resource-based teaching strategy by discussing key concepts on teaching pedagogies that can be utilized in remote learning.
Forty-five (45) faculty members and lecturers from the College of Arts and Sciences, five from the College of Fisheries and Ocean Science, three from the College of Management, two from the School of Technology, and four from the National Service Training Program registered for the training.
The training held on August 11, 13, and 16, 2021, focused on three main concepts: designing the course outline, developing resource-based course modules and packages, and delivering instruction online.
It was structured to utilize discourse on the course outline and outcomes to enhance teachers' competencies by sharing best practices and providing suggestions to enrich students' learning.
Resource speaker Dr. Aurora Fe Bautista delved into the principles and applications of teaching in the remote learning environment. According to Dr. Bautista, the training is grounded on Melton Glaser's idea that words have implications for course design, development, and delivery.
It speaks about three responses to design, "yes", "no", and "wow". Dr. Bautista emphasized that the one to aim for is the "wow".
The training proved to be productive because several UPV faculty members and lecturers were able to present and have their horizontal syllabi improved through the collaboration of ideas and guidance of Dr. Bautista. These in turn, are sure to enhance the learning experience of the students.
(This article, written Mr. Czar Ian Angel Esquivel, was first published in the UPV Website on November 2, 2021)