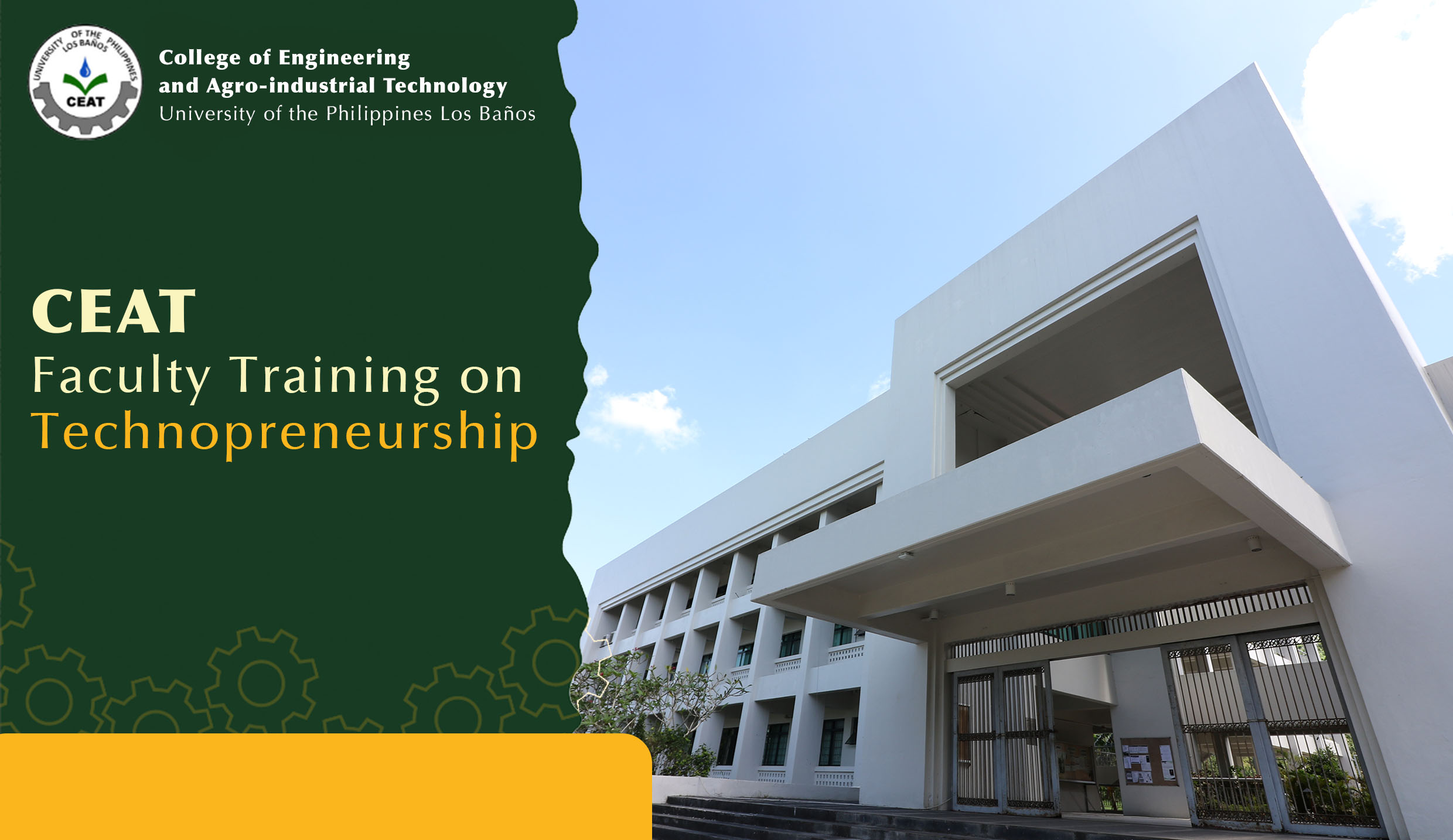 The College of Engineering and Agro-industrial Technology (CEAT) is going to conduct the "Faculty Training on Technopreneurship" on the Fridays of November.
The training will be conducted to develop capabilities of the faculty on mentoring students about entrepreneurship to promote innovation and technologies developed in the fields of specialization.
Technopreneurship is the key component of the implementation of the Innovationeering track in all the undergraduate degree programs at CEAT
The invited resource speakers for this event are Dr. Eric R. Tomacruz of the Philippine Development Foundation, Cristopher Lomboy of Shared Services Group, Gian Carlo de Jesus of the UPLB College of Economics, and Jalyza Maye Jalbuena, Engr. Aldrex A. Aviso, Michael Viccil Junsay and Jose Marie Abilay of the UPLB Technology Transfer and Business Development Office.
In 2019, CEAT began implementing its undergraduate degree programs that had been reduced from five- into four-year programs in line with changes that were made with the K to 12 Basic Education Program in the country.
Incorporated into the revised degree programs is innovationeering, or innovation with engineering, aimed at stimulating the innovation mentality among the students.
The term "innovationeering" was coined by Dr. Roger Billings and Sir Geoffrey Pardoe of the International Academy of Science, which means "the science of putting science into work."
Its inclusion in the CEAT degree programs is viewed to promote technology-based enterprises in the country.
The online training sessions are part of the CEAT webinar series entitled, "Reengineering CEAT to be a Globally Recognized and Competitive Engineering Institution," one of the flagship programs of Dean Rossana Marie C. Amongo.
It is organized by the CEAT Innovation and Entrepreneurship Committee composed of faculty members, Dr. Diana Marie R. De Silva (chair), Kathleen L. Baldoz (co-chair), and committee members Dr. Kevin F. Yaptenco, Dr. Myra G. Borines, Dr. Ma. Bernadeth B. Lim, Maricris C. Cunanan, Engr. Allan Marco S. Mercado, Dr. Anton Domini C. Sta. Cruz and Engr. Frederic James V. Espiritu.
(This article, written by Mary Jane F. Gallardo, was first published in the UPLB Website on November 5, 2021)