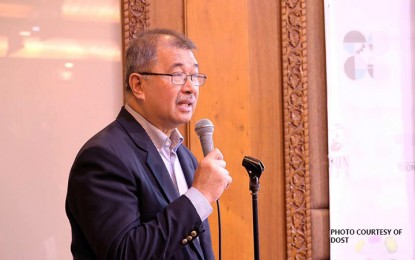 MANILA — Department of Science and Technology (DOST) Secretary Fortunato dela Peña has suggested using DOST-developed products or research to curb the rising dengue cases in the country.
Latest data from the Department of Health (DOH) revealed that from June 30 to July 6, there were 5,744 reported cases of dengue. This is 22 percent higher compared to the same period in 2018 (4,703).
A total of 115,986 dengue cases were recorded from January 1 to July 6, according to the DOH data.
In a statement, dela Peña said the agency has funded a number of research projects and programs related to diagnosing and treating dengue.
Among these is the Biotek-M kit developed in partnership with the University of the Philippines – Manila. This kit was developed for early detection and management of dengue.
It has the power of DNA/RNA-based accurate detection of the dengue virus and can be used in health centers and hospitals.
Meanwhile, DOST Undersecretary Rowena Cristina Guevara said on Thursday the DOST will give funding to the Biotek-M developer to produce units that will be distributed to DOH regional hospitals.
She, however, could not yet to disclose the amount of funds.
The DOST is also funding clinical trials for the evaluation of a possible herbal medicine for dengue.
Currently, there is no available cure for dengue, the DOST noted.
The possible herbal medicine apparently has an anti-viral activity against the dengue virus, and can elevate the platelet levels which are seen complicated cases of dengue responsible for bleeding and reduction of plasma leakage.
The DOST said the agency has supported development of herbal supplements "that could help patients affected with dengue".
These supplements are ready for submission to the Food and Drug Administration, it added.
(This was originally posted in the Philippine News Agency on August 1, 2019.)