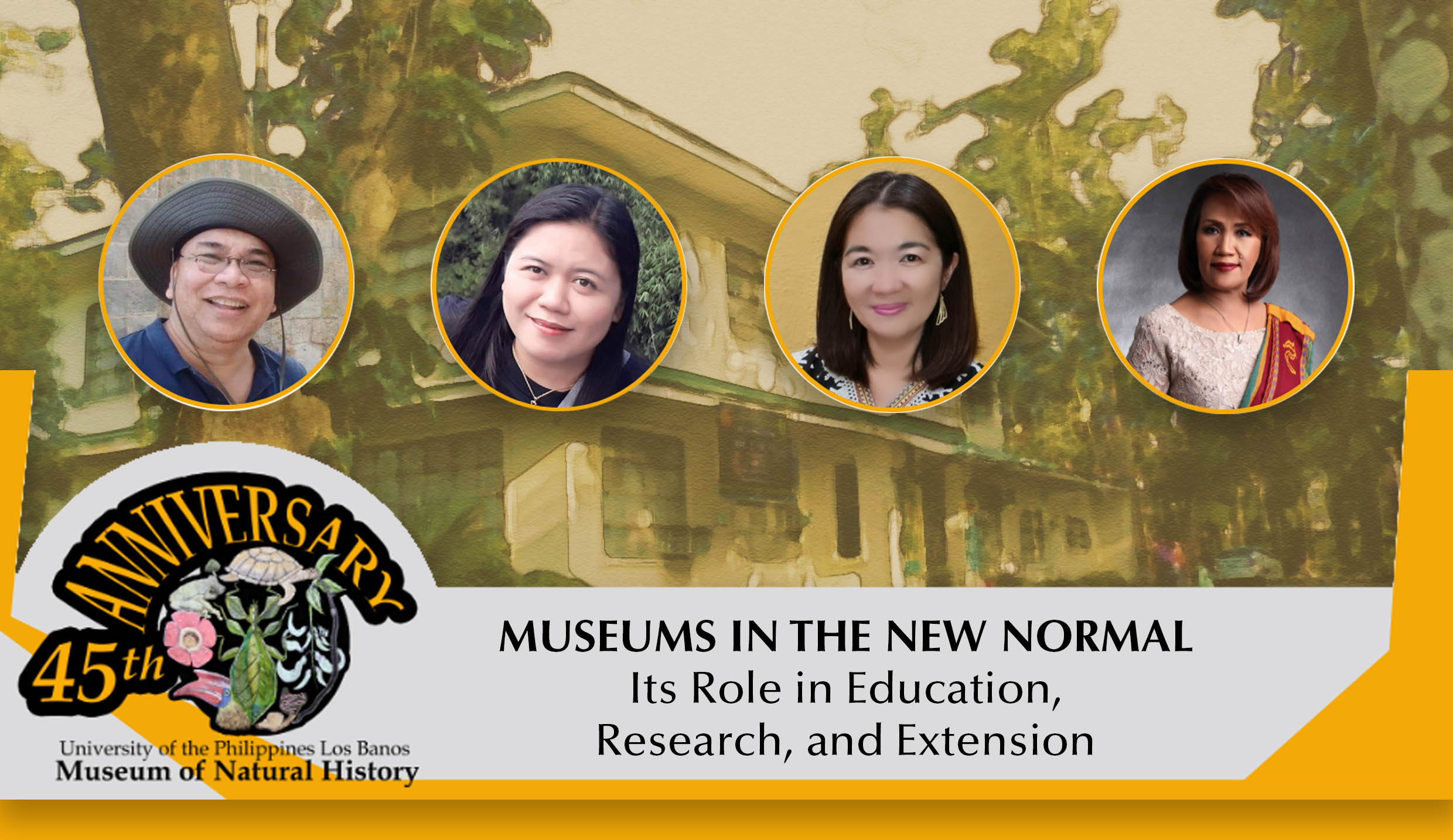 With museums taking a hit amidst restrictions regarding public spaces in the pandemic, the Museum of Natural History (MNH) highlighted ensuing challenges and opportunities as they celebrated their 45th anniversary online on Sept. 30, with the theme "Museums in the New Normal: Their Role in Education, Research, and Extension."
Among their anniversary highlights were the launching of three digital projects, namely the MNH virtual reality tour, the Quicentennial Commemoration Virtual Exhibit, and the MNH digitized herbarium collection.
The virtual tour is a new feature on the MNH website that allowed visitors to step into the museum gallery through their screens to view MNH's dioramas and collections.
The Quicentennial exhibit featured information and highlights from the last 500 years of studying Philippine flora, fauna, and microorganisms. These were gathered from the experts featured in the 10-part webinar series hosted by MNH as part of the National Quincentennial Commemorations in the Philippines.
MNH also launched a walkthrough of their digital herbarium collection which students, teachers, and researchers can access for their own learning needs. They presented the process of digitizing their specimens: from creating high resolution photos, to inputting and organizing the data, and later uploading it to an online media repository.
The launches were preceded by a series of webinars where experts and key persons discussed the current status of museums in the country and how they can continue to share their wealth of knowledge despite the current limitations.
Dr. Jose Eleazar R. Bersales, head of the National Committee on Museums of the National Commission for Culture and the Arts (NCCA), presented a report on how museums were coping with their temporary closure all over the country.
He said that privately funded museums are especially challenged compared to their government-funded and university-managed counterparts. He encouraged them to actively engage their audience through online means until they can reopen.
He also promoted grants given by the NCCA that museums can apply for to improve their facilities and operations.
Another discussion led by Dr. Ruby R. Cristobal, chief science research specialist at the Science Education Institute of the Department of Science and Technology (DOST SEI), delved into how museums can continue to augment science education through remote means.
Dr. Cristobal said that the current STEM curriculum challenges teachers to integrate basic concepts with their applications in higher learning and that museums can help bridge this gap by cultivating interest among students to explore the natural world and by broadening their perspectives and understanding of the scientific investigation process. She said that museums can also provide materials that teachers can use in their lessons.
She encouraged museums, while in the pandemic setting,  to digitize their collections and collaborate with teachers in creating their modules so that they can integrate the use of specimens in teaching and learning.
Dr. Cecilia B. Moran, a faculty researcher at the University of Sto. Tomas (UST) and the curator of the UST herbarium collection, talked about how research on the natural world can continue despite travel restrictions through utilizing museum collections. She cited recently published research that were supported using local data gathered by museums
Aside from assisting research in a pandemic setting, digital collections can also help foster international collaborations and raise the capacity of collections to promote biodiversity, Dr. Moran added.
The last webinar was led by Dr. Aimee Lynn B. Dupo, faculty member at the Institute of Biological Sciences and MNH curator for moths and spiders. Dr. Dupo highlighted the role of extension work in making scientific knowledge more accessible to the public. In a remote setting, this could be through online engagements on social media, virtual learning workshops, and radio or television modules.
MNH also received new biosafety cabinets from Esco Philippines, Inc. to help them contain their collections and specimens in compliance with health and safety guidelines.
The UPLB MNH is celebrating its 45th year since its foundation on Sept. 30, 1976 at the 877th meeting of the UP Board of Regents.
(This article, written by Jessa Jael Arana, was first published in the UPLB Website on October 5, 2021)