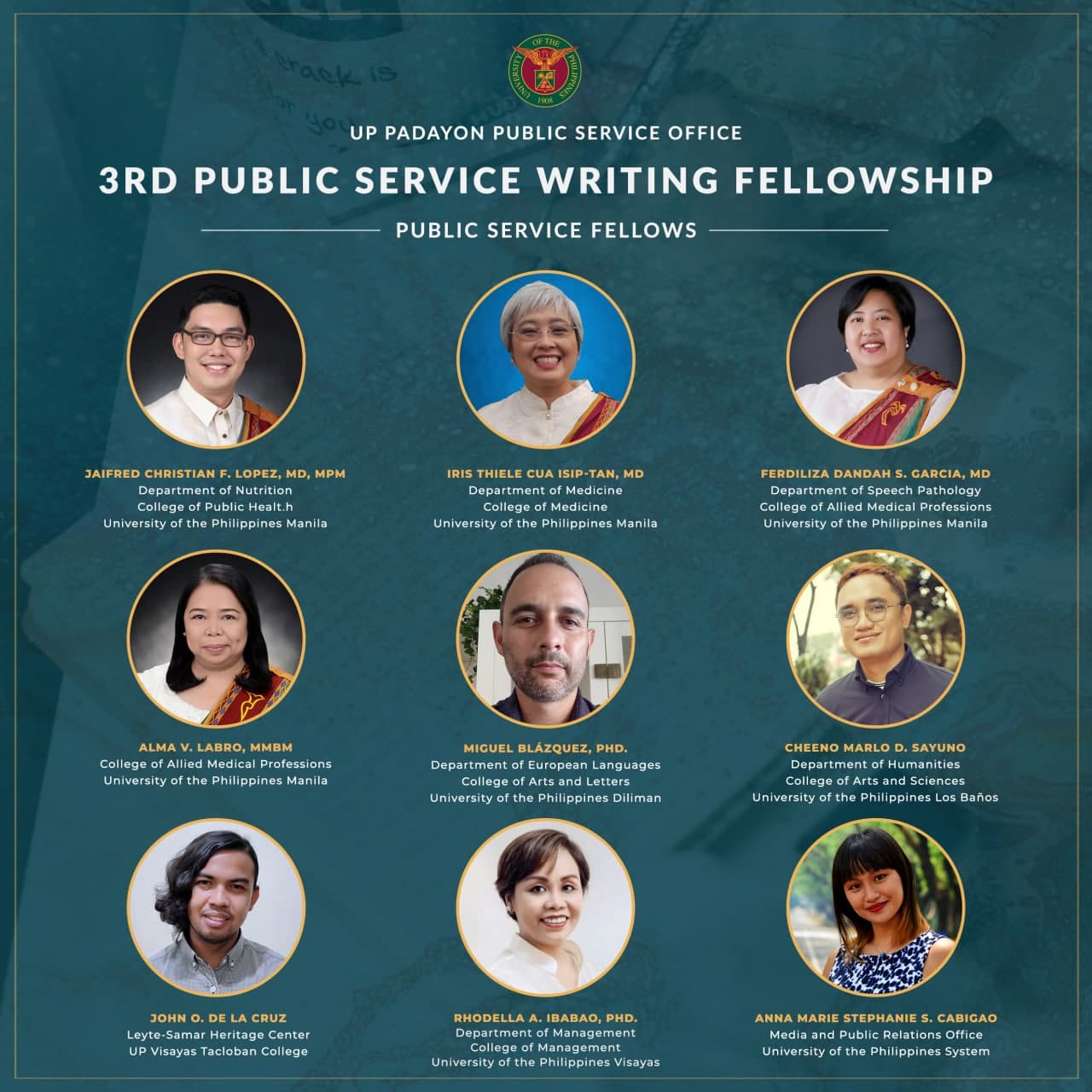 The Public Service Writing Fellowship is one of the regular programs of the Padayon Public Service Office that fulfills part of the public service mandate of the University of the Philippines to lead and disseminate research on the best practices and models of  public service engagement. With an interdisciplinary and scholarly thrust, the Fellowship serves as the institutional support system that encourages and incentivizes the scholarship of public service that will make the University's initiatives sustainable for the beneficiaries, institutional partners, and other stakeholders.
On the third installment of the Public Service Writing Fellowship, nine (9) Public Service Fellows have been selected from the pool of more than twenty (20) applications of faculty members, administrative staff, and research, extension, and professional staff (REPS) all over the UP System. They have been selected based on their submitted research proposals which are grounded on their completed public service programs.
The Public Service Fellows for 2021-2022 are:
Asst. Prof. JAIFRED CHRISTIAN F. LOPEZ, MD, MPM
Department of Nutrition, College of Public Health, UP Manila
Mr. JOHN O. DE LA CRUZ
Leyte-Samar Heritage Center, UP Visayas Tacloban College
Asst. Prof. FERDILIZA DANDAH SOLEDO GARCIA, MD and Ms. ALMA V. LABRO, MMBM
Department of Speech Pathology, College of Allied Medical Professions, UP Manila
Asst. Prof. MIGUEL BLÁZQUEZ, Ph.D.
Department of European Languages, College of Arts and Letters, UP Diliman
Prof. IRIS THIELE C. ISIP-TAN, MD, MSc.
Department of Medicine, College of Medicine, UP Manila
Asst. Prof. CHEENO MARLO D. SAYUNO
Department of Humanities, College of Arts and Sciences, UP Los Baños
Ms. ANNA MARIE STEPHANIE S. CABIGAO
Media and Public Relations Office, UP System
Prof. RHODELLA A. IBABAO, Ph.D.
Department of Management, College of Management, UP Visayas
The Public Service Fellows will be participating in a virtual Writeshop on July 22-23, 2021, where they will be able to further develop their research proposals through the help of their peers and workshop facilitators. The Fellowship has a duration of twelve months to allow the Public Service Fellows enough time to write their manuscripts and submit these to journals of their choice.