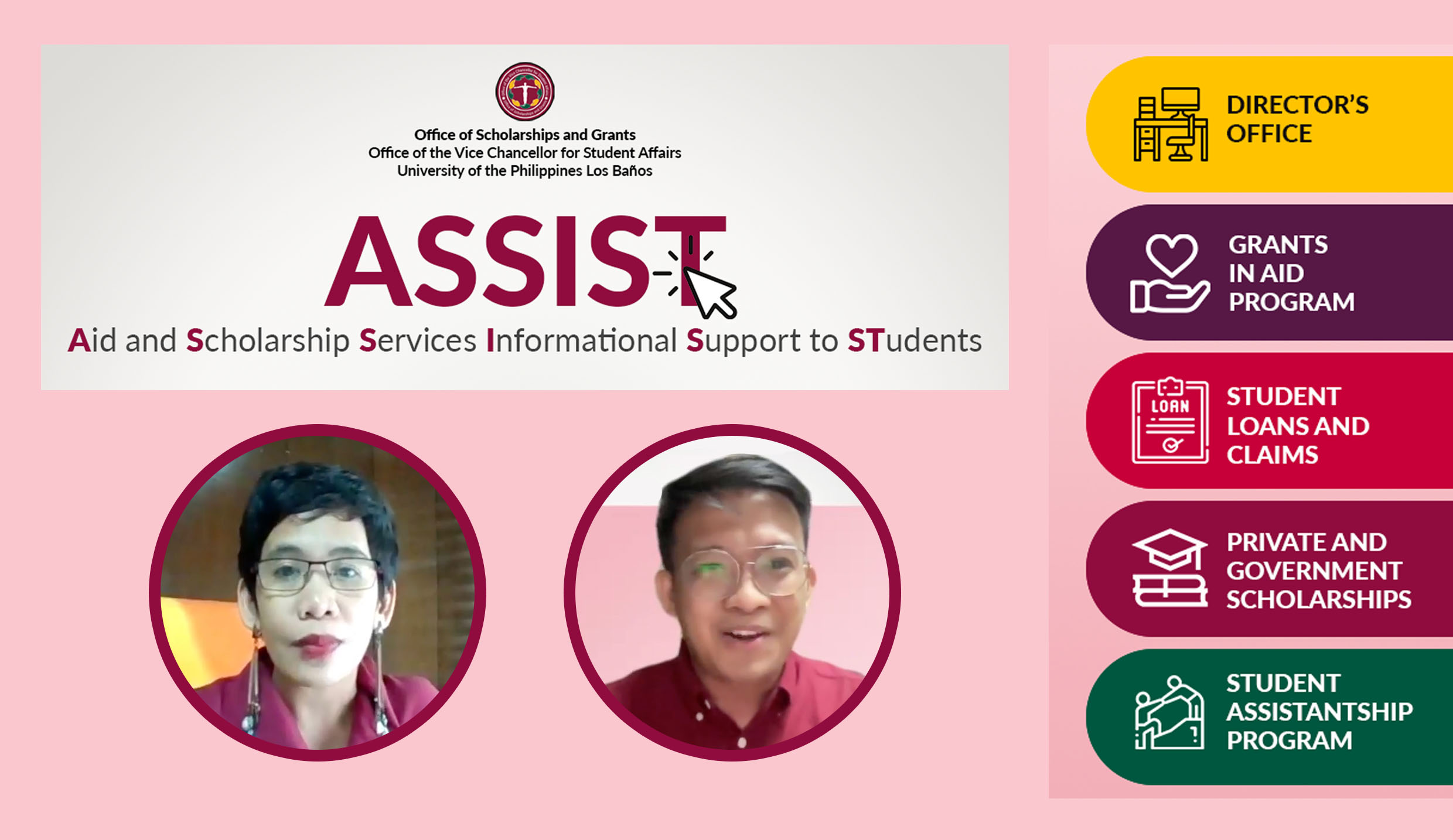 TheUPLB Office of Scholarships and Grants under the Office of the Vice Chancellor for Student Affairs (OVCSA) hosted ASSIST: Aid and Scholarship Services Informational Support to STudents via online on Sept. 6-7.
OSG personnel presented the portfolio of scholarships, financial assistance, and educational resources that the University could provide to UPLBs students at this virtual event.
The participants were organized into two sessions in which OSG discussed four major programs through which assistance is provided, namely: (1) Grants-in-Aid Program, (2) Student Loans and Claims, (3) Private and Government Scholarships, and (4) Student Assistantship Program.
The program started with a pretest conducted via Google Forms to assess the attendees' knowledge of the services offered by OSG.
Vice Chancellor for Student Affairs (VCSA) Janette H. Malata-Silva gave the opening remarks in which she welcomed the students and assured them that the OSG will facilitate the provision of financial aid.
"Huwag pong mahihiyang lumapit. Nandito po ang mga possible assistance na puwedeng ibigay ng OSG team. Sobrang mapagkalinga po ang mga 'yan," she exclaimed.
(Don't be ashamed to approach. We could possibly provide assistance through programs managed by our very caring OSG team.)
Assistant to the VCSA and OSG Director Jickerson P. Lado introduced the different offices and the staff under OSG, and gave their updated email addresses and their respective programs and services. This was followed by energizing activities and detailed discussion of the four major units by the OSG coordinators.
The Grants-in-Aid Program (GIAP)
The UP GIAP aims to reduce the students' tuition fees by providing subsidies and monthly stipends based on their household's paying capacity.
Ferdie C. Ocampo and Isabelle Nadine Jimenez, who help administer the programs and services offered by the unit, presented the GIAP, namely: the Grants-in-Aid Program (GIAP), Student Learning Assistance System (SLAS), Tertiary Education Subsidy (CHED UniFAST-TES), and Tulong Dunong Program (CHED Unifast-TES-TDP).
SLAS Online is an online application portal that upon collection of information regarding UP students' capacity to participate in academic activities, processes the data in order to determine their connectivity options, connectivity situation, financial capacity, and learning assistance needs.
SLAS provides tuition subsidy, a stipend of up to PhP 5,000 per month every semester, and/or gadget and internet connection subsidies for one academic year according to the following guidelines and procedures.
Household Income Categories and LAN categories of SLAS Online (image taken from OSG ASSIST presentation slide)
TES is a financial assistance program managed by CHED-UniFAST, which grants a cash allowance for one academic year to undergraduate students from low-income households.
The TDP is for qualified ongoing and new grantees for AY 2020-2021 who are enrolled in programs of private higher education institutions, state universities and colleges recognized by the Commission on Higher Education (CHED), or CHED-recognized local universities and colleges with certificate of program compliance. TDP student-grantees receive a maximum of PhP15,000 cash grant for one academic year.
Student Loans and Claims
The Student Loans and Claims (SLC) implements various student loan programs of the University to cover tuition or other education-related expenses of the students. This unit also manages the implementation of the UP Student Insurance Policy.
Cicero M. Peñaflor, SLC program coordinator and UPLB insurance claims officer, introduced his unit's activities and services.
The Tuition Loan/Student Loan Board (SLB) Program allows students to postpone up to 80 percent of their registration payment during the enrollment period. In some cases, students may avail themselves of 100 percent loan with approval by the Chancellor.
The Cash Loan Assistance Program (CLAP) is another program of SLC wherein they offer loans intended for emergency purposes and other related educational expenses of the students. This is categorized into either long-term or short-term CLAP.
The long-term CLAP, also known as the CHED SAFE Loan, is an interest-free loan that may be paid in 2-5 years after the student's graduation. The loan program seeks to provide a total of PhP 8,000 in financial aid to financially disadvantaged third-, fourth-, fifth-year, or graduating college students with a GPA of 3.0 or better.
To be eligible for long-term CLAP, students must be enrolled in CHED-designated priority courses including BSA, BSFT, BSAM, BSAP, BSBio, BSChem, BSCS, BSMath, BSMST, BSStat, BSIE, BSABE, BSCE, BSChE, BSEE, BSABME, BSAE, BSF, BSN, DVM, and BSAgChem.
Short-term CLAP offers loans of up to PhP 5,000 depending on the student's course and academic standing. An applicant for the short-term CLAP must be officially enrolled and have a good academic standing, or at the very least, a warning status from the previous semester. The loan must be paid back within the current semester, with interest rates ranging from 4 to 8 percent per annum.
The UP Student Insurance Policy is also available through the University. All UP undergraduate students under RA 10931 (Universal Access to Quality Tertiary Education Act) are automatically covered by this policy for the enrolled semester. This covers a portion of the costs of accidents, hospitalization, and medical care, especially when participating in academic and comparable experiential learning activities outside of the classroom.
Private and Government Scholarships
The Private and Government Scholarships Unit administers government and private scholarships for eligible UP students.
Ivy Mary Selarde, scholarships affairs officer and program coordinator, introduced the list of services and programs offered by their unit. These are the UP Presidential Scholarships, UPLB-Administered Scholarships, UP Diliman-Administered Scholarships, Private and Government-funded Scholarships, and Adopt-a-Student Program (AASP).
She also discussed the revision of the rules on maximum benefits from scholarship grants approved by the Board of Regents (BOR) on Jan. 28, 2021. Students are now allowed to simultaneously enjoy a maximum of two scholarship grants by UP provided that combined amounts from both do not exceed P15,000 for tuition and miscellaneous fees and P7,000/month for living allowance.
Depending on the income level of the grantee's household, this regulation may still be subject to consideration by the UPLB Committee on Student Financial Assistance.
This policy only applies to university-managed scholarship grants. It excludes scholarships administered and managed by individuals, government agencies, organizations outside UP, and support programs created by UP to address students' needs arising from specific circumstances.
Student Assistantship Program
The Student Assistantship Program (SAP) allows undergraduate students to work and earn money while still attending classes at the University. Aside from the monetary benefits, students in the SA Program can obtain work experience that will help them prepare for jobs, business, and community service after graduation.
Junior Scholarship Affairs Officer Mark Kevin Movillon discussed the guidelines and procedures in applying for student assistantship. To be eligible, the student should at least be an old first-year student (OF); not enrolled in more than 21 units; and enrolled in at least one (1) academic unit.
SA candidates must also open/secure a Landbank ATM savings account in their name, have parental authorization if they are minors, and have created an OSA Management (OSAM) System Account from uplbosa.org, among other requirements.
As for the work hours, student assistants are allowed from 30 to 120 hours/month depending on their registered academic load for the current semester. Students may only work a maximum of six hours per day from 8 AM to 5 PM and may not use the allotted class hours for working hours. The salary rate is at PhP 60/hour.
Some SAs work from home on tasks such as creating publication materials for information dissemination, collating and encoding data, and assisting in webinars and other online events.
After the coordinators have discussed the programs and services of their respective units, a live quiz via Slido took place, which covered the topics discussed in the webinar with the winners awarded cash incentives. A Q&A session took place to make room for clarifications among the attendees.
For concerns and queries relating to or under the responsibility of the OSG, you may contact them through:
Director's Office: 0999-2272-793; [email protected]
Private and Government Scholarship: 0999-2272-803; [email protected]
Student Loans (SLB and Cash Loans): 0999-2272-805; [email protected]
Insurance Claims and Certifications:       0999-2272-805; [email protected]
Student Assistantship Program: 0999-2272-809; [email protected]
Grants-in-Aid Program: 0999-2272-816; [email protected]
Learning Assistance Needs:   0999-2272-816; [email protected]
Connect with us through our Social Media Pages:
Like us on Facebook: https://facebook.com/uplbosg
Follow us on Twitter: https://twitter.com/uplbosg
Follow us on Instagram: https://instagram.com/uplbosg
Use our automated responses in Messenger: https://m.me/106690101324210.
(This article, written Sophia G. Romilla and Jickerson P. Lado, was first published in the UPLB Website on October 5, 2021)