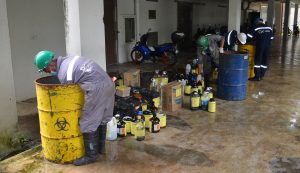 As part of its mandate of keeping UPLB hazard-free, the Office of the Vice Chancellor for Community Affairs (OVCCA) initiated a campus-wide collection of chemical wastes on Dec. 3, 7, and 16, 2020.
This is also in accordance with the Environmental Compliance Certificate (ECC) that OVCCA is maintaining with the Environmental Management Bureau of the Department of Environment and Natural Resources (EMB-DENR) since 2016.
Pollution Control Officer Engr. Christian Paulo C. Altoveros facilitated the collection through a waste management company to whom the work has been outsourced.
Prior to the collection, OVCCA led a webinar on Nov. 19, 2020 on the new chemical waste collection protocol and online system of EMB and the schedule of the campus-wide collection. Almost 100 faculty, REPS, and laboratory staff were enjoined in the webinar to practice proper chemical waste disposal and comply with the policies of EMB.
In his opening remarks, For. Roberto P. Cereno, vice chancellor for community affairs, emphasized the importance of proper chemical waste management for the health of students and staff.
He also explained that regular and proper chemical waste management will be part of UPLB's Environmental Stewardship Office (ESO), a unit currently in the pipeline.
He also thanked Chancellor Jose V. Camacho, Jr. for expressing his support in the creation of the UPLB ESO. (Miguel Victor T. Durian)
(This article was first published in the UPLB Website on January 12, 2021)