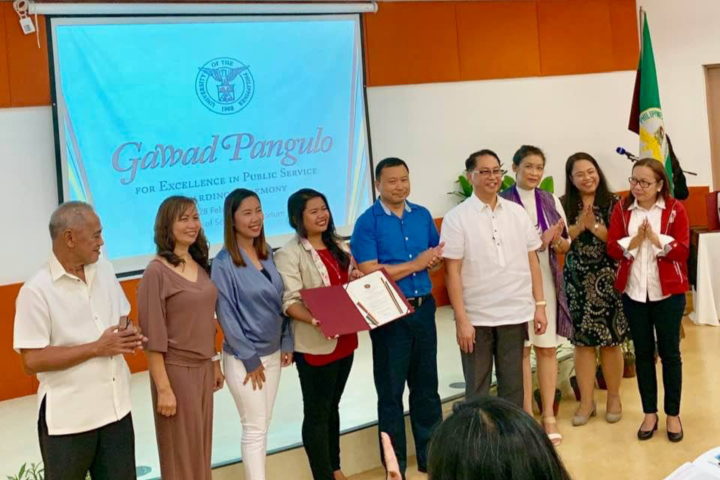 Iloilo City – The UPV Center for West Visayan Studies (CWVS), through its Disaster Risk Reduction Training, Education and Advocacy for Children's Protection and Resilience (TEACH DRR) Project, is one of the five public service initiatives recognized during the "3rd Gawad Pangulo for Excellence in Public Service." The awarding was held at the College of Science Administration Building, National Science Complex, UP Diliman, Quezon City.
TEACH DRR Project is supported by United Nations Children's Fund through the University of the Philippines Visayas Foundation, Inc. and is lodged at CWVS. It is being implemented in the two barangays of Calagnaan Island, Carles, Iloilo: Bito-on and Talingting. It ran from December 2016 to present. The project is led by Prof. Jorge S. Ebay (Director, CWVS) together with Prof. Josephine T. Firmase (Faculty, College of Arts and Sciences), Darlene Joy D. Calsado (University Research Associate II, CWVS), and Lovella Mae M. Magluyan (Admin/Finance Officer, UPVFI).
The Project focuses on two key sectors: children and small island communities. "Let's put them on the map" is the primary mission of the project, putting together children and small islands which gives a whole new dimension to the concept and definition of marginalization. Both children and small island communities experience marginalization, but children in small island communities represent another sector that requires a different set of analytic and development tools.
The Project provided a platform for children's inclusion that enabled them to gain faces and voices as vulnerable groups and as valuable assets of small island communities. It demonstrated the value of inclusive perspectives to understand children's inherent encumbrances and challenges and to appreciate their vital contributions in community-wide efforts for safety and resilience. Through the various activities, children in small island communities were not only recognized numerically. Their community roles expanded to the school and the municipal level and gained practical recognition as a special group that demand focus and special attention.
The focus on small island communities predisposed mainly to fishing falls squarely within the mandate of UP Visayas as a constituent unit of the University of the Philippines System. UP Visayas envisions to become "a world-class university at the forefront of fisheries and aquatic sciences education, research and development." Among its avowed mission is to provide meaningful public service programs that cater to the needs of coastal communities that do not only enrich the cultural and natural heritage of the Visayan Islands, but also promote innovative approaches and practices for sustainable development.
It is the second time that CWVS has received this award. It was also awarded during the 1st Gawad Pangulo award for its Rehabilitation for Island Sustainability and Empowerment (RISE) Gigantes Project in Gigantes Islands, Carles, Iloilo.
(This was originally posted at the University of the Philippines Visayas website on April 2, 2019.)