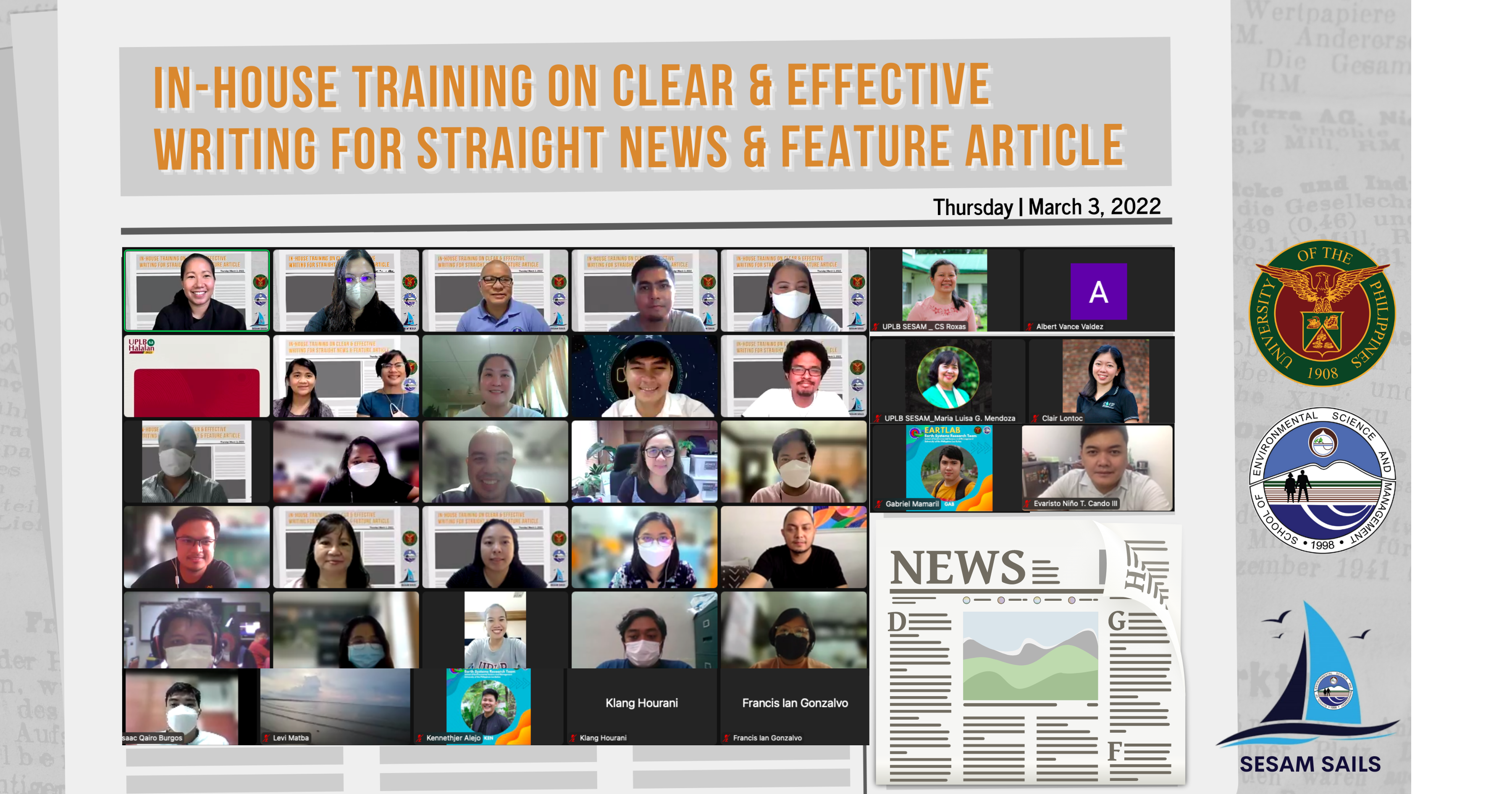 The Continuing Education and Training Division of the School of Environmental Science and Management (SESAM) held an In-house Training on Clear and Effective Writing for Straight News and Feature Articles on 3 March 2022. About 33 faculty members, researchers, and students participated in the online event. This in-house training aimed to capacitate SESAM Staff and students on how to conceptualize and produce news and feature articles for upload to UPLB and SESAM website.
The School invited Assistant Professor Aletheia C. Araneta, Chair of the Department of Development Journalism, College of Development Communication (DDJ-CDC). Prof. Araneta has been teaching at the CDC since 2008. She usually handles courses on participatory journalism, science journalism, knowledge management, and multimedia planning and production.
SESAM Dean, Dr. Rico C. Ancog graced the event and in his opening remarks, he emphasized "Our work [at SESAM] is rich with stories. And when we tell stories, there is science and art." He hoped that this initiative can bring learnings to each, and everyone present in the event and use these learnings to tell stories that would lead SESAM for more partnerships and engagements that would be more beneficial to the School.
"Stories have meaning",  according to Prof. Araneta. She did not only discuss the 5Ws (Who, What, Where, When, and Why) and the 1H (How) in news writing, but she also provided tips and techniques in writing such as how to choose the right story angle. Her lecture was divided into two parts: Basics of News Writing and Basics of Feature Writing. She also presented examples of different types of lead and ending for feature stories.
As Prof. Canubas stressed at the end of her presentation, "creative process needs collaboration" and to be a journalist, you need to be "transparent and honest".
This two-hour session brought insights and exchanges on how to better understand concepts in news writing and how it will help SESAM to communicate its research results to the media and to the public.
In her closing message, For. Sofia A. Alaira, Head of SESAM-CETD, expressed her gratitude to Prof. Canubas. She also acknowledged the challenges in writing for news but also highlighted that "practice makes perfect". The organizers also thanked everyone in participating and challenged the participants to write a straight news article from this event.
(This article, was first published in the UPLB Website on March 8, 2022)