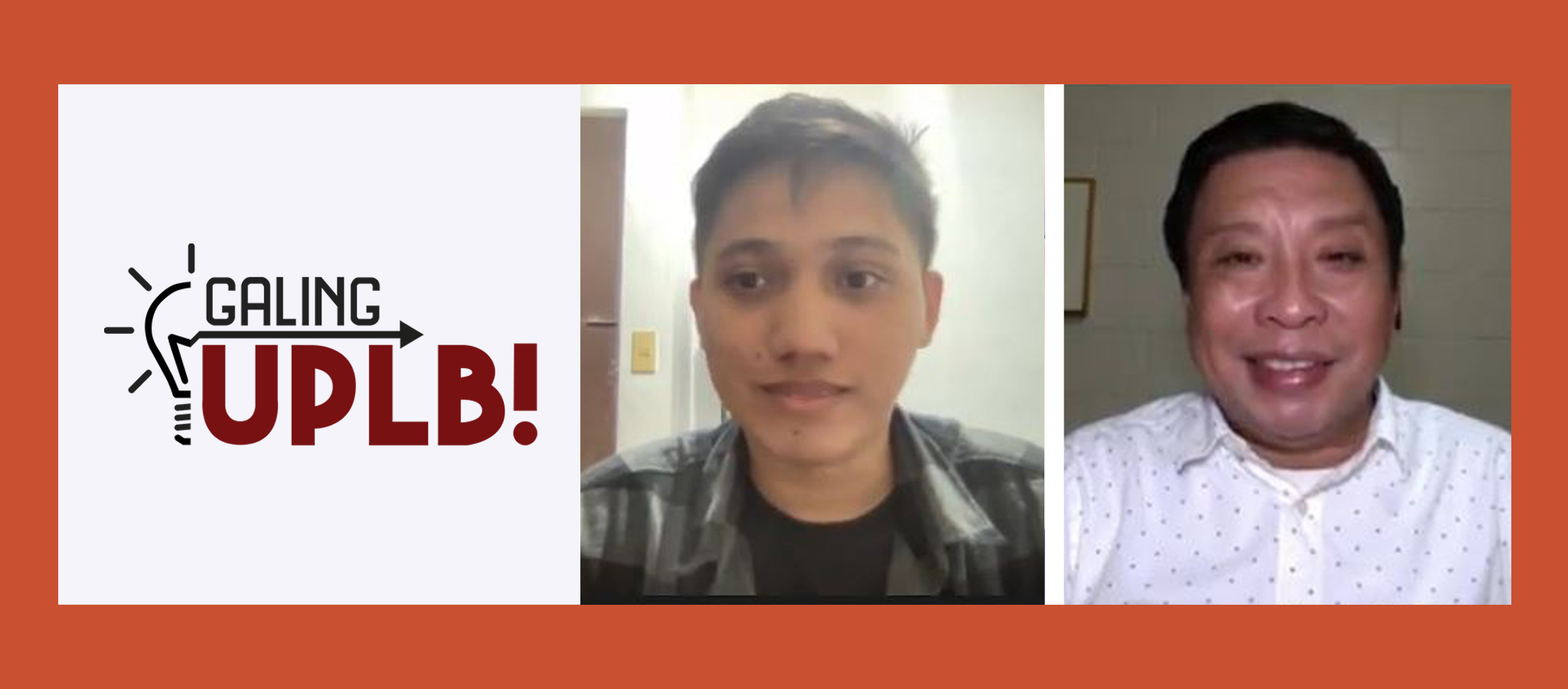 The featured guests of Tuklas UPLB in July showed that UPLB remains true to its mission to serve the public through its research and extension activities, especially during this pandemic. They discussed the role and applications of mathematics in improving the government's response to COVID-19, and the potential of edible landscaping technology toward food self-sufficiency of Filipinos.
More than crunching numbers: using Mathematics in response to COVID-19
In Tuklas UPLB's fifth episode, which aired on July 9, Christian Alvin H. Buhat, a former faculty member at the Institute of Mathematical Sciences and Physics of the UPLB College of Arts and Sciences, shared his team's research in COVID-19 vaccine allocation in the country.
In the study entitled, "Using Constrained Optimization for the Allocation of COVID-19 Vaccines in the Philippines," Buhat said their goal is "to find a proper distribution of vaccines or vaccine doses among LGUs in the Philippines" that satisfies the national government's existing prioritization system while minimizing the number of possible COVID-19-related deaths. The team considered factors, such as vaccine efficacy, cost, supply, prioritization, and coverage.
Asked about how the study can help in the distribution of vaccines in the country, Buhat highlighted the importance of vaccines and making them available in areas where they should best be, sharing that "the greater… the number of vaccinated, the lesser the projected deaths".
He and his team hope to help achieve herd immunity by providing technical guidance to decision-making bodies, such as local government units (LGUs).
"Yung model namin, actually, is really flexible. Hindi lang siya para sa Pilipinas and distribution among LGUs, [Our model is actually really flexible. It is not only (applicable) to the Philippines and (vaccine) distribution among LGUs]" Buhat said, further explaining that the model may be used as long as certain parameter values are available. He said that the UPLB Biomathematics Team is open to providing technical assistance to decision makers and the public.
The team's research was first published in June 2021, and will appear in the Applied Health Economics and Health Policy's September issue. Buhat is currently pursuing his PhD in the University of Houston.
Healthy, aesthetically pleasing, money-saving, and more: Edible Landscaping Technology checks all boxes
Former UPLB Chancellor Dr. Fernando C. Sanchez joined the Tuklas UPLB team in its July 23 episode for a timely conversation on the potentials of edible landscaping (EL) as an approach towards food self-sufficiency in Filipino households and communities.
In a recorded interview, Dr. Sanchez described EL technology as a "revolutionary crop production technology" that combines plant science and landscape design principles. "…(ang) ginagamit natin, puro edible plants [We only use edible plants], but we plant them in a very aesthetic manner," he said.
EL ensures that households have constant supply of and access to fruits, vegetables, and herbs. Dr. Sanchez believes that if 25-30 percent of Filipino households start an edible garden in their yards, the country can solve its food self-sufficiency problems and do away with food importation.
Additionally, EL technology creates a home environment that is pleasing to the eye. It is also cost-efficient and gives families more control over food preparation and nutritional intake.
Dr. Sanchez said that while the primary goal of edible gardens is to ensure that households remain food self-sufficient, gardening can positively impact one's mental health. This is probably why the past year saw a rise in public interest toward home gardening, primarily due to the prolonged necessity of home confinement.
In implementing the EL project during the COVID-19 pandemic, Dr. Sanchez shared that they also focused on the aspect of urban agriculture, wherein EL may be used even in limited or confined spaces. His team hopes to promote food self-sufficiency in urban areas and share concepts, such as vertical, rooftop, and container gardening, to the public.
Dr. Sanchez is currently a professor at the College of Agriculture and Food Science. He credits his father and late mother for developing his passion for horticulture, and UPLB for his formal training in the field.
Tuklas UPLB airs every second and fourth Friday of the month as part of Radyo DZLB's Galing UPLB! Program, which is a joint production of the UPLB College of Development Communication (CDC), Office of the Vice Chancellor for Research and Extension (OVCRE), the Office of Public Relations (OPR), and the Office of Alumni Relations (OAR).
(This article, written by Mariz C. Diagan and Michaela Dorothy Castro, was first published in the UPLB Horizon Website)