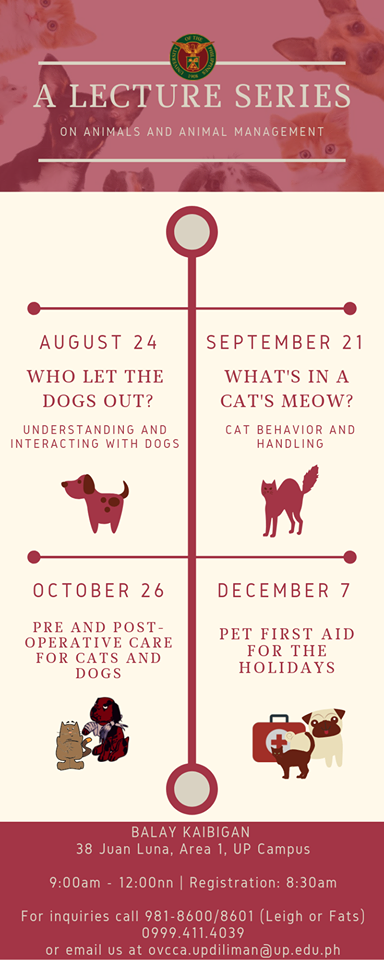 A series of lectures on Animals and Animal Management will be held monthly in UP Diliman starting this Saturday, August 24 to promote the University's thrust towards a humane campus. The lectures are organized by the UPD Campus Animal Management Committee (CAMC) and the Office of the Vice Chancellor for Community Affairs (OVCCA).
The UP Diliman administration under Chancellor Michael Tan has embarked on an animal management program that includes neutering hundreds of campus cats and dogs. Surveys and consultations were done with the units early this year. In an effort to control the population of community animals, 365 campus cats and dogs were trapped, neutered, vaccinated, and returned (TNVR) to the places where they were caught last June. Neutered and spayed dogs now sport blue collars while fixed cats have ear notches. UP Diliman has worked with partners such as the Animal Kingdom Foundation (AKF), Humane Society International, Philippine Veterinary Medical Association (PVMA), and the student group Friends of Campus Animals (FOCA UP) for the TNVR operation. Donors and volunteers have also helped to make this huge undertaking a success.
The series of lectures are an important part of the program to manage community animals. Aside from the problem of poor garbage management, the increase in the number of stray and feral animals is largely due to irresponsible pet owners who abandon or allow their unneutered pets to roam the streets.
Seminars and consultations are being held in the different units in Diliman to help them manage their resident animals. Friendly neutered and vaccinated dogs in the various colleges are being tapped as emotional support animals (ESAs) for stressed students, faculty members, and staff. Friendly resident cats in the different units also help to provide relief from stress. The lectures are meant to help the community practice responsible pet guardianship and understand the nature of community animals. The second campus-wide TNVR will be held this November.
For inquiries, interested participants may contact 981-8600/981-8601 or 0999 411 4039 and email [email protected].