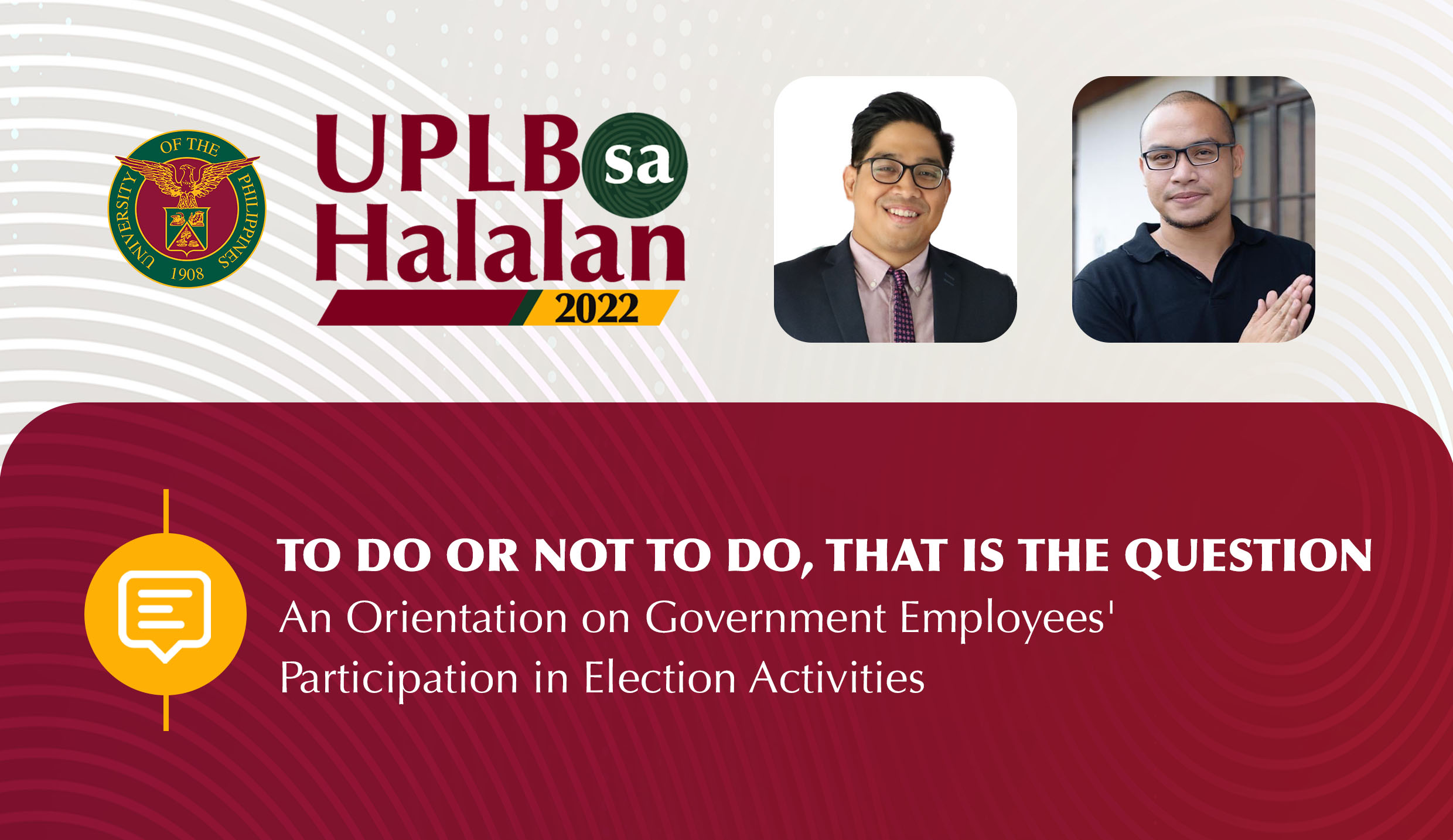 "Are we allowed to campaign?" is perhaps the most commonly asked question by people in government service.
As government employees should be guided by rules when it comes to participating in election activities, UPLB conducted a webinar entitled "To Do or Not to Do? That is the Question. An Orientation on Government Employees' Participation in Election Activities."
The webinar, held on Feb. 9, discussed partisan political activities and UP policies, and answered questions of government employees on participating in election campaigns especially in the age of social media.
Chancellor Jose V. Camacho Jr., in his opening message, said that one of the goals of the UPLB sa Halalan as a public service initiative is to raise people's awareness on processes and matters concerning the elections.
Camacho explained that as civil servants, government employees' participation in election-related activities must be within the rules set by the Civil Service Commission and the Commission on Elections.
The webinar resource speakers were Atty. Emil Marañon III, election lawyer of the TAM Law Offices and Atty. Eric Paul Peralta, director of the UPLB Human Resource Development Office (HRDO).
Marañon discussed the Omnibus Election Code, saying in essence that government employees are allowed to express their views on political problems and issues.
He added that  government employees are allowed to mention the names of candidates for public office whom they support and that mentioning the name of a candidate in their personal social media account is not prohibited since it is an extension of the expression of the individual.
He said further that government employees are allowed to take part in political or electoral activities but not to donate and solicit contributions from, or coerce subordinates.
Marañon pointed out that government employees, upon entering public service, do not strip themselves of their right to free speech or of their right to participate in the elections that can directly or indirectly affect them, their families, or their jobs.
Putting the spotlight on the UPLB community, Peralta discussed election participation guidelines and administrative responsibilities.
He explained Memorandum 2022-13 or the guidelines on election-related activities in UPLB issued by the Office of the Chancellor on January 20, 2022.
According to him, UPLB human resources cannot engage directly or indirectly in any electioneering or partisan political campaign.
He specified prohibitions such as wearing and displaying political paraphernalia bearing the names of candidates or political parties.
Peralta warned against their consistent presence in political rallies that may closely identify them with a political party or candidate.
UPLB workers also cannot serve as watchers for a political candidate or party, nor use government resources including personnel, time, and properties for political purposes.
According to Peralta, the rules further say that they cannot post and distribute political paraphernalia for or in opposition to a candidate, but that they may cast their vote, express their views on political issues, and mention the names of candidates or parties that they support.
But social media functions such as liking, commenting, and sharing of posts are allowed, unless used to solicit support for or against a candidate/party during the campaign period.
He reminded UPLB employees to practice caution in their physical and online activities and be mindful of their social media posts.
The talks of the two resource persons were followed by a Q&A where viewers who were live-streaming the event asked about election participation, especially in the time of social media.
Addressing the question on the effectivity of prohibitions under the Omnibus Election Code, Peralta said that the law does not categorically mention this.
He said, however, that it would appear and would deem to be logical that the prohibition should be during the campaign period.
Asked whether the putting up of posters or tarpaulins by government employees on their private properties such as houses, gates, or cars, is a violation, Peralta said that this falls under the category of distributing political paraphernalia but can be interpreted as merely posting and not campaigning for candidates.
Marañon, for his part, said that this can be considered as an expression of personal views and not electioneering. He advised government employees, however, to proceed with caution so as not to invite unnecessary controversy to themselves.
Peralta advised UP workers to examine the content of their social media posts to ensure that they are not soliciting support or votes for a candidate or political party.
On volunteering with groups such as the National Citizens' Movement for Free Elections (NAMFREL), Parish Pastoral Council for Responsible Voting (PPRCRV), or being a card-carrying member of a political party, Marañon said that on the criminal side, there is no specific provision on this.
Peralta, however, said that based on CSC MC9 s. 1992, OC Memo 2022-13, this is considered a partisan political activity.
On activities of government employees serving in the electoral board, such as food distribution, Peralta said that this can fall under prohibitions if done for the benefit of a candidate.
According to Marañon, giving anything of value to promote a candidate is already considered vote-buying.
Joining Facebook groups that support a candidate according to Peralta is not a partisan political activity.
Marañon, for his part, said that the main distinction should be active vs. passive participation. According to him, joining can be passive since it can be a way to learn more about a candidate, and that it would be a different case if the employee is the one leading the group.
In terms of government employees sharing social media posts showing a candidate's accomplishments, Marañon said that from the perspective of an election offense, the Omnibus election code cannot be interpreted to extend to social media accounts.
According to Peralta, what the law does not include, it excludes, so it only provides for the distribution of physical paraphernalia and does not account for social media.
"Strictly interpreting what the law provided for, government employees can share official campaign information about their political candidate on social media," added Peralta.
Peralta gave a tip on how support may be phrased on social media. "Just say that you are supporting the candidate without other words tantamount to inviting others to vote for the candidate," he said.
Marañon added that the law allows government employees to mention whom they are voting for because saying "I am voting for this candidate" is different from saying "vote for this candidate."
On posting statements such as "don't vote for a thief," Marañon said that this can be considered free speech as this is discussing an issue relating to the elections which is not partisan in nature.
"You're not really posting against someone because you're not categorically identifying a candidate, but be careful about mentioning any name at all to be not construed as campaigning against a candidate," Peralta added.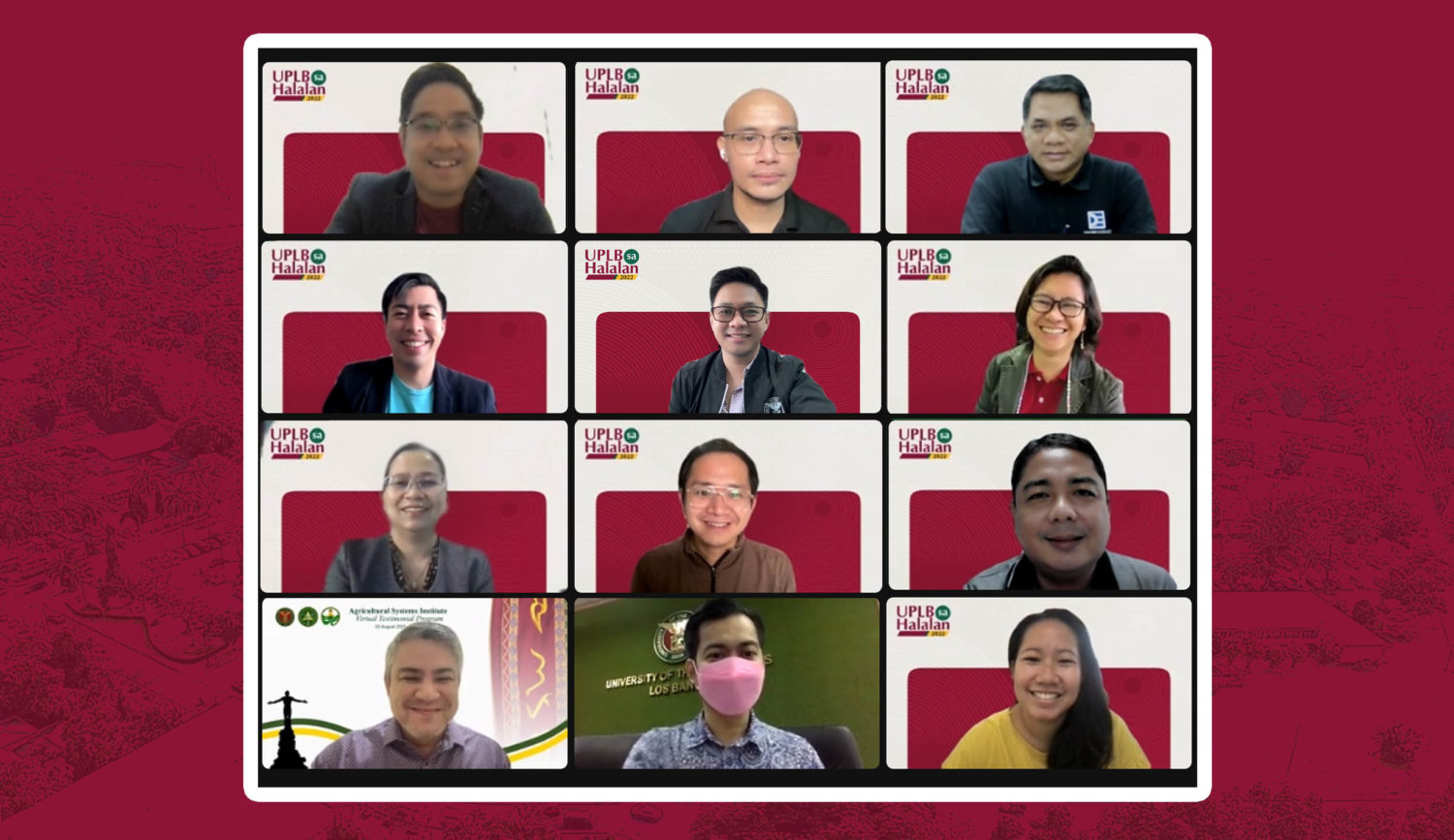 The webinar was attended by UPLB officials including the director of the Office of Public Relations Mark Lester M. Chico, and Dr. Benevieve Villanueva,  assistant to the vice chancellor for community affairs and chair of the Ad Hoc Committee for UPLB sa Halalan 2022.
Villanueva expressed her hopes that the webinar will enlighten government employees and remind them that the future of the country is in their hands.
Over 500 live participants from both the video conference and live stream watched the webinar. Live tweets from the event can be found with the hashtag#UPLBsaHalalan2022 on Twitter.
Hosted by faculty member Linus Van O. Plata, the near three-hour webinar is part of the #UPLBsaHalalan2022 public service initiative of UPLB. The webinar is available for replay and sharing at the UPLB Official Facebook Page.
All election awareness efforts of UPLB can be found by searching for the hashtag #UPLBsaHalalan2022 on social media platforms.
(This article, written by KEAraguas, was first published in the UPLB Website on February 17, 2022)