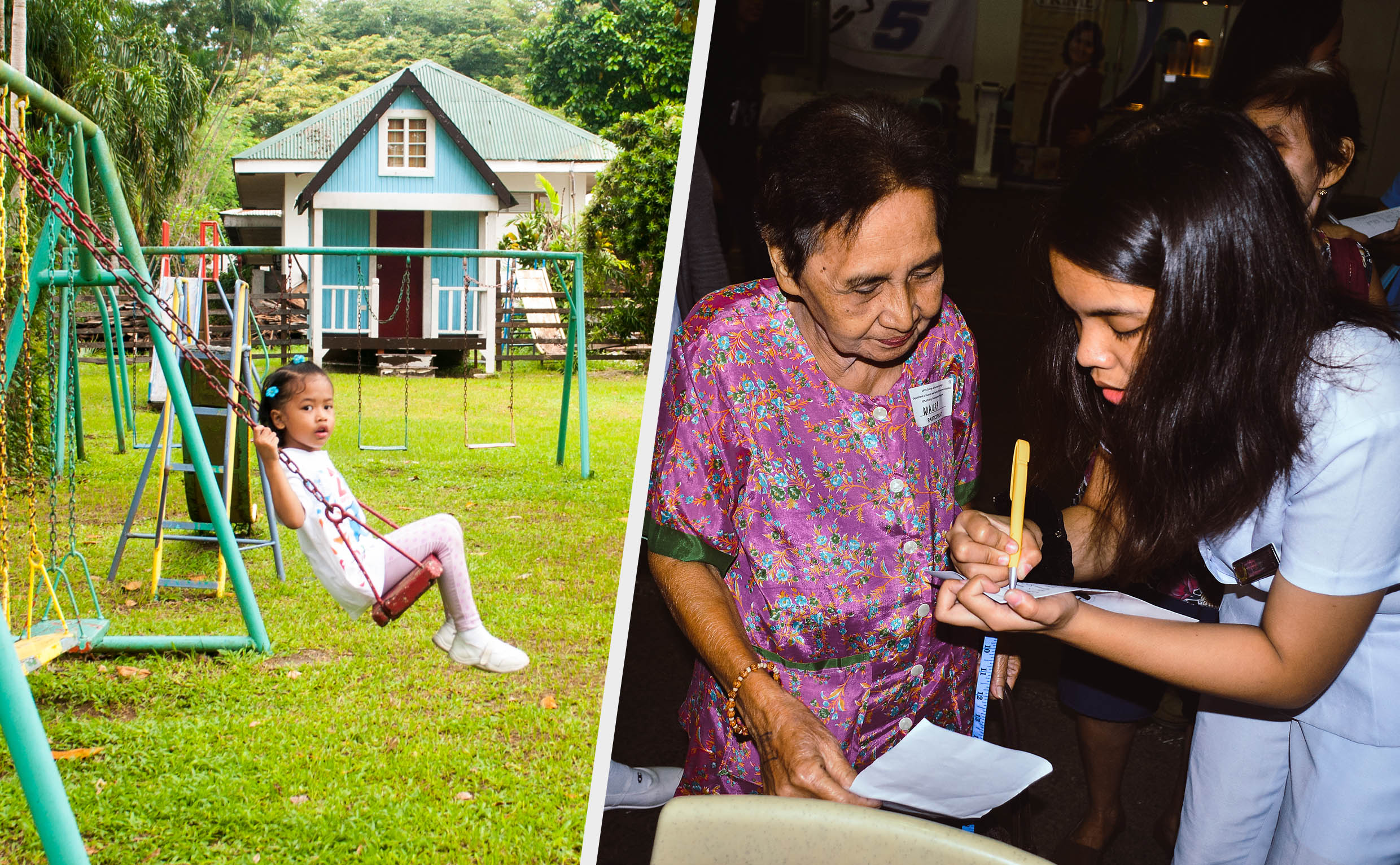 Inspired intentions. This encapsulates the public service agenda of the College of Human Ecology (CHE). The beneficiaries may not be living on the fringes of society, but they are equally marginalized, even invisible.
CHE is taking a different tack by implementing public service initiatives that address a whole spectrum of needs in terms of age and psychosocial conditions, and coping with these needs from the context of family and community.
For a time now, it has helped children and the elderly – considered two of the most vulnerable groups of society, and children with exceptional needs. CHE is also known for a public service program that addresses nutrition issues through an integrated approach.
Playgroups, the beginning of "real communities"
Day care at the Child Development Laboratory (CDL) teaches children to socialize through play. In 2013, Prof. Rhea Bailey, a faculty member at the Department of Human and Family Development Studies (DHFDS), reimagined the approach and introduced the "Mariang Makiling Playshop."
The Playshop promotes learning and friendships, and facilitates conscious parenting through play. Playshop supplements classroom instruction and interaction, and promotes hands-on activities among pupils together with their family members.
Playshop's emphasis on arts and crafts activities, outdoor adventures, free play, field trips, and household chores enables children to develop wholesome habits. It teaches pupils to reduce their dependence on electronic gadgets, to engage with people, and to enjoy the environment. True enough, parents like Vanessa Liwanag-Librero have noticed their children's improved socialization skills through the approach.
Prof. Bailey hopes that the Mariang Makiling Playshop would be the start of creating many small playgroups in different parts of Laguna and eventually, in the country. "We want communities to really engage with each other – conversing, laughing, and doing things together," she said.
Caring for the elderly since 2011
CHE has also taken one more less-traveled road to pay attention to the needs of the elderly, making UPLB the first state university on record to ever do so in the country. The UPLB Elderly Development Program (UPLB EDP), formerly known as the Elderly Day Care Laboratory, stemmed from studies on the elderly conducted by Dr. Renato Torres, which revealed that majority of the Filipino elderly are still functional but with unmet bio-psychosocial needs.
Dr. Torres, a medical doctor, an assistant professor at CHE-DHFDS, and the program leader of the UPLB EDP designed the program at the prodding of Dr. Luis Rey I. Velasco and Dr. Sue Liza Saguiguit, then UPLB chancellor and CHE dean, respectively. Despite limited resources, it was launched on Sept. 3, 2011.
Since then, the EDP has been providing periodic health and wellness activities and services for senior citizens of nearby communities. It is also a venue for volunteerism for students and staff, and a learning laboratory for human and family development studies. In the long run, EDP aims to be a model program for improving the quality of life of the elderly Filipinos and their communities.
Long-time program
Meanwhile, CHE continues to implement on its 40th year the Barangay Integrated Development Approach for Nutrition Improvement (BIDANI), promoting nutrition-in-development to almost 800 barangays in seven regions of the country. One of its three strategies, called Participative Nutrition Enhancement Approach (PNEA), provides direct nutrition intervention to prevent malnutrition among children aged 0-24 months.
PNEA also promotes a nutritious food not only for children, but also for elders and mothers. Called the KALINGA mix, it is a low-cost, flour-like mixture of rice, mungbean, and sesame seed that is high in energy, protein, and carbohydrates.
According to Belinda Lalap, university extension associate and PNEA coordinator, this mix is now being used in supplementary feeding programs in BIDANI's partner municipalities like Los Baños and Nagcarlan in Laguna.
Facing the needs of the exceptional
Meanwhile, DHFDS recently set up a new resource center, the Center for Families of Children with Exceptionalities (FaCEs), to address the needs of families of children with exceptionalities. FaCEs aims to advocate research, policy making, collaborative programs, and activities that promote family welfare and well-being of children with special needs.
"Having a child with exceptionality brings about a lot of challenges to the family," said Prof. Ria Sanchez, chair of the DHFDS. "The Department believes that like the child, the family itself needs support to further understand the condition of their child, to cope with the demands of having a child with exceptionality, and to be empowered in helping improve the quality of life of their child and the family as a whole."
Indeed, human development is business that concerns everybody and should be everybody's concern. And CHE, with its commitment to understand all its complexities, is helping the helpless through their vulnerabilities – from cradle to cane. (Mary Franhet Esperidion, Daisy V. Pelegrina, and Mark Jayson E. Gloria)
(This was originally posted at the University of the Philippines Los Baños website on March 11, 2019.)